India 10-Year Yield Climbs Past 8% for First Time Since May 2015
(Bloomberg) -- India's 10-year bond yield rose above 8 percent for the first time since May 2015 as concern deepened that higher oil prices will fuel inflation and widen the government's budget deficit.
The nation's inflation problem is set to worsen in the coming months, according to a forward-looking survey released by the Reserve Bank of India, which on Wednesday raised interest rates for the first time in four years. Sovereign bonds are heading for a third month of losses as state banks, the biggest holders of the securities, stay away from active participation amid losses and foreign funds sell local debt at a record pace.
"Sentiment in the bond market is somewhat fractured as a lot of large participants are not participating, while supply is high," said Sandeep Bagla, associate director at Trust Capital Services India Pvt. "Unless Brent comes down a lot or state banks start participating, it's difficult to contain yields purely on fundamental grounds."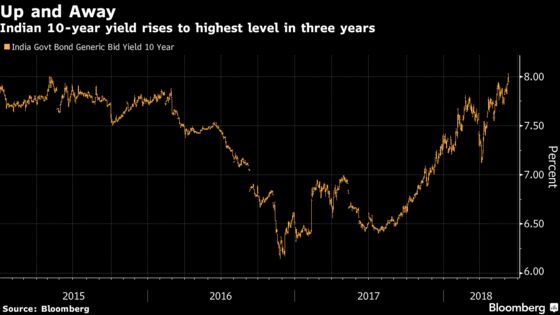 The yield on the 7.17 percent bond due in January 2028 climbed as high as 8.03 percent as trading began Friday, before falling back to close the day five basis points lower at 7.95 percent.
Yields retreated from highs as traders probably rushed to cover the short positions built after the central bank's rate hike, according to PNB Gilts Ltd. The move was also helped by speculation that the government may take some measures to support the market.
"It seems like a lot of people were waiting for the yield to touch 8 percent to buy," said Vijay Sharma, executive vice president for fixed-income at PNB Gilts in New Delhi. "It doesn't look like it's going to be a long-lasting rally, because even though current levels are attractive, huge local and global uncertainties make it difficult to take a call on where the yield will peak."
The benchmark 10-yield has risen 12 basis points in June, after climbing 43 basis points in the previous two months, amid a rout triggered by rising crude oil prices and tighter cash conditions. Sentiment has also been hit by losses in the rupee, which have made it the worst performer among Asian currencies this year.
The currency weakened 0.6 percent to close at 67.5075 per dollar on Friday, taking its decline in 2018 to 5.4 percent.
"There's a multitude of reasons to not be positive on bonds right now," said Sharma of PNB Gilts. "RBI has raised rates and there are risks from crude oil prices, a declining currency and a potential fiscal slippage. The weak sentiment toward emerging markets in general isn't helping either."
To contact the reporter on this story: Kartik Goyal in Mumbai at kgoyal@bloomberg.net
To contact the editors responsible for this story: Tan Hwee Ann at hatan@bloomberg.net, Candice Zachariahs