BlackRock Wagers on ESG. Now It Needs the Bet to Pay Off.
He told them, in effect, that if they don't start paying more attention to climate change, bad things will happen to their businesses, their communities, the economy and the planet. With the U.S. experiencing an energy crisis that has left millions without power amid extreme cold, the latest in a chain of unpredictable weather many attribute to climate change, Fink's message is likely to have renewed resonance.
But there may be even more at stake for Fink than his fellow CEOs. BlackRock oversees trillions of dollars, much of it invested in public companies around the world. If those companies ignore the risks around climate change, the money BlackRock manages may be in harm's way, too. As Fink puts it, "climate risk is investment risk."
It's also a huge money-making opportunity for BlackRock. After struggling to gain traction for years, investors are finally embracing strategies that take so-called environmental, social and governance, or ESG, risks into account. They poured billions into ESG funds last year, including BlackRock's, which is among the biggest players in the space. But they most likely won't stick around if ESG doesn't perform.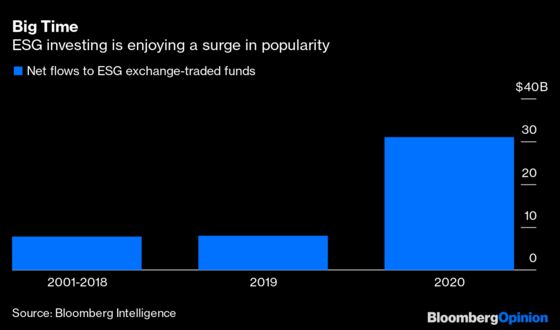 To keep the boom going, Fink will need the help of CEOs. ESG relies on companies to assess and disclose their environmental, social and governance risks and how they plan to address them. Sure, investors can try to gauge those risks on their own, but companies are clearly better positioned to identify their vulnerabilities. Without their cooperation, ESG investing is likely to be much harder.
That's not ESG's only challenge. It's not yet clear whether investors understand the strategy. Contrary to popular perception, ESG isn't about values or promoting change. Instead, it's a quantitative strategy positing that companies with fewer environmental, social and governance risks have a less volatile or better-performing stock, or both. In other words, it's about making money. ESG cares about green policy or community impact or board diversity only insofar as they benefit shareholders. Otherwise, out they go, never mind your values. 
As ESG becomes better understood, it may turn off some investors who now view it as a vehicle for expressing their worldview. But the bigger problem is that, like any quantitative strategy, its efficacy can be measured, and it's only a matter of time before people ask whether it works. MSCI Inc. has been in the ESG game for 30 years and is one of the leading providers of ESG indexes. The track record of the MSCI USA ESG Leaders Index, which targets companies with the highest ESG ratings in each sector, is one of the longest. 
So how has it performed? It trailed the broad market, as represented by the MSCI USA Index, its parent index, by 0.4 percentage points a year from 2001 through January, including dividends. It was also slightly more volatile than the broad market, as measured by annualized standard deviation. Twenty years probably isn't long enough to validate or refute ESG — value investing has nearly 100 years of history and investors are still arguing about it — but the results in the U.S. so far are not helpful.  
Nor has USA ESG Leaders distinguished itself from the broad market in recent years despite a heavy weighting to the technology sector, which tends to receive strong ESG marks and has led the stock market higher. The ESG index is a hair behind the broad market over the last three years and trails it by about 5 percentage points since the market emerged from its Covid-induced plunge last spring.
ESG's track record in foreign markets is better but shorter. In developed markets outside the U.S., the MSCI World ex USA ESG Leaders Index outpaced its parent index by 0.8 percentage points a year from October 2007 through January, with slightly less volatility. And in emerging markets, the MSCI Emerging Markets ESG Leaders Index has beaten its parent index by 3.6 percentage points a year during the same period, also with less volatility.
For now, neither the confusion around ESG nor its mixed record appears to be holding back investors. ESG exchange-traded funds took in about $8 billion in 2019, according to Bloomberg Intelligence, outpacing the money they raised from 2001 to 2018 combined. And last year, they attracted a whopping $31 billion in new investment. Much of it went to BlackRock, which oversees well more than half the money in ESG ETFs.
Some are even calling ESG a bubble. It's fashionable now to spot bubbles in places such as technology stocks or cryptocurrencies or a certain maker of electric cars, but ESG is almost certainly not among them. As a group, the stocks in USA ESG Leaders are comparably priced to the broad U.S. stock market — or cheaper, depending on the measure — and they're more profitable. The same is true of World ex USA ESG Leaders relative to its parent index. Only Emerging Markets ESG Leaders is noticeably more expensive than its parent index, but modestly so.
None of that invalidates Fink's broader message to CEOs. Yes, companies would be smart to think about climate and other risks, and investors, not just those interested in ESG, would be better informed if those risks were disclosed. But that won't be enough for BlackRock to continue building its ESG empire. What it needs now is for ESG to perform. 
This column does not necessarily reflect the opinion of the editorial board or Bloomberg LP and its owners.
Nir Kaissar is a Bloomberg Opinion columnist covering the markets. He is the founder of Unison Advisors, an asset management firm. He has worked as a lawyer at Sullivan & Cromwell and a consultant at Ernst & Young.