How An India-Born Investor Made $2 Billion And Beat Most Hedge Fund Titans In 2021
(Bloomberg) -- Karthik Sarma outearned Steve Cohen last year.
The little-known hedge fund manager made an estimated $2 billion in 2021, mostly thanks to an 11-year-old wager on Avis Budget Group Inc., a bet that paid off handsomely as the stock soared 456%.
Sarma, it's safe to say, isn't your stereotypical, fleece-vested Manhattan hedge fund manager. When the pandemic struck, he didn't flee to the Hamptons, Palm Beach or Aspen like many other Wall Street elites. Instead, he moved in with his sister and her family, living in their modest home in a middle-class New Jersey suburb, where the houses sit side by side -- and there's only room for two cars in the driveway.
Sarma, 47, runs his firm differently, too. At SRS Investment Management, he avoids the hefty leverage many other funds embrace, and runs a much more robust short book. Moreover, he isn't afraid to go big on a single investment — and hang on for as long as it takes.
That helps explain how Sarma appeared near the very top of Bloomberg's 2021 ranking of hedge fund earners, only slightly outdone by Citadel's Ken Griffin and TCI Fund Management's Chris Hohn. SRS owns about 50% of Avis through common stock and swaps, helping to roughly triple Sarma's net worth to $3 billion, according to an analysis by the Bloomberg Billionaires Index, and rewarding investors in his flagship fund with a 35% gain.
It's an impressive feat, given that those firms each run more than $40 billion, compared with $8 billion for SRS.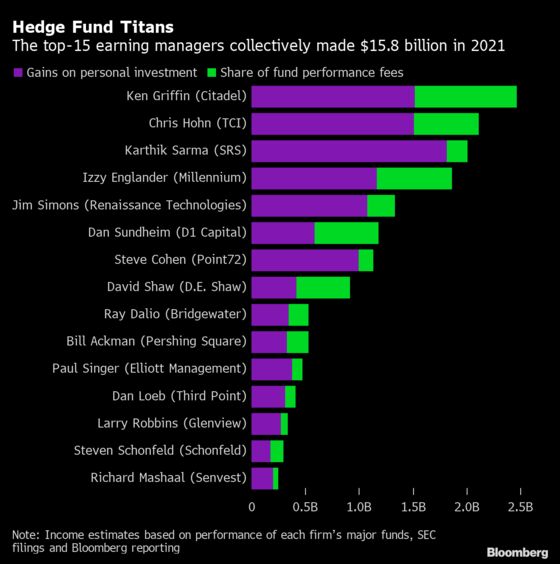 Representatives for the managers declined to comment.
Sarma's former boss, Tiger Global Management founder Chase Coleman, fell from the ranking as his hedge fund was rocked by turbulent equity markets in the final two months of the year. Still, the firm's private equity arm performed well, softening the blow.
Other managers absent from the latest ranking include Viking Global Investor's Andreas Halvorsen and Melvin Capital Management's Gabe Plotkin. Both of those hedge funds posted their biggest annual losses ever last year. Melvin was crushed by a short squeeze on GameStop Corp., which soared during January's meme-stock mania, while Halvorsen told investors that Viking made "bad bets" after underestimating the impact of the pandemic. 
Last year was difficult for many managers as concerns over inflation and monetary policy roiled equities and bonds, confounding stock-pickers as well as macro funds such as Element Capital, whose founder, Jeff Talpins, also vanished from Bloomberg's ranking. It's a stark about-face from 2020, when soaring markets propelled hedge fund titans to record gains, with the top 15 managers taking home a combined $23 billion. It was a more modest $15.8 billion this time.
Because of the shakeup, several money managers are appearing on the list for the first time, including Steven Schonfeld, Richard Mashaal and Third Point's Dan Loeb.
Mashaal's Senvest Capital made $123 million in January 2021 alone with a long wager on GameStop, which skyrocketed 1,625% that month. Senvest, which had been one of the video-game retailer's biggest shareholders, exited before the shares plunged last February.
Schonfeld Strategic Advisors, meanwhile, has been growing rapidly and now has roughly $11 billion of investor money at its disposal, narrowing the gap with other multistrategy heavyweights such as Citadel and Izzy Englander's Millennium Management. All of them posted double-digit gains last year, and Schonfeld's sizable stake in his own firm helped him earn about $300 million.  
Bloomberg's analysis of managers' earnings assesses just their major hedge and long-only funds, and excludes separate private equity vehicles. It also excludes investors with no outside capital, such as BlueCrest Capital Management's Michael Platt.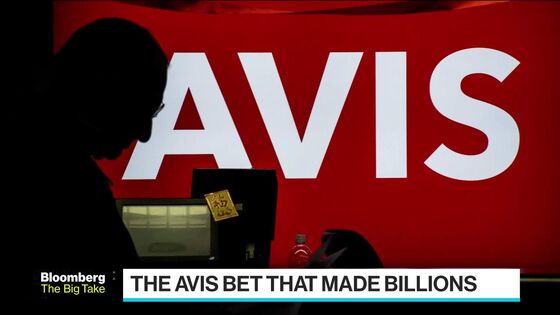 Also read: How Bloomberg Calculated the Top Hedge Fund Managers' Income
Sarma, who came to the U.S. from India to get a master's degree in operations research from Princeton University, joined Tiger Global a few months after its 2001 debut. He was considered the firm's most talented non-partner, according to people who knew him at the time. He struck out on his own five years later, using his father's initials as the name of his new firm.
The original plan was to invest in Indian private equity as well as global stocks, but he soon shifted almost entirely to public companies, especially technology shares. 
Netflix Inc. became one of his biggest money-makers, with Sarma profiting when the stock soared and fell, investors said. His fund has booked annualized gains of about 12% since 2007, outpacing the S&P 500 Index's 11%. 
Sarma generally holds about 25 stocks he expects to gain and 35 he's betting will fall, according to investors and regulatory filings, meaning his net exposure is generally lower than peers.
The Avis wager is unusual for him. It's the largest and longest he's made, and the only one where he -- or anyone else at the firm -- sits on a company's board. Hedge funds generally avoid board seats because that limits when they can buy and sell shares. 
Sarma has taken a long-term view that companies able to manage fleets of cars and trucks in a cost-effective manner will be extremely valuable in the future of human transport.
Despite that conviction, Sarma couldn't resist taking a bit of a profit by selling about 5% of his holdings when Avis had its own meme-stock moment. The shares more than doubled on Nov. 2 after the firm announced it would play a big role in the adoption of electric vehicles in the U.S. 
The jump in Sarma's net worth was particularly large because the investment is spread across several of the firm's portfolios, and he personally owns about 90% of one fund that only holds the Avis stake.
Sarma, now back in New York, is coming off a difficult January, along with many other stock-pickers. Avis slumped 15%. Even so, SRS's main fund only lost 4.5% for the month, outperforming the S&P 500 and many other hedge funds.