(Bloomberg Opinion) -- You may have seen a version of this chart before. It shows not only taxis but also rental cars plummeting toward seeming irrelevance among North American business travelers in the face of the ride-hailing onslaught led by Uber Technologies Inc. and Lyft Inc.: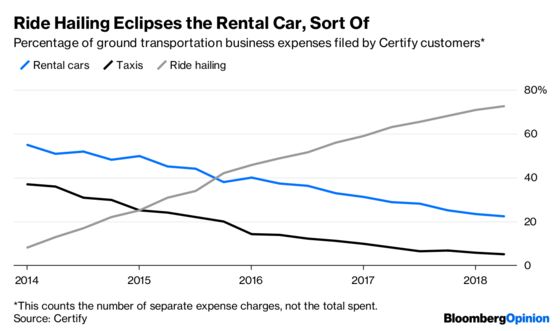 This may be the last such chart you'll see for a while, though. Certify Inc., a business travel and entertainment expense management software provider based in Portland, Maine, that has been releasing the data on ride hailing versus taxis versus rentals, has decided to stop. Its latest quarterly SpendSmart report, released last week, shows Lyft gaining ground against Uber and ride hailing gaining ground on taxis, but rental cars are left out. I have the second-quarter numbers for them in the above chart because Certify was nice enough to give them to me, but the company isn't planning to report them in this way anymore.
You may be able to intimate the reason from the footnote in the chart. Certify tallies the number of T&E expenses it processes for the different ground-transportation categories, not the overall dollars spent. One $200 rental-car charge thus counts the same as a $15 ride in an Uber. And Certify had been hearing from rental-car companies that its reports of plummeting rental-car market share "didn't sound quite right," co-founder and Chief Executive Officer Bob Neveu told me.
It in fact isn't right to imply that Uber and Lyft have together eclipsed rental cars as a way for business travelers to get around — as I will show a little later in this column. Yes, the ease and relatively low cost of ordering up an Uber or a Lyft on a smartphone has convinced people who once would have rented a car on a business trip that they can do without (I did this in Houston a couple of years ago and in Los Angeles last month). Ride hailing is in fact gaining market share versus rentals. But reports of the death of the rental car are greatly exaggerated.
How did this apocalyptic narrative come into being? Certify, which was founded in 2008 and acquired and combined with a few competitors last year by private equity firm K1 Investment Management, started publishing its SpendSmart reports in 2013 as "an interesting way to share business insights," Neveu said. The idea was not so much to provide exhaustive market data on the business travel industry as to give Certify's customers useful information on how business travelers at other companies were spending their money, and get Certify itself a bit of media attention. The first report listed the most frequently expensed restaurant chains, hotels, rental-car brands and airlines among Certify users, the ratings that Certify users gave all those companies, and the average expense amount at each.
By early 2015, though, the people at Certify had noticed an interesting shift going on in a category that they hadn't previously tracked: paid car rides. Taxis, Certify reported, were rapidly giving ground to newcomer Uber (Lyft wasn't big enough to show up in Certify's data until the end of 2015). This first report featured a couple of pie charts that included rental cars in the tallies, too, but the point was to show that "while Uber ride increases correlate directly with taxi ride decreases, car rentals are relatively consistent."
He's right that it's a stunning graph. The problem is that it doesn't actually show market share as commonly understood. For one thing, it only reflects spending habits among employees of companies that use Certify's software, which are likely more startup- and tech-oriented than those of, say, longer-established rival SAP Concur. For another, as already mentioned, it shows the share of Certify ground-transportation expense filings claimed by each category, not the share of expense spending. Certify does track average cost per expense in its reports, so it could conceivably produce something closer to market share data for ground transportation. Neveu said the company will consider doing that, but he also warned that "we're not a data house." That is, it's in the business of enabling people to file expense reports, not of providing authoritative data on the changing nature of transportation in the U.S.

Certify has already provided enough data in some of its reports, though, for me to cobble together my own rough market-share estimates. Here goes: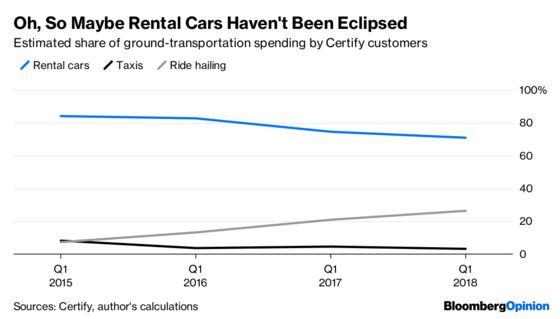 That's … less than stunning. It shows big changes in business-traveler behavior (and by extension in consumer behavior in general). But rental-car companies appear to still account for a 70 percent share of ground-transportation spending by Certify users, more than twice that of Uber and Lyft combined. Which makes sense: If you're traveling to anywhere but a city center or other densely packed neighborhood in the U.S., renting a car for a few days is still usually more convenient than trying to get by on ride hailing, transit, walking or, well, scootering.
On my recent rental-car-free business trip to Los Angeles, which was tacked on at the end of a family vacation that did involve a Nissan Versa Note rented from Hertz, I made use not only of Lyft and Uber but also of several Bird electric scooters and the Tesloop shuttle service to Orange County. Tesloop is an only-in-Southern-California thing, but I asked Neveu if Bird, Lime and other dockless scooter-and-bike-share providers were starting to show up in expense reports as they spread across the country. "On my personal expense report, yes, like crazy," he replied, adding that he'll ask Certify's data team to look into whether there are enough such charges to be worth mentioning in their next report.
So yes, there are some interesting things going on in intra-city transportation in the U.S., and they're making life more complicated for rental-car giants Enterprise, Avis Budget Group Inc. and Hertz Global Holdings Inc. If and when autonomous cars ever push human drivers off the road, the rental-car companies will either be (1) in the autonomous-car business or (2) out of business. But for now, the rental-car business is still growing.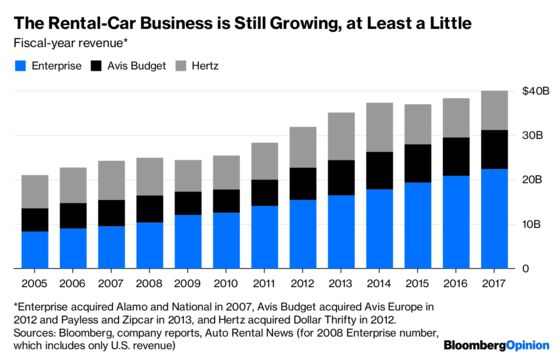 It's probably not a coincidence that Hertz, which is most dependent on the traditional pick-it-up-at-the-airport business model, has been treading water while the others have shown growth. Enterprise has long specialized in providing replacement vehicles for people whose cars were being repaired, although it did buy airport-focused Alamo and National in 2007. Avis Budget has been experimenting with multiple different approaches, most notably through its 2013 purchase of car-sharing service Zipcar. The rental-car business is definitely changing. It's just not going away — at least not for a while yet.
To contact the editor responsible for this story: Brooke Sample at bsample1@bloomberg.net
This column does not necessarily reflect the opinion of the editorial board or Bloomberg LP and its owners.
Justin Fox is a Bloomberg Opinion columnist covering business. He was the editorial director of Harvard Business Review and wrote for Time, Fortune and American Banker. He is the author of "The Myth of the Rational Market."
Get Your
Daily Newsletter
Get market moving news, top news & compelling perspectives
---