Time for Warren Buffett to Put That Cash to Use?
(Bloomberg Opinion) -- Cash is king for Warren Buffett. Could now finally be the time to use it? 
Buffett's Berkshire Hathaway Inc. reported third-quarter earnings Saturday morning. But let's be honest, there are rarely any surprises — at least nothing that would drastically change the investment case around Berkshire — and that was true again this time. It's long been among the least volatile stocks in the S&P 500 Index (though the price has slid 8 percent from last month's all-time high), and to the extent the U.S. economy is doing well, Berkshire should be, too.
Like its peers across various industries, Berkshire's businesses posted a strong quarter: BNSF Railway benefited from improved pricing power and a shortage of trucks to move goods. The insurance operations rebounded from last year's underwriting losses that were fueled by a series of hurricanes. And because Berkshire owns mostly U.S.-centric companies, it's been somewhat insulated from trade tensions. Precision Castparts, the aerospace parts manufacturer acquired in 2016, may be an exception with its need for steel and aluminum. Still, the manufacturing division had an uptick in revenue and profit. This all helped Berkshire's operating earnings surge to $6.88 billion, versus $3.44 billion a year ago.
But all that aside, the number that shareholders and Buffett followers are most intrigued by these days is Berkshire's cash. Its war chest stands at $104 billion — a small dip from $111 billion in the second quarter — as rich takeover valuations and a competitive M&A market continued to keep Buffett sidelined from dealmaking. In fact, Berkshire's cash holdings have been rising at a slightly faster clip than the value of its stock-market investments, a trend I find fascinating given that we're talking about one of the world's most successful investors. Even he can't keep up with all the cash Berkshire generates: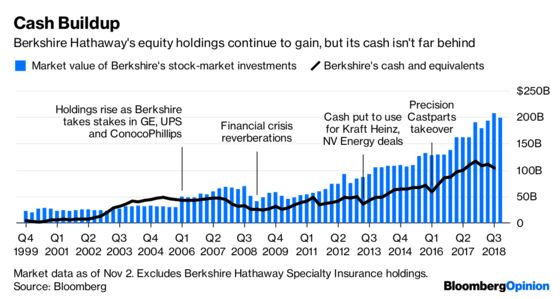 The recent market rout just may provide the opening Buffett has been waiting for to finally put a chunk of that cash to use. Of course, his preferred usage would be a big acquisition. I screened for 
this list of potential Buffett candidates
last year using the billionaire's long-held takeover criteria, and since then a few new names have appeared, including Eaton Corp., a $32 billion maker of power-management technologies whose stock took a 17 percent dive last month. Parker-Hannifin Corp., another industrial company battered in recent weeks, also joins the Buffett screening, alongside wackier possibilities like Starbucks Corp. The usual suspects such as 3M Co., Deere & Co., Delta Air Lines Inc. and Home Depot Inc. still fit the bill based on their financial metrics.
Buffett, the chairman and CEO, did pull the trigger on share buybacks, albeit a mere $928 million worth. In July, the board loosened its rules around the price for repurchases, which previously couldn't exceed a 20 percent premium to the book value of Berkshire's shares, or a multiple of 1.2 times book value. Now, buybacks can be made whenever both Buffett and Vice Chairman Charlie Munger "believe that the repurchase price is below Berkshire's intrinsic value, conservatively determined." For what it's worth, the current ratio is about 1.4, according to data compiled by Bloomberg.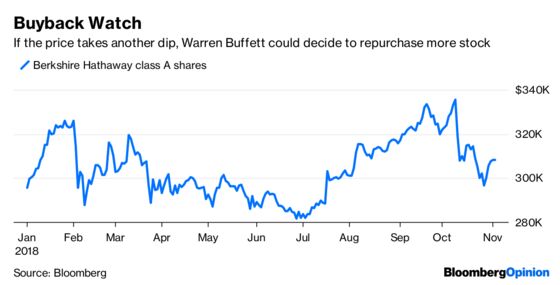 Naturally, given that Buffett turned 88 in August and Munger is rounding 95, there's been speculation about retirement. Earlier this year Buffett
elevated Greg Abel and Ajit Jain
, their most likely successors. Abel was appointed vice chairman of non-insurance business operations, a sprawling portfolio, while Jain was made vice chairman of all things insurance-related. But there were no more announcements on this front, and I don't think Buffett's ready to totally step aside yet (nor are there any signs that he needs to). In my recent correspondence with Buffett, he wrote that he was busier than ever. Plus, I don't see him going out without
one last megadeal
. 
This earnings report does come at an interesting time, though. In just a few days, the U.S. will vote in midterm elections against the backdrop of the most vitriolic political environment in recent memory and a nation increasingly divided over its future. And despite broad signs of a still-healthy economy, the stock market has gone wayward during the past month, dragged down by concerns ranging from the growth prospects of tech giants and peak earnings at industrial companies to the ongoing trade war with China. This is where Buffett, America's cheerleader, would say that the long-term outlook for the nation is still intact and that today's children will still be better off than their parents. 
That's why the details within Berkshire's quarterly 10-Q are less relevant to investors than what Buffett's investment decisions signal about his conviction in the strength and resilience of the U.S., no matter who's in office. So, Buffett, what are you going to do with all that cash?
To contact the editor responsible for this story: Beth Williams at bewilliams@bloomberg.net
This column does not necessarily reflect the opinion of the editorial board or Bloomberg LP and its owners.
Tara Lachapelle is a Bloomberg Opinion columnist covering deals, Berkshire Hathaway Inc., media and telecommunications. She previously wrote an M&A column for Bloomberg News.