Michael Cohen Set to Plead Guilty Over Payments, Sources Say
(Bloomberg) -- Donald Trump's longtime lawyer and fixer Michael D. Cohen is set to plead guilty to federal charges stemming from hush payments to women who claimed to have had affairs with the president, according to people familiar with the case.
Cohen is scheduled to appear in federal court in New York at 4 p.m. Tuesday.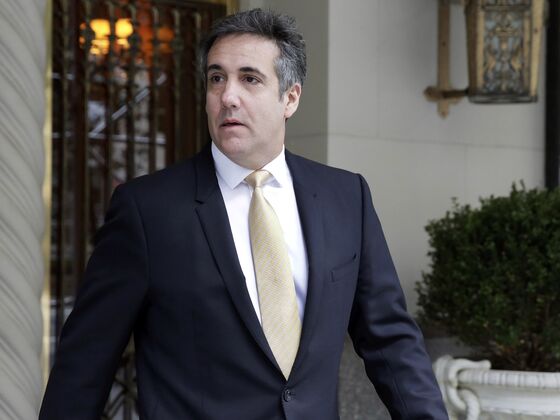 The deal doesn't include Cohen's cooperation with authorities, although that could change, according to one of the people, who asked not be named because the plea agreement isn't yet public.
Any cooperation deal, now or later, would be a potentially perilous development for Trump that could offer investigators a detailed view into the president's business and campaign dealings. Lawyers for Cohen didn't immediately comment.
The guilty plea comes as a federal jury in Alexandria, Virginia, weighs bank and tax fraud charges against Trump's former campaign manager, Paul Manafort. Jurors on Tuesday sent a note indicating they're close to a verdict.
The investigation has looked into Cohen's role in payments to silence two women who say they had affairs with Trump. Stephanie Clifford, an adult film actress better known as Stormy Daniels, and former Playboy model Karen McDougal both sued to void their agreements to stay silent on their allegations.
Cohen's plea deal relates to payments to Clifford and McDougal, one of the people said. He will appear in front of U.S. District Judge William Pauley III in Manhattan.
The charges include campaign finance fraud, bank fraud and tax fraud. The plea deal was finalized Tuesday morning, the person said.
Clifford's lawyer, Michael Avenatti, said Tuesday's news should help her case. She's also sued Trump for defamation after he said she had lied about their relationship.
The developments of today will permit us to have the stay lifted in the civil case & should also permit us to proceed with an expedited deposition of Trump under oath about what he knew, when he knew it, and what he did about it. We will disclose it all to the public.
Sent via Twitter for iPhone.
View original tweet.
Cohen -- who chased Moscow real estate deals for Trump, arranged hush-money payments on his boss's behalf and traded on his ties to the president to collect millions of dollars from some of the world's biggest corporations -- entered the FBI's New York offices Tuesday afternoon, according to images broadcast on CNBC.
Cohen had been under investigation for months, following revelations that he had set up a shell company weeks before the 2016 presidential election to pay a porn actress who had threatened to go public with allegations she had an affair with Trump roughly a decade earlier. Cohen's residences and office in Manhattan were raided by FBI agents in April following a referral from Special Counsel Robert Mueller.
There could be several reasons for Cohen to plead guilty without a cooperation deal, according to Harry Sandick, a former federal prosecutor in Manhattan. It's possible, he said, that federal prosecutors don't consider his information valuable or view him as a worthy witness. But that could change.
"It could mean that they don't need him or don't trust him, or just aren't ready to cut the deal yet," said Sandick, now a defense attorney at Patterson Belknap Webb & Tyler LLP. "Trump might be happy if there's no cooperation today, but there could be cooperation in the future."
The charges against Cohen could expose Trump to new risks. Few deputies at his namesake company were as involved in its various dealings as Cohen. With an office on the 26th floor in Trump Tower that was just a few feet away from his boss's, Cohen styled himself as a loyal attack dog -- upbraiding reporters in efforts to kill unflattering news articles and arranging deals to stifle accusations by women who alleged extramarital affairs.
With strained finances and the loss of a lucrative partnership with a prominent law firm, Cohen in recent months had sought leniency from prosecutors by signaling that he was ready to dish on Trump. Part of that effort included making public a surreptitiously recorded conversation he had with Trump over the eventual payment to Clifford.
Cohen, who once had vowed to "take a bullet" for Trump, instead angered his former boss, prompting Trump to criticize him and downplay their relationship.
Federal and state officials have secured the cooperation of at least three people in Cohen's orbit, including Clifford's lawyer on the hush agreement; a New York taxi magnate named Evgeny Freidman; and George Nader, who attended meetings where representatives from Russia and other countries may have sought Cohen's help to influence Trump.
Cohen has a decade-long view into Trump's business and personal affairs. Linked to Soviet emigres through friends and his in-laws, Cohen once pursued a plan to build a Trump-branded tower in Moscow -- even as Trump was campaigning -- and allegedly hand-delivered a Ukraine peace proposal to the White House. He has said he tossed the proposal into a garbage can.
Cohen also helped raise millions of dollars for Trump's presidential campaign and was later named a deputy finance chairman of the Republican National Committee, a title he shed earlier this year.
Cohen profited from Trump's surprise 2016 election, even as the modest fortune he amassed from taxi fleets in New York and Chicago began to decline. He received millions of dollars in payments from companies including Novartis AG and AT&T Inc., that wanted an inside edge when it came to Trump administration policy. Some of the companies subsequently apologized after those payments were made public, and some of the top executives involved in his hiring took early retirements.
Columbus Nova, a New York-based investment firm tied closely to Russian oligarch Viktor Vekselberg, paid Cohen $500,000 before the U.S. imposed sanctions against him in April. Vekselberg and Columbus Nova have denied that he was involved in the payment.
Cohen received funds for many of these deals through a Delaware-based company he formed, Essential Consultants LLC, which federal prosecutors had been probing for months. Cohen used it to pay Clifford as well as to handle a $1.6 million hush-money payment to a former Playboy model, Shera Bechard, on behalf of a top Republican fundraiser, Elliott Broidy, who has said that his affair with Bechard led to a terminated pregnancy.
--With assistance from Greg Farrell.
To contact the reporters on this story: Patricia Hurtado in Federal Court in Manhattan at pathurtado@bloomberg.net;Shahien Nasiripour in New York at snasiripour1@bloomberg.net;Christian Berthelsen in New York at cberthelsen1@bloomberg.net;Bob Van Voris in federal court in Manhattan at rvanvoris@bloomberg.net
To contact the editors responsible for this story: David Glovin at dglovin@bloomberg.net, ;Jeffrey D Grocott at jgrocott2@bloomberg.net, Heather Smith