Traders Sour on Clean Energy as Bets Against Invesco ETF Surge
Traders Sour on Clean Energy as Bets Against Invesco ETF Surge
(Bloomberg) -- A hot Wall Street trade is cooling down as supply-chain chaos emboldens short bets against one of Invesco Ltd.'s clean-energy ETFs.
With the green industry facing all manner of logistical snafus, as many as 9.9% of outstanding shares in the $3 billion Solar ETF (ticker TAN) were on loan to short sellers last week, according to data from IHS Markit Ltd. That's the highest level since April, when short interest reached 10.1% just before the fund slumped 25%.
TAN was a big winner from the frenzy into ESG funds that followed the election of President Joe Biden, but flows have dried up and it's on course to lose cash for the sixth month out of seven. That's proving a drag on the whole sector, with clean-energy exchange-traded funds overall set to see assets decline for the second consecutive month, according to Bloomberg Intelligence.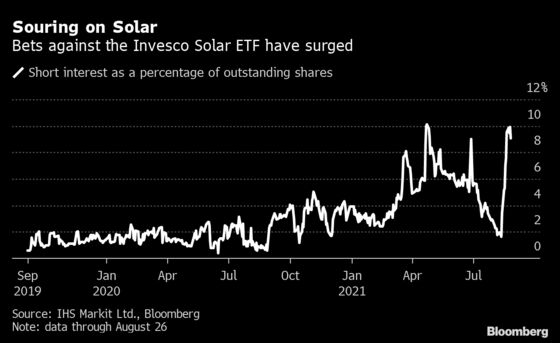 The global solar industry is confronting a slew of challenges, from logistical headaches like elevated freight costs to supply-chain disruption stemming from tensions between the U.S. and China. Costs have jumped this year, creating a double blow for companies that face both a drop in demand from consumers and reduced margins.
"Investors may be concerned that solar companies aren't really in a place to solve these short-terms issues around policy uncertainty, trade uncertainty as well as general macroeconomic trends," said Pol Lezcano, an analyst with BloombergNEF. 
The headwinds add to a roller-coaster year for TAN. Investors flocking to products with higher environmental, social and governance standards spurred assets to a record $5.2 billion in January. But they've pulled back amid bubble fears and to ride other market trends like cheap value shares. The ETF is down 18% this year after surging 234% in 2020.
Other funds that focus on clean energy broadly -- such as the iShares Global Clean Energy ETF (ICLN) and the Invesco Wilderhill Clean Energy ETF (PBW) -- have also fallen this year. While short interest has not jumped in these products to as high a level as TAN's, inflows have slowed dramatically or reversed.