Drought and Heat Lift Corn and Soy Amid Crop Outlook Uncertainty
Torrid Weather Sets Spring Wheat for Best Rally in Three Years
(Bloomberg) -- Corn in Chicago touched the highest price in more than two weeks as hot and dry fields in the northern U.S. dims harvest prospects for the growing crops.
Soybeans and both soft and hard red winter wheat also gained while spring wheat in Minneapolis snapped a seven-session rally after the futures neared the highest level since 2012.
This week's largely arid conditions in the Upper Midwest are stoking concerns about crop health. At the same time, Brazil is seeing slow corn harvests due to weather-related planting delays.
Corn gained as much as 3.4% to reach $5.7075, the highest since July 2. The futures have fallen 23% since early May, when prices reached an eight-year high amid robust demand and supply worries. Soft red winter wheat touched the priciest level in two months.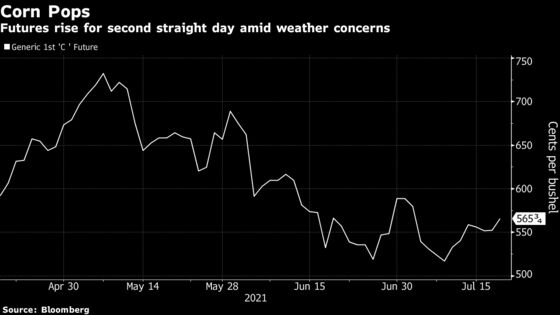 Most-active futures for spring wheat fell as much as 1.6% to $9.09 a bushel. Prices have climbed 53% this year through the close on Tuesday.
"Contracts bucked the overall trend, sliding nearly 1% lower on some technical selling and profit-taking," Jacqueline Holland, an analyst at Farm Futures, wrote in a note.
Spring wheat ratings further collapsed last week amid drought, according to U.S. Department of Agriculture data released on Monday. While the variety used to make pizza dough and bagels only accounts for a fraction of world grain output, the deterioration highlights weather worries across the globe that are driving a rebound in crop prices.
Soybeans, soy oil, soy meal and canola all gained on Tuesday.
More on the markets:
ETHANOL: U.S. Weekly Production Survey Before EIA Report
LIVESTOCK: U.S. Cattle, Hogs Daily Prices and Key Indicators
Scoular Adds U.S. East Rail Hub in Florida to Extend Reach
EU Soft Wheat Exports at 371k Tons in Season Through July 18
Russia Maintains 2021 Wheat Crop Estimate at 81m Tons: IFX
China's Imports of U.S. Corn Hit All-Time High in June: Customs
U.S. Crop Progress and Conditions for July 18: Summary (Table)
Argentina Law Seen Adding 500,000 Tons a Year to Soy Oil Market