Sell Tesla: Wall Street Pulls Out the Rarest of Ratings for Musk
Elon Musk is on Twitter scolding news organizations for quoting analysts with a bearish view of Tesla.
(Bloomberg) -- Elon Musk is on Twitter scolding news organizations for quoting analysts with a bearish view of Tesla Inc. There are a lot to choose from.
Of 31 analysts covering the stock, 10 say to sell, or 32 percent with a rating compiled by Bloomberg. Compared with members of the S&P 500 Index, a proxy for U.S. large caps, that's tied for the most in absolute numbers and near the top based on the proportion of bears.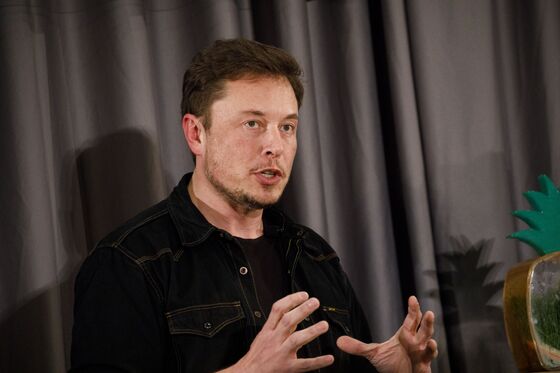 Wall Street firms rarely tell clients to get rid of a stock -- less than 5 percent of recommendations are sells. "Hold" is the polite way of expressing doubt.
But niceties have been abandoned when it comes to Tesla, where Musk has fought a pitched and public fight with bears over the Model 3, his attempt to put electric cars into the driveways of mainstream consumers. Short interest is a quarter of the stock's free float and Musk has repeatedly gone back to investment banks to seek billions of dollars after burning through cash at rates that have raised concern among some investors.
"Tesla is the kind of company that pushes the analysts to take really strong opinions," Michael Antonelli, an institutional equity sales trader and managing director at Robert W. Baird & Co. "This is a name that trades a lot on sentiment, and that sentiment changes minute by minute."
Only one company in the S&P 500, Under Armour Inc, has as many sells as Tesla, though they're offset by a greater number of buys and holds. Skepticism toward the athletic-wear maker has been warranted given its 59 percent decline from a 2015 high.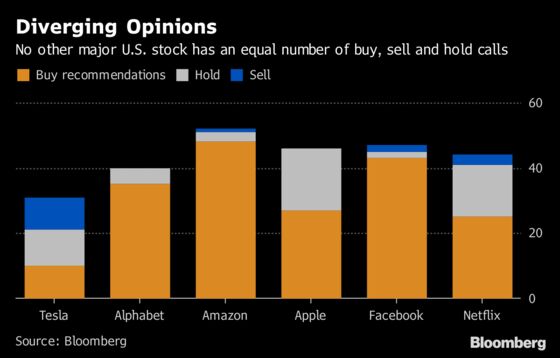 It's hard to say dumping Tesla has been good advice. Shares of the Palo Alto, California-based carmaker are up six of the last seven calendar years, including a 344 percent surge in 2013 that would've beaten any company in the S&P 500. The ride, however, has been bumpy. Although Tesla sits just 5 percent below its price 12 months ago, it was at one point down 35 percent from its 2017 high, and also rallied as much as 22 percent from its 2018 low.
Kamran Mumtaz, a spokesman for Tesla, declined to comment.
Equally famous technology megacaps get much nicer treatment. Amazon.com Inc, the stock covered by the biggest number of analysts, has just three hold and one sell recommendation for 48 buys. Apple Inc. has 27 buys, 19 holds and zero sells.
Four others companies, among them Consolidated Edison Inc., Campbell Soup Co. and Torchmark Corp., have a greater proportion of sells, but based on far fewer ratings.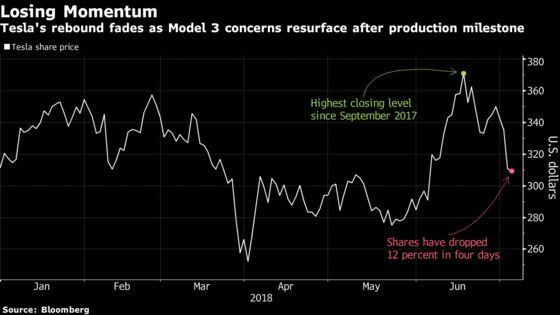 Tesla retreated for a fifth day on Friday, sliding 0.1 percent as of 10:45 a.m. in New York, as investors questioned whether production of Model 3 cars would be sustained. The stock soared 20 percent in June after losing 22 percent in March and has retreated almost 10 percent so far this month.
To contact the reporter on this story: Elena Popina in New York at epopina@bloomberg.net
To contact the editors responsible for this story: Courtney Dentch at cdentch1@bloomberg.net, Jeremy Herron