Investors Sour on Green Wave as Democrats' Hope for Senate Fades
Renewable Energy Shares Fall With U.S. Green Ambitions in Limbo
04 Nov 2020, 7:58 PM IST
(Bloomberg) -- Wall Street's confidence that the U.S. election would spark a clean-energy revolution dimmed after Republicans appeared set to retain control of the Senate, casting doubts over whether Joe Biden could pursue his climate agenda even if he wins the White House.
As a picture slowly emerged Wednesday of Democrats positioned to potentially take the White House but not Congress, renewables stocks including JinkoSolar Holding Co. and First Solar Inc. slumped. Oil and gas companies rallied, led by Concho Resources Inc. and ConocoPhillips.
Biden, who led President Donald Trump in electoral votes Wednesday afternoon, has proposed sweeping plans to move away from fossil fuels, promote electric vehicles and eliminate greenhouse gases from the electricity grid by 2035. But with Republicans poised to hold onto their slim majority in the Senate, those ambitions may run aground amid gridlock.
"There was some anticipation of a Democratic sweep and the possibility of major climate reform," Raymond James analyst Pavel Molchanov said in an interview. But without allies in the Senate "he'll have to rely on executive action, tinkering around the edges, rather than anything game-changing or transformative."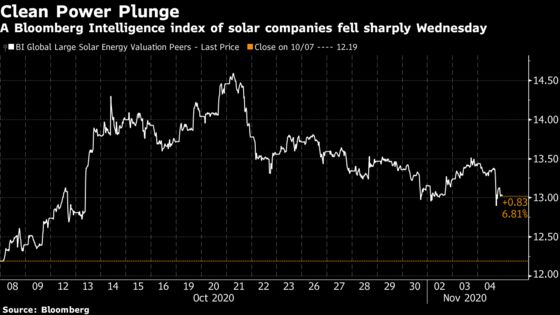 Concho rose 4.1%, and ConocoPhillips climbed 3.7%.
Marathon Oil Corp. rose 3.1%
JinkoSolar plunged 12%, and First Solar fell 8.6%. Morgan Stanley cut its rating on First Solar to the equivalent of sell.
Clean energy giant NextEra Energy Inc., the world's biggest producer of wind and solar electricity, slipped 3.6%.
In Europe, Vestas Wind Systems A/S, the world's top wind-turbine producer, slumped the most in three years before paring the losses.
"Perhaps the biggest conclusion to be drawn at this stage is that there is only a small likelihood that existing oil & gas tax incentives will be removed in the U.S. -- even if Biden emerges as the winner," Artem Abramov, head of shale research at Rystad Energy, said in a note to clients. Still, Biden would be able to ban new fracking on federal lands via an executive order, which would hit producers in New Mexico and elsewhere.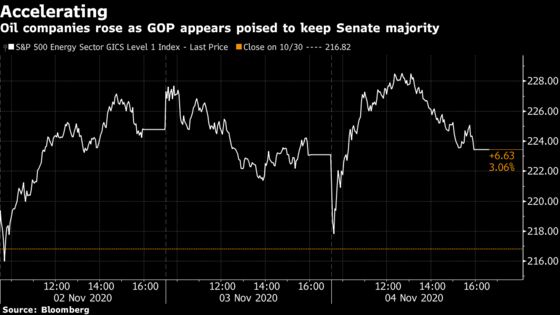 ​With votes still being counted in key battleground states including Pennsylvania and Nevada, it's unclear if the U.S. will more aggressively shift toward clean energy, as Biden has pledged -- or if Trump will get four more years to promote fossil fuels.
"Even in the event that Biden wins the election, we think the prospects of the solar industry look much less favorable given a lower probability of an extension of the investment tax credit," said Angelo Zino, an analyst at CFRA, in a research note. CFRA downgraded SunPower Corp. and manufacturer Canadian Solar Inc. to hold from buy.
While investors may be spooked by the uncertainty, it's unlikely a second Trump term would significantly thwart the growth of wind and solar power. Demand for clean power has increased throughout the Republican's presidency, thanks to state-level policies, corporations pushing to go green and a growing appetite for environmental, social and governance, or ESG, investments.
A Biden victory, conversely, could be give natural gas a boost as "a cleaner transition fuel" in the shift to a lower-carbon economy, RBC analyst Scott Hanold said in a note.