Petrobras Hikes Fuel Prices in Encouraging Sign for Market
Petrobras Hikes Fuel Prices in Encouraging Sign for Market
(Bloomberg) -- Brazil's state-controlled oil company Petroleo Brasileiro SA raised domestic fuel prices in an encouraging sign for investors who are concerned about a return to subsidies to contain inflation. Shares rallied.
Petrobras announced a 25% increase in the price of diesel it sells to distributors, to 4.51 reais a liter ($0.89), and a 19% increase in gasoline prices to 3.86 reais a liter. The company also announced higher prices for cooking gas. 
The oil producer is at the center of a political debate in Brazil where both President Jair Bolsonaro and his main opponent in the October election, Luiz Inacio Lula da Silva, have criticized the state-controlled producer for charging international prices for fuel. The firm's preferred shares rose as much as 6.3% following the news, leading gains on Brazil's Ibovespa index, before trimming the gains.
Oil's surge to the highest since 2008 has been a painful event for Petrobras's shareholders and bondholders after the region's biggest producer temporarily abandoned market-based fuel pricing in an election year. The last time it had raised prices was in January, before Russia's invasion of Ukraine upended the global oil market. The lack of adjustments was making the company's own board of directors uneasy, two people with direct knowledge of the matter had said.
Petrobras and the Bolsonaro administration have been holding meetings to hash out a strategy for keeping prices from surging, but hadn't agreed on who would foot the bill. The Economy Ministry had been pushing for the company to absorb some of the costs, people familiar with the matter said, but eased pressure after Petrobras said there was a risk of fuel shortages if it couldn't raise prices, according to one person, who asked not to be named because discussions are private. 
The private sector had said the gap between what Petrobras charges at the refinery gate and international levels was making it economically unfeasible to import gasoline and diesel to Brazil.
The Brazilian government agreed to reduce so-called PIS/Cofins taxes on diesel and cooking gas to help curb the impact of surging crude in local fuel prices, two people with direct knowledge of the matter said. The change, expected to cost public coffers 20 billion reais ($4 billion) a year, was an attempt to unlock voting on a bill that alters state taxes known as ICMS on fuels. The Senate is expected to vote on it later today. 
Other Latin American oil producers, including Mexico, Argentina and Ecuador, are also subsidizing fuels in a move that erodes the fiscal benefits of high commodity prices even though the region is a major exporter.
Petrobras's $1.8 billion in bonds due in 2031 fell to a record on Feb. 24, the day Russia invaded Ukraine, and its $1.2 billion in bonds due in 2051 sank to the lowest since they were issued on Mar. 7. Even with Thursday's advance, its shares have trailed U.S.-based oil majors this year.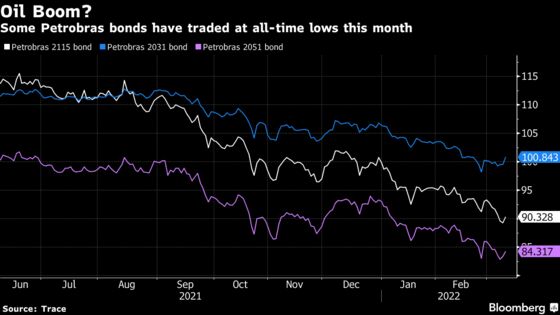 Brazil imports nearly 300,000 barrels a day of gasoline and diesel, and subsidizing prices would be a massive expense worth millions of reais every day, said Fernando Valle, an equity analyst at Bloomberg Intelligence who covers Petrobras. 
"Petrobras did that for several years, which led to it becoming the most indebted oil company in the world by 2014," he said.
A widening gap between Brazilian and international fuel prices will also discourage investors from buying refineries that it has been trying to sell, because it signals they could face unfair competition from Petrobras. Previous asset sales helped the company to slash what was once the biggest debt load in the oil industry. 
Get Your
Daily Newsletter
Get market moving news, top news & compelling perspectives
---