Net-Zero Emissions Drive in Britain Needs 10 Times More Energy Storage
Net-Zero Emissions Drive in Britain Needs 10 Times More Energy Storage
(Bloomberg) -- Britain needs to increase energy storage tenfold to hit its target of net-zero greenhouse-gas emissions by 2050.
That's the estimation of utility Drax Group Plc, which says 30 gigawatts of pumped hydroelectricity storage and batteries are necessary to help the U.K. transition to a net-zero energy system. Drax operates 400 megawatts of pumped hydro.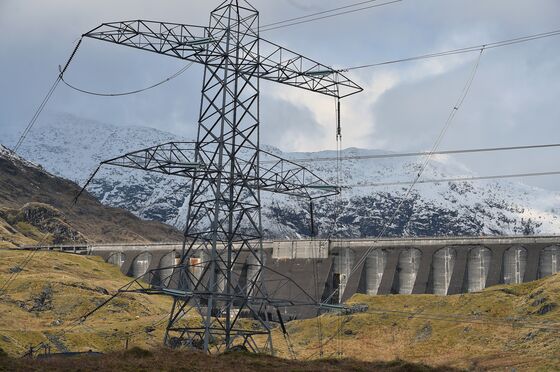 quantities of storage will help mitigate against the indeterminacy of renewable power. The U.K. currently has about 3 gigawatts of storage available with 1.1 gigawatts either commissioned, under construction or announced since the start of 2018, according to BloombergNEF data.
"This summer's blackout in Britain highlights the value of having a range of fast-acting technologies and that demand will only grow as older thermal power plants retire and are replaced by intermittent renewables," said Oliver Schmidt, co-author of Drax's Electric Insight report and senior consultant at clean energy consultants Apricum GmbH.
To contact the reporter on this story: Jeremy Hodges in London at jhodges17@bloomberg.net
To contact the editors responsible for this story: Reed Landberg at landberg@bloomberg.net, Andrew Reierson, Jonathan Tirone