India Startup Byju's Makes Global Push With One-on-One Lessons
(Bloomberg) -- India's second-most valuable startup Byju's is expanding its push into international markets to drive future growth, after reaping a windfall from the pandemic-fueled boom in online learning at home.
The startup, which currently offers one-on-one online classes in coding and math in a handful of English-speaking countries, will expand its services to more markets next month, according to a statement Thursday. The program, named Byju's Future School, will be available in the U.S., U.K., Australia and Indonesia as well as Spanish-speaking Mexico and Brazil, where classes will be offered in Portuguese. More subjects, including music, English and the creative arts, are also in the pipeline.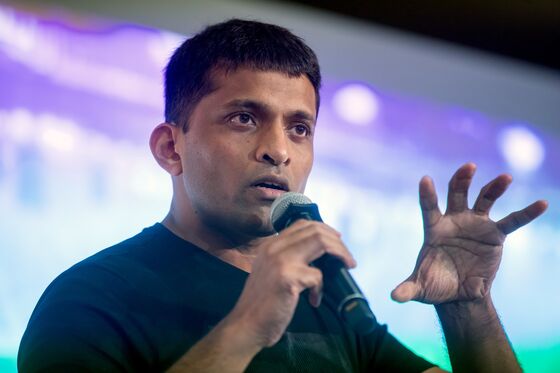 "We are creating the online school of tomorrow, and want to be far superior than anything anyone can do offline," said Byju Raveendran, the education technology startup's 39-year-old founder and chief executive officer. "The time is ripe for a habit change as teachers, students, schools and parents are all much more open to online learning," Raveendran said in an interview via video conference on Thursday.

The Bangalore-based startup is now turning to overseas markets for growth after pandemic-induced school closures hastened a rush to online learning in India. The boom has allowed Byju's to embark on an acquisition spree to cement its leadership, including its $300 million purchase of education technology startup WhiteHat Jr. last August. Last week, the startup also announced it will buy offline test prep leader Blackstone-backed Aakash Educational Services Ltd. in a deal that's said to be valued at about $1 billion.
Karan Bajaj, founder and chief executive officer of one-on-one coding platform WhiteHat Jr., will head Byju's Future School. The program has over 11,000 teachers -- all women -- guiding students through creating and building websites, mobile apps, games, composing music and creating art, he said.
Read more: 9-Year-Old Coders Show How India Is Pioneering Online Education

One-on-one live and interactive learning has the potential to overtake Byju's online K-12 self-learning app model, which has 80 million registered students, said Raveendran. "Until now, we have focused on self-learning via the app but the live classes with a dream student-teacher ratio of one-to-one will turbo-charge real-time learning," he added.
The K-12 education technology leader was last valued at $13 billion, ranking just behind the $16 billion fintech leader Paytm as India's most valuable startup. It's backed by investors including Facebook founder Mark Zuckerberg's Chan-Zuckerberg Initiative, Naspers Ltd., Tiger Global and Tencent Holdings Ltd.

"We want to be one of the largest learning companies in the world," said Raveendran, the son of former school tutors.