As Energy Prices Soar, Weatherizing Homes Gains New Appeal
As Energy Prices Soar, Weatherizing Homes Gains New Appeal
(Bloomberg) -- Even before home energy costs began spiking this winter, David Moon had faced eye-popping bills to keep his Westchester, New York, house warm as his monthly heating oil tab approached $1,000.
"It was a huge sticker shock for me," says Moon, who had bought his 4,400-square-foot home in 2019 after relocating from Nevada.
This winter, he didn't sweat his energy use, even though oil prices hit a seven-year high in early February and have now climbed above $100 a barrel following Russia's invasion of Ukraine. That's because in August, Moon completed a project that experts say is one of the most effective—if mundane—ways to lower high energy costs and cut a home's greenhouse-gas emissions: plugging holes and insulating walls and attics. He also replaced a boiler with four highly efficient electric heat pumps that extract warmth from the outside air and circulate it through the home. 
While his electricity bill has doubled most months, Moon says his overall energy costs have fallen as much as 60%. "The house is definitely more comfortable, and not drafty, and that alone was worth it," he says. "These days oil prices are pretty brutal, so it's nice not to worry about that."
The U.S. Energy Information Administration has forecast that heating oil expenditures will be 43% higher this winter than the last. On the West Coast, Pacific Gas & Electric Corp. has warned its California customers to expect higher bills as it passes on a 90% jump in natural gas prices. And that was before the war in Ukraine pushed oil and gas prices even higher.
Still, weatherizing a home can be a hard sell, according to Jeffery Liang, a project manager for BayREN, a Northern California clearinghouse for information on contractors and rebates for home energy efficiency improvements. 
"Insulation is not very sexy," he says. 
Unlike the green bragging rights that come with buying a Tesla or installing solar panels, neighbors are unlikely to wander over to admire your newly air-tight attic. And while you can easily buy an electric car online, weatherization can involve navigating a welter of auditors, contractors and rebates.
But after a couple of hair-raising utility bills this winter, I decided it was time to get an energy audit of my charming but chilly 1928 home in Berkeley, California. They don't come cheap, though; I received quotes for as much as $925 for a comprehensive evaluation.
The auditor I chose was thorough. She spent more than three hours mapping the house and gauging heat loss by imaging walls and ceilings with an infrared device plugged into her iPhone. The auditor also inspected the attic, crawlspace, furnace and ductwork and identified holes and gaps where heat can escape the house.
The data will be entered into a software program to model potential energy efficiency gains and costs from various upgrades. In the meantime, I learned, not surprisingly, that my home's 94-year-old walls were not insulated. The back-of-the-envelope estimate was it would cost $10,000 or more to blow insulation into the walls.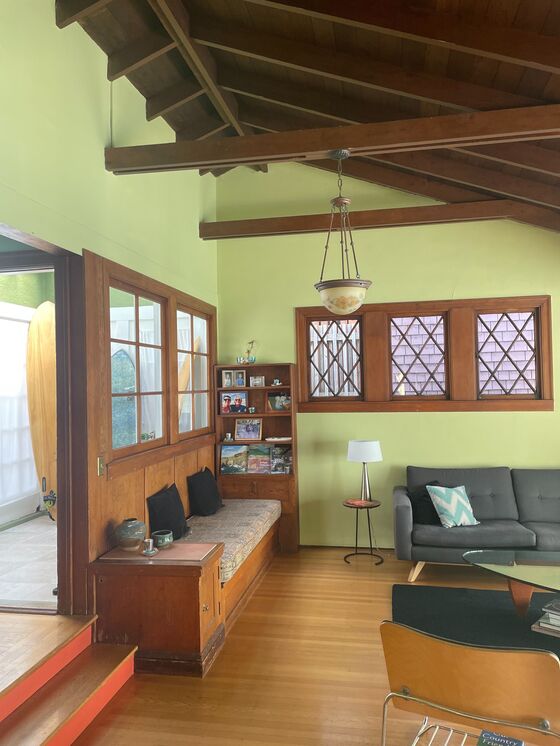 One of the home's most attractive features, soaring vaulted ceilings, was also the source of the biggest heat loss. That fix would be less expensive as I'm replacing the roof this spring and can have insulation added by the contractor.
Another revelation: My furnace is oversized for the square footage of the house. That means it blasts so much hot air that the thermostat shuts the furnace down before the house is properly heated. Then as the interior temperature quickly drops, the furnace cranks up again. The ducts that distribute warm air through the house are also leaking heat.
Sealing holes and gaps in the building's frame would help stem heat loss and also keep out a now-perennial climate-driven pollutant in California — wildfire smoke.
"The average home in America loses 30% of heat in the ducts," says Liang. "The big opportunity to save energy is insulation, air sealing and duct sealing." 
If I made all those upgrades I might realize a 40% gain in energy efficiency, the auditor said. But unlike spending five figures on a bathroom or kitchen remodel, unseen energy efficiency improvements may not necessarily be reflected in a higher resale value for a home.
To encourage homeowners to make such investments anyway, some governments and utilities offer rebates to help defray the cost. But a new financing model from a New York startup called Sealed promises to spare homeowners the upfront investment and the hassle of coordinating contractors. Another New York company, BlocPower, offers a similar financing program to enable apartment building owners to replace boilers with heat pumps and make other energy efficiency upgrades. 
Sealed financed and managed Moon's project to insulate his attic and install heat pumps as well as a heat pump water heater. His monthly payment to the company is based on his energy savings.
"If you don't save energy, we don't make money," says Lauren Salz, Sealed's co-founder and chief executive officer. "We're betting on big reductions in people's energy usage so there's a strong alignment of interest between us and the customer in recommending the right improvements and the best contractors."
The company, which currently operates in New York, New Jersey and the Philadelphia area, has amassed a database of different types of homes that have undergone upgrades over time. When Sealed signs up a customer it conducts an energy audit and uses what Salz calls a predictive machine learning model to forecast the probable energy savings of improvements under various weather conditions. 
Josh Rosen hired Sealed to weatherize his Tarrytown, New York, home and install a heat pump. He says he's happy with the result but called the company's typical 20-year repayment contract "a long commitment."
Still, the business model and environmental benefits appealed to him. "They had an incentive to do a good job," he says.