Energy Woes Show Need to Step Up Chile Green Shift, Acciona Says
(Bloomberg) -- A global natural gas squeeze combined with changing weather patterns underscore the need to plow ahead with renewable energy in Chile, which relies on imports for almost all of its fossil fuels, according to Acciona SA.
The ripples from gas shortages in Europe have reached all the way to the South American nation, where they have combined with a long-running drought to push up marginal energy costs, said Jose Ignacio Escobar, regional director for Acciona's clean-energy unit. 
The situation is exposing Chile's storage deficiencies, which see the country losing 5-7% of its solar energy, said Escobar, who called for rules that promote more batteries. The energy crunch also reinforces the need to develop a domestic green hydrogen industry, he said. Acciona has teamed up with GNL Quintero to develop a $30 million green hydrogen pilot at the latter's liquefied natural gas terminal in central Chile.
"We need to be more independent," Escobar said in an interview Tuesday. "You always have an issue somewhere in the world."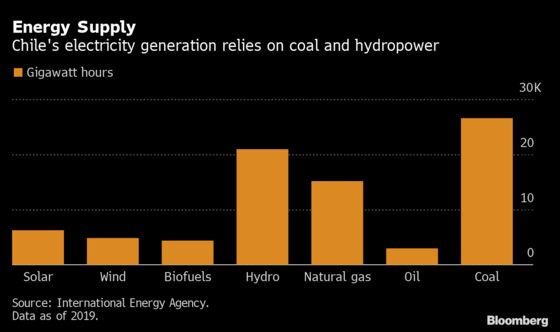 Acciona and GNL Quintero are seeking a state grant for the green hydrogen project that may supply industrial customers such as oil refiner Enap and copper powerhouse Codelco. They've also been testing the addition of a small percentage of green hydrogen to the natural gas mix. 
"The more green hydrogen you put in the system, the lower the emissions of the natural gas," Escobar said.
Click here for Bloomberg's ESG overview function and here for the BI ESG metric screen
Acciona is piloting a similar electrolysis plant in the Spanish island of Mallorca and is working on green hydrogen ideas in Australia, U.S., Mexico and elsewhere in South America.
Chile is looking to green hydrogen -- obtained by stripping the gas from water using electrolyzers powered by renewable power -- as an export industry of the future and a way for its giant copper mines to replace diesel and further tap abundant and cheap wind and solar sources.