The World's Biggest Crypto Company Just Opened the Books for Its IPO
One of the cryptocurrency world's most powerful, controversial and secretive companies just opened its books for the first time.
(Bloomberg) -- One of the cryptocurrency world's most powerful, controversial and secretive companies just opened its books for the first time.
Bitmain Technologies, the virtual currency mining firm co-founded by billionaires Jihan Wu and Micree Zhan, released its first public financial statements in a Hong Kong regulatory filing late Wednesday. The disclosure, which also confirmed Bitmain's intention to pursue an initial public offering, follows months of speculation about the company's listing plans and its potential vulnerability to a more than $600 billion rout in digital assets since January.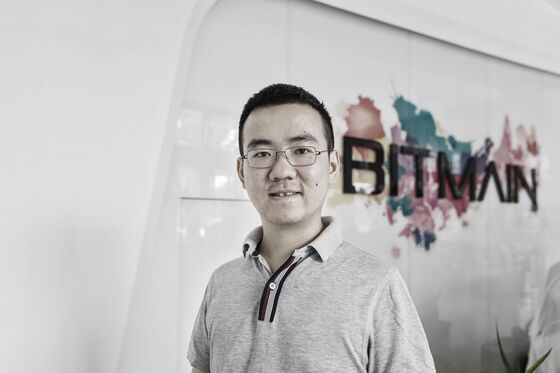 Here are some highlights from Bitmain's filing:
Profit rose almost ninefold to $742.7 million in the first half from a year earlier
Revenue rose about 10-fold to $2.8 billion in same period
Adjusted return on equity of 58.9%
Bitmain held $886.9 million of cryptocurrency assets at the end of June, or about 28% of total assets
Company recorded an impairment loss of $102.7 million on crypto assets in the first half; impairment provision on inventory of $252.7 million
Inventories swelled to $887 million from $558 million at end 2017
Volatile markets may require "significant provisions" on inventories and crypto holdings
Mining hardware sales make up 94.3% of revenue; mining pools 1.5%; mining farms 0.8%; proprietary mining 3.3%; others 0.1%
Company has adopted a dual-class share structure, giving co-founders Wu and Zhan control
China International Capital Corp. is the IPO sponsor
Founded in 2013, Bitmain is one of the biggest companies to emerge from the boom in digital assets that propelled Bitcoin to a 15-fold gain last year. As both the largest operator of Bitcoin mining collectives and the dominant supplier of virtual currency mining machines, the firm has enormous influence over the global crypto ecosystem -- a role that has troubled members of the community who disdain anything resembling a centralization of power.
Yet questions over the sustainability of Bitmain's meteoric rise have been multiplying in recent months. The 2018 tumble in virtual currency prices threatens both the profitability of Bitmain's mining operations and demand for the custom chips it sells to other miners. Meanwhile, competition in the mining-gear business has grown more intense.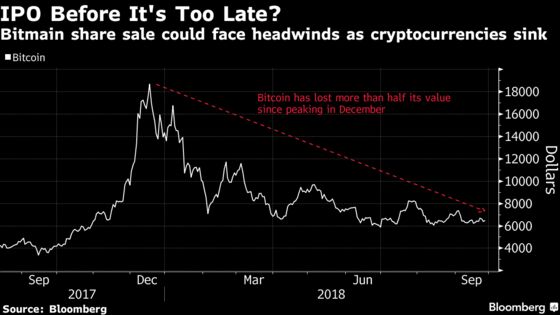 Two of Bitmain's biggest rivals -- Canaan Inc. and Ebang International Holdings Inc. -- are also pursuing IPOs in Hong Kong as they seek funding for a technological arms race. Bitmain risks losing its competitive edge, Sanford C. Bernstein & Co. analysts wrote in a report last month.
For now though, Bitmain is still the industry bellwether, with a market share in crypto mining gear estimated by Frost & Sullivan at nearly 75 percent. If the company proceeds with the IPO, it will represent a major test of whether investors view virtual currencies as a temporary fad or an innovation with staying power. A Bitmain listing -- with its myriad public disclosure requirements -- may also help reduce the opacity of an industry that skeptics say is under-regulated and prone to misbehavior.
"From the initial numbers I saw, it's quite encouraging," said Jehan Chu, managing partner at blockchain investment and advisory company Kenetic Capital. The firm invested in Bitmain during an earlier round of funding, Chu said. "It's great to have actual clarity, validated documents to shed some light on the company's actual status and actual performance."
The company has yet to disclose a target valuation or say how much it wants to raise from its IPO. People familiar with Bitmain's plans told Bloomberg last month that the share sale may raise as much as $3 billion. The company has repeatedly declined to comment when asked for details of its listing plans.
Read more: Bitmain Lost $27m of Coins in Suspected Hacker Attack Last Year
Bitmain's main product is called the Antminer, a server-sized box that sells for a few hundred to a few thousand dollars. Instead of the various parts that make up a traditional PC, Antminers are filled with dozens or hundreds of high-powered chips, known as ASICs, that perform the brute-force number crunching needed to verify virtual currency transactions. Customers are mostly large mining operators in places with cheap electricity.
While Bitmain gets most of its revenue from mining equipment sales, the company also runs some of the world's biggest mining collectives, in which members combine their processing capacity and split the rewards.
Wu has said he wants Bitmain to branch out into non-crypto fields such as artificial intelligence, where ASICs also play an important role. In an interview earlier this year, he estimated that as much as 40 percent of Bitmain's revenue will come from AI chips within five years. But skeptics, including Sanford C. Bernstein analyst Mark Li, have said a successful push into AI is far from certain.
There's also no guarantee that investors will flock to Bitmain's IPO, especially given the recent weakness in Hong Kong's stock market.
The city's benchmark Hang Seng Index has dropped 16 percent from this year's high in January, one of the biggest declines among major markets worldwide.
--With assistance from Eric Lam.
To contact the reporter on this story: Michael Patterson in Hong Kong at mpatterson10@bloomberg.net
To contact the editors responsible for this story: Brian Bremner at bbremner@bloomberg.net, Dave Liedtka, Sam Mamudi