Clean Energy Investments in Rich Nations Outpace Poorer Ones
Clean Energy Investments in Rich Nations Outpace Poorer Ones
(Bloomberg) -- Despite a record amount of investments globally in solar farms, electric vehicles and other low-carbon projects, less money went to countries last year that have contributed the least to climate change.
Investments in developing economies fell 10% to $195 billion, equal to 43% of the total, according to BloombergNEF's annual Climatescope survey. Developed nations, which have historically caused the most environmental damage, received $262 billion. 
"Investors' willingness to invest in poorer parts of the world really seemed to stall in 2020 as the pandemic took hold," said Luiza Demôro, head of energy transitions research at BNEF.
Until 2020, investments in developing nations had outpaced richer nations for the prior five years. The funds are used to assist the countries in developing low-carbon strategies. A key African climate group called for a 13-fold increase in financing from richer nations to help poorer countries make the green transition.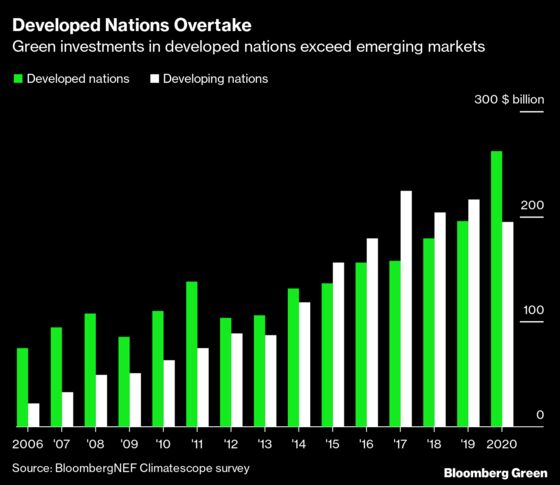 The growing popularity of electric vehicles in western Europe boosted investments in developed nations, while purchases in emerging markets remained low because the cars are more expensive than internal combustion engine vehicles, BNEF said.
Al Gore's Generation Investment Management has said trillions of dollars are needed for underinvested markets, particularly in emerging economies.