The One Where Apple Tried to Buy Its Way Into Hollywood
The question is whether Apple TV+ can keep users coming back.
(Bloomberg Businessweek) -- In late March, a large delegation of celebrities and their handlers arrived in Cupertino, Calif., like explorers on an exotic island. The group, which included Oprah Winfrey, J.J. Abrams, and Jason Momoa, went to Apple Inc.'s headquarters for the launch of Apple TV+, the tech company's new subscription video service.
After a series of announcements about subscription news and video game services, plus one about a credit card, Apple's Zack Van Amburg and Jamie Erlicht appeared on stage and promised a lineup of a dozen original shows featuring "the best stories ever told," as Erlicht put it.
After the presentation, agents and managers began peppering Van Amburg and Erlicht, who run the company's TV efforts, with complaints. Only a handful of the celebrities who'd flown to the Bay Area for the event had been asked to appear; other big names who'd come, including Jennifer Garner and Chris Evans, hadn't even been mentioned. The general feeling among the Hollywood types, according to several executives who attended, was one of resentment and confusion.
Van Amburg and Erlicht hadn't said how much the service would cost. Nor had they shown much footage from any of the new shows. They hadn't mentioned whether Apple TV+ would include reruns of other popular shows, in addition to original series. Why, the Hollywood delegation wondered, would anybody pay for a service that had so few programs?
Chief Executive Officer Tim Cook has staked Apple's future growth on subscription services, including Apple TV+, which will debut on Nov. 1 with programming such as Morning Show, a drama set in the world of TV news that stars Reese Witherspoon and Jennifer Aniston, and See, a science-fiction series starring Momoa. Cook's goal is to strengthen customers' loyalty to the company's hardware while generating additional revenue through a monthly subscription. But Apple is entering an exceedingly crowded market, and will be competing with new streaming services from Disney, Comcast, and AT&T, among others. This story is based on interviews with more than a dozen executives who worked at Apple or on its programs. The company declined to comment.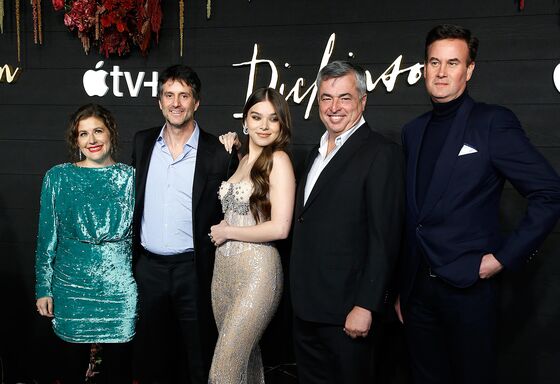 Although Apple has deep ties to Hollywood—Steve Jobs co-founded the animation studio Pixar in 1986—it had long resisted entering the messy business of producing movies and TV shows. The company's strategy began to shift with the rise of Netflix and Spotify, which rendered iTunes' marketplace for downloadable music and movies more or less obsolete. In 2014, in an effort to shore up iTunes, Apple spent $3 billion to purchase Beats, an audio products and music streaming venture co-founded by rapper Dr. Dre and music producer Jimmy Iovine. The following year, the company started a new streaming service, Apple Music.
Under Eddy Cue, Apple's services chief, the company funded a handful of TV projects—including Carpool Karaoke, a spinoff from comedian James Corden's late-night TV segments on CBS, and a reality show called Planet of the Apps, in which tech entrepreneurs pitched startup ideas while riding up escalators. The company distributed them on Apple Music, but did little to promote the shows. They were panned by critics. Variety called Planet of the Apps a "bland, tepid, barely competent knock-off of 'Shark Tank.'"
Apple also discussed releasing scripted programming, including a project involving Keanu Reeves, according to people familiar with the matter. But it didn't want to finance them, and those plans sputtered out. The company did produce Vital Signs, a gangster-rap bildungsroman developed by Iovine and based on Dr. Dre's rise to the top of the music industry—but then declined to release it.
One challenge, the former executives say, was taste. Because he wanted to protect the Apple brand, Cook insisted on reviewing episodes to snuff out anything potentially controversial. At one point, Apple delayed Carpool Karaoke to recut several episodes, including one in which Gwyneth Paltrow dropped a reference to vaginal steaming.
Despite the failings, Apple never gave up on Hollywood. Cue pursued Imagine Entertainment, the production company led by Brian Grazer and Ron Howard. The two producers, whose work includes A Beautiful Mind, Friday Night Lights, and Empire, flew to Cupertino to present Cue with a term sheet. Cook, a Happy Days fan, made a surprise appearance to see Howard, who played Richie Cunningham on the 1970s sitcom. But Grazer and Howard eventually bailed after deciding they didn't want to be employees of a large company, according to people familiar with the negotiation.
After the deal fell apart, Apple hired Van Amburg and Erlicht in June 2017 from Sony, where they'd produced Breaking Bad. "Jamie and Zack are two of the most talented TV executives in the world and have been instrumental in making this the golden age of television," Cue said in a statement at the time. "We have exciting plans in store."
A few weeks later, Van Amburg and Erlicht met with Aniston and Witherspoon, who were pitching a new idea for a drama. Although they were meeting with a half-dozen networks, including HBO, Showtime, and Netflix, Apple had something unique to offer: an almost unlimited bankroll.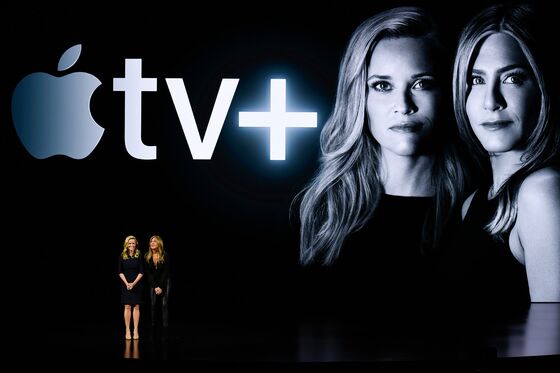 Van Amburg and Erlicht promised to make two seasons of Aniston and Witherspoon's show without shooting a pilot episode first, and they offered more than $250 million, including more than $1 million per episode for each actress, according to people familiar with the terms. This was unprecedented. At the time, the biggest TV stars earned about $500,000 each per episode. "Reese and I are so proud to be part of this exciting launch with Apple," Aniston said at the March event. In the months that followed, Apple also bought projects from NBA star Kevin Durant, Glass director M. Night Shyamalan, and comedian Kumail Nanjiani.
Building a studio from scratch is a major undertaking. Twice, Van Amburg and Erlicht have replaced the person in charge of Morning Show—a telltale sign of a troubled production. Studio executives complain that when budgets on shows have exceeded initial projections, they've been asked to share the costs, which is an unusual practice in Hollywood. The executives have also chafed at Apple's penchant for secrecy. Van Amburg and Erlicht gave projects code names, a hallmark of Silicon Valley product development that's unusual in the film industry, and insisted that partners sign nondisclosure agreements before they could see materials from their own shows.
At Apple's first Hollywood premiere, in October, Van Amburg and Erlicht addressed the sense of whiplash head-on. "Zack and I knew how to create a premium, high-quality, great show," Erlicht said. "What, in retrospect, we didn't know how to do was create from scratch a premium service at Apple."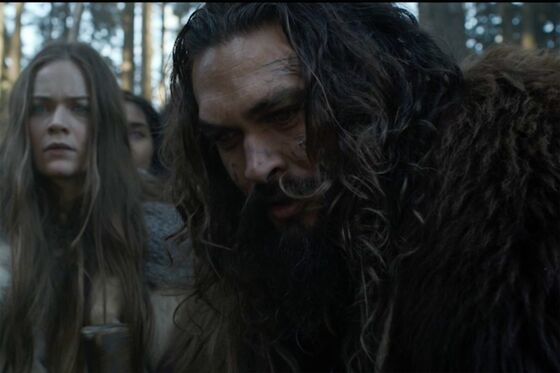 When it debuts in November, Apple TV+ will offer the new shows and a handful of original movies for $4.99 a month, but it will be free for a year to anyone who buys a new iPhone or an Apple TV set-top box. The service will also include a marketplace where viewers can pay to subscribe to streaming services from the likes of HBO, Showtime, and Starz, with Apple taking a cut of each transaction.
For now, Van Amburg and Erlicht have told producers they want a handful of shows with big stars that can be marketed in Apple stores worldwide. Although none of the original shows will feature HBO-levels of violence and sex, it's not all G-rated, either. Van Amburg and Erlicht have ordered a show that includes a heroin addict, for instance.
The effort is modest, especially by the standards of the world's most valuable company. But Apple sells about 200 million iPhones annually, which means 200 million potential trial users in the first year. If even a quarter of those people keep Apple TV+ after their yearlong freebie, Apple will have one of the most-watched TV networks in the world and an additional $3 billion in annual revenue. That was what happened with Apple Music, which offered a three-month free trial to more than 1 billion people. In the four years since Apple Music debuted, the service has attracted more than 60 million customers, making it the clear No. 2 player after Spotify, which has more than 100 million paid subscribers.
Apple has "a massive install base and an incredible marketing machine," says Rich Greenfield, an analyst with LightShed Partners. "How well they execute … who knows?" —With Anousha Sakoui
To contact the editor responsible for this story: Max Chafkin at mchafkin@bloomberg.net