Move Over, Tesla. This Little Dutch Company Makes Big Batteries
(Bloomberg Businessweek) -- As a tourist boat called the Berlin glides down Amsterdam's Singelgracht, guide Emiliano Fernandez reels off the history of the majestic Rijksmuseum alongside the tree-lined canal. On the tour company's other vessels, he would be competing with the rumble and fumes of a diesel engine. But since the Berlin hit the water with its electric motor two years ago, he's been able to speak more softly. "It's so quiet inside," Fernandez enthuses.
While green-leaning consumers and investors focus on automakers such as Tesla, Nissan, and BMW, industries from ships and trains to mining and construction are also poised to shift away from fossil fuels. Those are the businesses that Kees Koolen, chairman of Lithium Werks BV, the Dutch company that made the batteries for the Berlin, intends to serve. "We want to work on the electrification of everything that isn't cars and consumer electronics," he says. "Those markets are already saturated, and we see a big opportunity beyond them."
Koolen, an early investor in Uber Technologies Inc. and Booking.com BV, serving at the latter as chief executive officer for three years, is betting he can make a fortune producing batteries for everything from forklifts to ore haulers. Power packs for bulky machines can have more heft than those for cars or devices such as cellphones or tablets, which put put a premium on being small and light. Another potential market is massive batteries to help plug gaps in output from wind and solar plants—a job currently done by conventional power plants. Lithium Werks has bought three startups with specializations ranging from chemical cells to systems that manage a battery's output, and Koolen plans to set up production plants around the world that combine the expertise of his stable of companies. This year he opened his first factory, near Shanghai, and he's planning two more in 2019—one in Mexico and a second in China.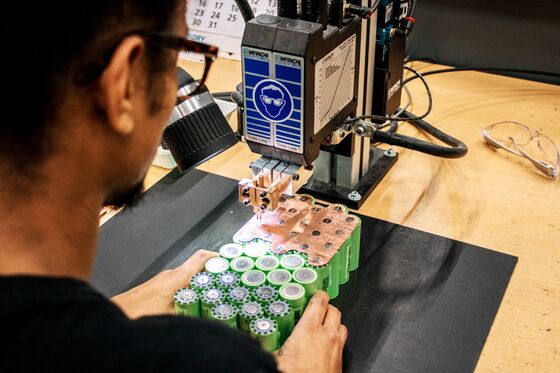 Koolen is putting $41 million of his own money into the venture and expects to raise an additional $300 million by yearend from investors and Oost NL, a development agency in the Netherlands. By 2025, Koolen plans to have 10 plants, at a total cost of $2 billion, each with output of 1 gigawatt hour a year, enough for 20,000 electric cars. Bloomberg New Energy Finance predicts demand for batteries will climb to almost 1,800 GWh by 2030, from about 120 this year. While 85 percent of that will go into cars, there's plenty of money to be made in the industry's niches, says Jeff McDermott, managing partner of Greentech Capital Advisors LLC, a New York investment bank focused on cleaner energy. "In a market of tens of billions of dollars, having 5 or 10 percent is still meaningful," he says.
Lithium Werks will face intense competition as it seeks to expand. Switzerland's Leclanché, Germany's Bosch, and Saft Groupe, snapped up by French oil major Total in 2016, are focusing on stationary storage. Manufacturing heavyweights such as BYD, LG Chem, and Samsung SDI churn out millions of battery cells that could be adapted for industrial use. And Tesla has invested $5 billion in what it calls its Gigafactory in Nevada, which can produce 20 GWh of batteries a year. Companies worldwide have spent almost $17 billion on battery production facilities since 2008, largely in China, and by 2022 total investment will approach $60 billion, according to Bloomberg NEF. Although most of those batteries will be destined for cars, many will find their way into other applications, says Alexander Landia, chairman of the Mobility House AG, a German startup developing energy storage projects. "In principle, EV batteries should have the best price because of the scale of production," Landia says. His company recently installed 148 car batteries, most of them pulled from used Nissan Leafs, to provide backup power at a stadium in Amsterdam.
About 30 miles away in the Dutch region of Twente, Lithium Werks is building a research center on an old airstrip. Koolen expects to employ about 2,000 engineers there by 2025 as he integrates the three startups his company bought this year. In February he acquired Valence Technology Inc., which bundles lithium cells into battery packs for industrial use. A few weeks later, he purchased part of A123 Systems LLC, which makes the chemical cells that are the core of batteries. And in August he merged Super B, a battery maker he owned, with Lithium Werks. He says he expects to close a bigger deal—topping $100 million—by yearend, though he declines to give any details. And he says he aims ultimately to broaden Lithium Werks' portfolio to include drivetrains, charging stations, and software. "The battery industry has fragmented knowledge," he says. "We want to cover the whole field and expand very fast." —With Wout Vergauwen and Brian Parkin
To contact the editor responsible for this story: David Rocks at drocks1@bloomberg.net