How Chinese Technology Grew to Rival Silicon Valley
How Chinese Technology Grew to Rival Silicon Valley
(Bloomberg) -- Despite starting years behind the U.S. in developing a technology industry, China now boasts some of the world's biggest companies in the field. There's Alibaba Group Holding Ltd. with its mammoth e-commerce operations, Tencent Holdings Ltd. and its WeChat social network with 1 billion users, and Baidu Inc. with its stranglehold on internet search. As those companies look beyond the domestic market for their next leg of growth, China's government is eyeing a leading global role in industries such as artificial intelligence. But can a tech industry that's been focused on home for decades become a serious contender to rival Silicon Valley?
1. What exactly is China planning?
The country's political hierarchy has set its sights on becoming a world leader in a number of key technological industries through its "Made in China 2025" program. As part of that plan, the government is putting in billions of dollars' worth of investment to build up its semiconductor industry and reduce its reliance on foreign supplies. China's leaders last year said that artificial intelligence would be a vital driver of expansion that will generate more than 400 billion yuan ($48 billion) to the economy by 2025.
2. What's in China's way?
Beyond the usual intense global competition, there's politics. Countries are increasingly growing wary of the links between Chinese companies and the government, and the implications that may have on national security. Led by the U.S., they're also losing patience with China's alleged theft of intellectual property and the way it has forced companies to transfer technology if they want to do business in the country. U.S. President Donald Trump justified imposing tariffs on $50 billion of Chinese imports in 2018 because of concerns the "Made in China 2025" plan relies on stealing overseas know-how. European and U.S. authorities have started resisting Chinese takeovers of domestic tech companies. A U.S. committee that vets corporate acquisitions killed a huge deal on the grounds it risked handing leadership in the future of wireless communications to the phone and networking gear maker Huawei Technologies Co. .
3. How did China's tech industry evolve?
When it comes to manufacturing, the government played a significant role in building scale and reaching the point where much of the world's technology is made in the country, even if it's not always by Chinese companies. The eastern metropolis Zhengzhou, dubbed by locals as iPhone City, wouldn't have become Apple Inc.'s biggest production base without government incentives to build acres and acres of factories. In the south, Shenzhen was a sleepy fishing village before Chinese leader Deng Xiaoping designated it a special economic zone almost 40 years ago. Now, the technology hub across the border from Hong Kong hosts some of China's brightest tech stars, including Tencent, Huawei and ZTE Corp.
4. What about software and services?
While less active in building up those industries, China facilitated their development by effectively creating its own version of the internet that's blocked off from the rest of the world. Authorities control the web with a complex system of censors and gateways that have come to be known as the Great Firewall. With no access to the likes of Facebook and Twitter, China's technology ecosystem is effectively quarantined from much of the world. That's enabled locals to develop services without competition from abroad and build platforms with a uniquely Chinese flavor. In the absence of Facebook, Tencent's WeChat has flourished as a social network. Same for Weibo without Twitter to compete with most of the time. Once Alphabet Inc.'s Google was barred, Baidu gained total dominance of desktop search.
5. Have I heard of China's top brands?
Probably not all of them, since they never needed you to know about them. The country is already the world's biggest market by number of consumers, so many local companies have grown huge without ever having to look abroad. Probably the best effort came when Lenovo Group Ltd. acquired IBM's personal computer business in 2005. Huawei has also had success building its brand in Europe, Africa and Asia. But it's still little known in the U.S., except when it becomes a political talking point related to concerns that Chinese companies pose a threat to American national security.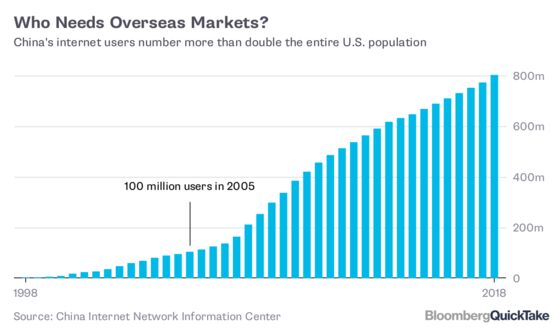 6. Why are other tech companies more well-known?
Because they've invested years of marketing behind their brands to sear them into the public's consciousness. U.S. consumers have seen IBM ads for decades, Apple's seminal 1984 Super Bowl commercial redefined the genre, and moviegoers around the world have seen fictionalized accounts of the origins of Facebook and culture at Google. That hasn't happened with companies like Alibaba and Tencent -- although Alibaba's co-founder Jack Ma has managed to feature in short kung fu movie with Jet Li.
7. Has China's industry benefited by copying others?
In the early days, that certainly looked the case. Tencent's QQ, the first instant messaging app to gain widespread traction there, was initially modeled on a system known as ICQ (created in Israel and once owned by AOL). China's early personal computers were shoddy knockoffs and first-generation smartphones were slow, clunky and poorly made. But the industry has evolved and comparisons to U.S. rivals are harder to make. There is no ready U.S. equivalent to WeChat, which has become like Facebook on steroids as it moved beyond instant messaging to encompass games, books, anime, movies and access to dozens of other services. Pinduoduo Inc. has become a multibillion dollar business with social e-commerce -- a blend of online shopping and social media that's yet to make inroads into the U.S. Although Alibaba has long been likened to Amazon.com Inc. and EBay Inc., most of its revenue in fact comes from advertising.
The Reference Shelf
To contact the reporter on this story: Robert Fenner in Hong Kong at rfenner@bloomberg.net
To contact the editors responsible for this story: Robert Fenner at rfenner@bloomberg.net, Grant Clark
©2018 Bloomberg L.P.