A 21st Century Indira? Priyanka Gandhi Vadra Through Her Speeches
Priyanka Gandhi, even without holding a formal post, has been the star campaigner for Sonia and Rahul in UP.
"When I said one should never say never in life...I am very clear I don't want to be in politics. I am very happy living the way I am. There are certain aspects of politics which I am just not suited to it," said Priyanka Gandhi during an interview to NDTV's Barkha Dutt in 2009.
Ten years down the line, she makes her first move into active politics as the Congress' General Secretary in Eastern Uttar Pradesh, straight to the bastion of the state's Chief Minister Yogi Adityanath and Prime Minister Narendra Modi.
In the same interview, Priyanka had said, inspired by her grandmother and former Prime Minister Indira Gandhi, she did think of joining politics when she was 16-17 years old – the same age when she made her first public speech.
Over the years, even though she has stayed away from active politics, Priyanka's popularity among the people could be gauged through her formidable speeches at public rallies either campaigning in Raebareli and Amethi, the home turfs of her mother and brother respectively, or directly taking on Narendra Modi. Here's a look at the journey of Priyanka Gandhi into politics through her speeches.
'Vote For Your Development, Not For Any Neta'
Campaigning for her mother Sonia Gandhi in Uttar Pradesh's Raebareli before the 2012 Uttar Pradesh elections, Priyanka exhorted voters to change the "negative politics" prevalent in the state for 22 years, alternatively ruled by Samajwadi Party and Bahujan Samaj Party.
Asserting that the vote should be for their future, she said, "You can make or break a sarkar with your vote. Learn to fight for your right. Vote for your development, not for any neta."
Recounting that her mother stands for "politics of development", she urged the local administration and authorities to also complete their duties as representatives of the people.
She attracted large crowds when she campaigned in Amethi and Raebareli in the past, but at least in the Assembly elections, it didn't translate into votes for the party.
"Proudest of This Daughter of India": Priyanka Gandhi Remembers Indira Gandhi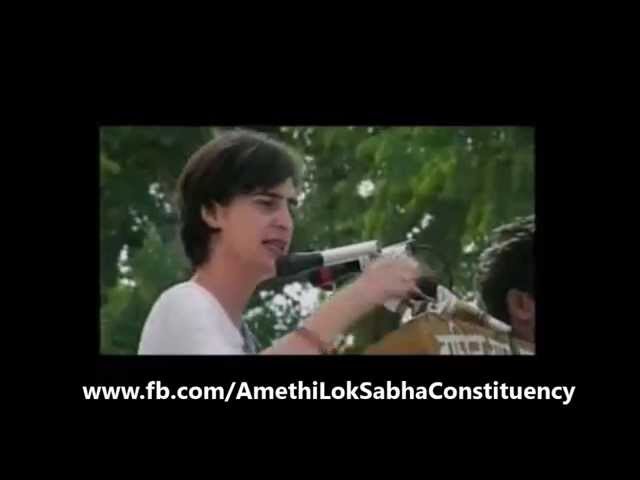 The 47-year-old Priyanka Gandhi is believed to have uncanny similarity with her grandmother, Indira Gandhi. From the same charismatic personality that instantly connects with people to similar cotton sarees adorned by her to the casual bob-haircut, Priyanka is often called the "21st century Indira".
While campaigning in Amethi before the 2009 Lok Sabha elections, she said, "This is Indira ji's work turf. She was not just my grandmother but she was also the mother to millions of Indians. She was a part of the family that has worked for people and that loves the country."
Reacting to the BJP's move of fielding her uncle and former Rajiv Gandhi confidant Arun Nehru from Raebareli, Priyanka Gandhi minced no words when she addressed the crowds.
"A man who committed treachery and who stabbed his brother in the back, how can you let such a man here? How did he dare come here?" she told voters then, making a fiery political point with effect.
In the interview to Barkha Dutt in 2009, Priyanka had also spoken about how she was greatly influenced by her "powerful" grandmother till she "discovered" herself and took the decision of never joining politics. In another interview to News18 in 2009, she had said, "Although people liken me more with my grandmother, I believe Rahul is more like Indira Gandhi. I am much more like my father."
"Don't Need '56-Inch' Chest to Run the Country": Priyanka Takes On Modi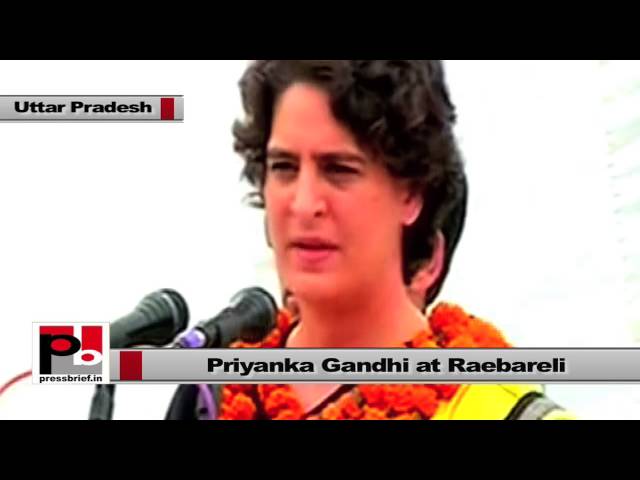 Priyanka Gandhi, even while staying away from active politics, has directly taken on Prime Minister Narendra Modi time and again. Taking a jibe at BJP Prime Ministerial candidate's "56-inch chest" claim during a rally in Gorakhpur before 2014 General Elections, Congress' star campaigner had remarked, "This is India, we don't need a '56-inch chest' to run the country. You need a soft heart to run the nation."
Modi had said during the Gorakhpur rally that it would take a "56-inch chest" to convert UP into Gujarat.
In her sharpest attack on BJP, which had released a video against her husband Robert Vadra in response to repeated attacks by the Congress on the Gujarat model of development in 2014, Priyanka had said the party was scurrying around like "baffled rats" and she would not be intimidated by such "lies" but will continue to speak against its "destructive" politics.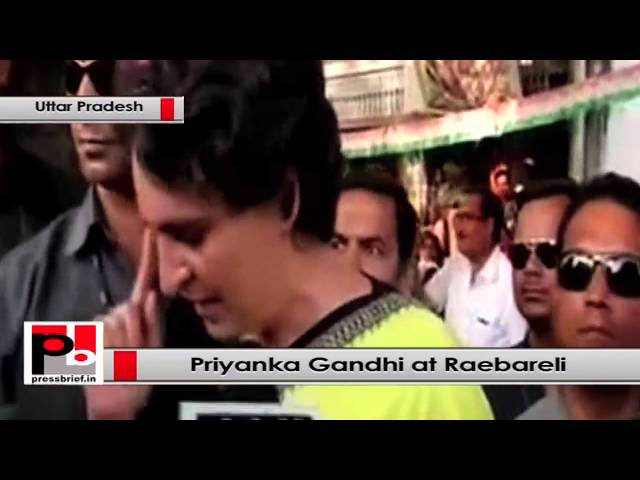 "UP Does Not Need an Adopted Son Like PM Modi, It Has Its Own Sons to Take It Forward"
Again, during campaigning for the 2017 Uttar Pradesh elections, Priyanka Gandhi, who was being seen as the Congress' chief architect for an alliance with the Samajwadi Party, attacked Modi on his "adopted son" remark, saying, saying Uttar Pradesh does not need adopted son when it has its own to take it forward.
Earlier, at an election rally in Hardoi, Modi, who represents UP's Varanasi in Parliament, had said, "Krishna was born in Uttar Pradesh but made Gujarat his karma bhoomi. I was born in Gujarat but Uttar Pradesh has adopted me."
'I am Rajiv's Daughter': Priyanka's Pride in her Father
"I am Rajiv Gandhi's daughter," was Priyanka Gandhi terse reply to purported comments by Narendra Modi – then Prime Ministerial candidate of BJP – that he considers her a daughter.
Priyanka, who was on the campaign trail in Amethi before the 2014 Lok Sabha elections, was reacting to Modi's interview to Doordarshan. Some portions of the interview, including Modi's "daughter" comments on Priyanka, were reportedly not telecast.
Priyanka's pride and love for her father has come to the fore time and again during her speeches. In 2014, Priyanka had hit out at Modi, saying he had insulted her "martyred" father Rajiv Gandhi during his speech in Amethi.
In another instance, after Priyanka had snubbed Smriti Irani with a "Who's Smriti Irani?" when reporters had questioned her about a comment Irani had made, Modi came to her defence by mentioning Rajiv Gandhi. At the time, Irani was fighting against Rahul Gandhi in Amethi in 2014 the Lok Sabha elections. After the snub, Modi had accused Congress of practising politics of "arrogance" and brought in Rajiv Gandhi, saying that when he was Congress' general secretary, Gandhi had publicly "abused" and "humiliated" the then Andhra Pradesh chief minister T Anjaiah at the airport.
In a stern response to the mention of her father, Priyanka had said, "They have insulted my martyred father on the soil of Amethi. People of Amethi will never forgive them for this act. Workers in Amethi will reply to their low-level politics. There will be a reply from each of the booths."
Born on 12 January 1972, Priyanka Gandhi married Robert Vadra, a businessman from Delhi, on 18 February 1997 in a traditional Hindu ceremony. They have two children – daughter Miraya, and son Raihan.
Priyanka Gandhi is reported to have converted to Buddhism and is a practitioner of Vipassana.
Gandhi did her schooling from Modern School and Convent of Jesus and Mary in Delhi and later pursued her graduation in Psychology from Jesus and Mary College. She has done her Masters in Buddhist Studies.
(This article was first published last month to mark Priyanka Gandhi Vadra's entry into politics.)
Get Your
Daily Newsletter
Get market moving news, top news & compelling perspectives
---