Why China Is Facing a Power Crunch and What It Means
(Bloomberg) -- A power crunch across China has rippled from factory floors to homes, crimping growth forecasts for the world's second-largest economy. The shortages, mirrored in Europe and elsewhere, have roiled commodity markets as well. Part of the problem is that the economic rebound after Covid lockdowns lifted has boosted demand, while lower investment by miners and drillers has constrained fossil fuel production. In China, it's also partially due to the government's environmental agenda: President Xi Jinping's vision of de-carbonizing the economy has discouraged the burning of coal, a cheap energy source that subsidized the country's growth for decades.
1. Why can't China meet its power demand?
Mainly because it's short of coal. Coal-based producers account for more than 70% of the country's electricity generation, but Xi's push to reduce greenhouse gas emissions and go "carbon neutral" by 2060 has capped the growth of coal mining. Demand for power from Chinese factories soared as orders from overseas mounted, but utilities were unable to buy enough fuel after prices surged. (Factory activity contracted in September for the first time since the start of the Covid pandemic.) China's coal production grew by 6% in the first eight months this year, but the power output from coal-fired generators surged 14% in the same period, leading to a decline in inventories. Certain northern areas also need to reserve enough coal for the upcoming winter heating season, which is worsening the current shortage.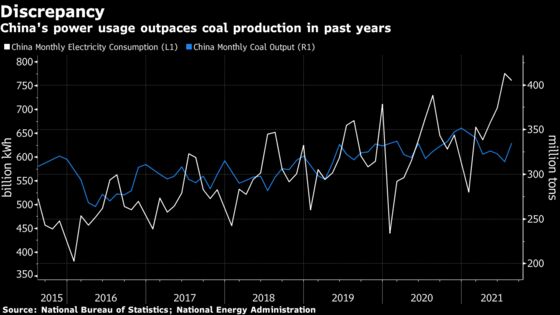 2. Why didn't government officials ask coal mines to dig more?
Actually they have, but it's not that quick or easy. Any new or reopened mines also have to meet tighter environmental standards under Xi's green push. Penalties for violations of workplace safety rules rose from fines to possible jail time in March following a spate of tragic accidents, making mining companies even more reluctant to boost production. Complicating things further is that, since China set goals to lower coal's share of overall energy production, some financial institutions have stopped funding the business.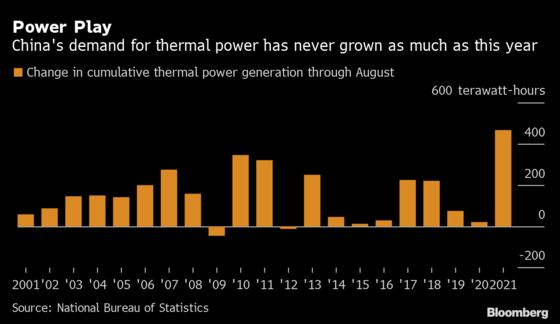 3. Why doesn't China import more coal?
The National Development and Reform Commission, China's economic planning agency, said on Sept. 29 that the country, traditionally a major buyer in the world market, will increase coal imports "moderately." But supplies have been tight, due to the global energy crunch, and prices have climbed to record levels. China stopped buying the highly energy-efficient Newcastle grade from Australia last year amid a political dispute. That tension isn't likely to ease as U.S. President Joe Biden seeks to rally allies, including Australia, to counter Beijing's influence across the Indo-Pacific region. Rising purchases from Indonesia helped make up for the missing Australian coal this year, but energy demand in Southeast Asia's biggest economy also soared, and increases from other sources are in doubt. Mongolia, China's resource-rich neighbor, sold less coal this year partly due to China's strict border controls to prevent the spread of Covid-19.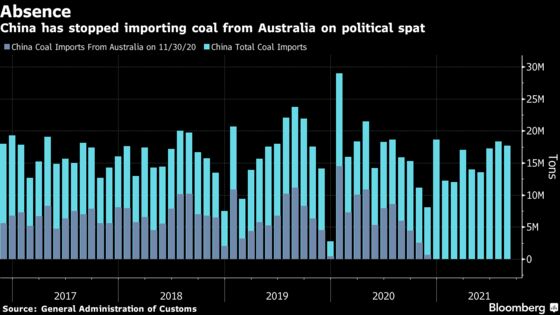 4. Can China use more renewable power?
It's been gradually raising the share of energy derived from carbon-free sources and plans to reach 20% by 2025. But the crunch has exposed some of the disadvantages of relying on renewable sources such as wind and hydro. For instance, a late start to the rainy season reduced hydropower generation in China's southern provinces this year, forcing power rationing. A sudden reduction in supplies from wind farms was blamed in part for shortages in northeastern China, where some homes lost power and traffic lights didn't work over the last weekend in September, causing chaos on the roads.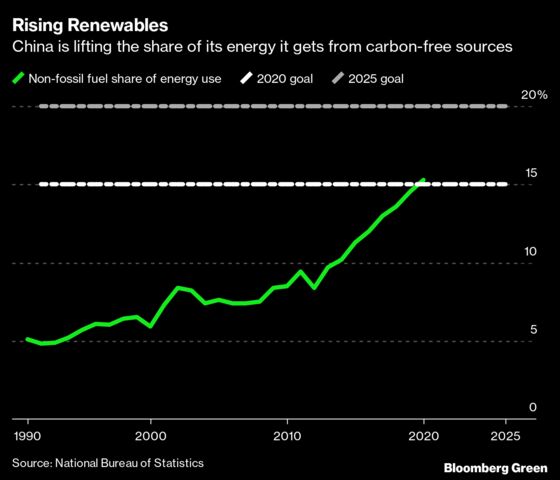 5. Does this happen often?
Rationing is actually normal in China, especially for factories. Local power grids sometimes schedule cuts to manufacturing hubs to prioritize urban customers during peak demand periods. But the shortage this year has been extreme. The rationing to homes and public services in some northeastern provinces in late September, even after curbs to factories, highlighted the extreme pressure.
6. Are Chinese power plants willing to produce more?
A lot aren't because they are swamped with operating losses. Coal prices are soaring to unprecedented levels, but the prices utilities can charge customers are largely controlled by the government. Even some of China's most efficient power plants are losing money, state-run China Energy News reported in September. The NDRC has said it would let prices rise reasonably to reflect supply, demand and costs, but it's unclear how that would work down the line. The government also is considering raising power prices for industrial consumers first, before residential users. The southern province of Guangdong is going to charge additional fees in October to some big customers.
7. What would higher electricity prices mean for the economy?
Millions of producers that relied on cheap and stable power supplies for decades wouldn't be happy. In the short term, it might further push up factory gate inflation, which reflects the changes in prices producers charge to wholesalers. That index hit a 13-year high in August, mainly driven by higher commodity prices. The government has sought to keep such inflation pressures from dampening the economic recovery, with so far limited effect. 
8. Will China abandon its climate goals?
Not likely. The People's Daily, a Communist Party mouthpiece, blamed poor planning by local governments for the power cuts, arguing that the guidelines and targets for limiting energy consumption had been in place for almost six years. In any case, the party is going to convene in November to lay the ground for a twice-a-decade party congress in 2022. A key agenda item of this meeting -- at which Xi is expected to be given an unprecedented third term -- will be reviewing the party's major achievements over its 100-year history. Xi's carbon-neutral pledge, which he renewed at the United Nations General Assembly meeting in September, should have a prominent role.