What to Know About the Bid to Impeach New York Governor Andrew Cuomo
What to Expect in Bid to Impeach Cuomo as NY Governor
(Bloomberg) -- New York Governor Andrew Cuomo, a one-time star of the Democratic Party, faces possible impeachment after state Attorney General Letitia James substantiated allegations that he sexually harassed 11 women, including several members of his office staff. The 63-year-old third-term governor is embroiled in other state and federal investigations as well. Since Cuomo insists he won't resign, all eyes are on the state's bicameral legislature, which has an impeachment procedure that hasn't been put to the test in more than a century.
1. How would impeachment start?
Actually, it's already begun. The Judiciary Committee of the state Assembly, the legislature's lower house, began a fact-finding inquiry in March to decide whether to begin impeachment proceedings against Cuomo over the sexual-harassment allegations. That committee will now review documents and evidence from the attorney general's investigation and "move expeditiously" to conclude its probe, according to the Assembly's speaker, Carl Heastie, a Democrat. Two committee members, Assemblymen Phil Steck and David Weprin, expect the panel to wrap everything up by the beginning of September.
The most likely next step would be for the Judiciary Committee to consider drafting an article or multiple articles of impeachment, which would serve as formal written charges against Cuomo. Beyond that, the path forward isn't entirely clear, because no New York governor has been impeached since William Sulzer in 1913. (The first and only New York governor to be impeached, Sulzer was found to have filed false campaign contribution reports in the tens of thousands of dollars.) The state constitution is vague on process and timing, said James Gardner, a University of Buffalo law professor. The federal impeachment process could be used as a guide since it's been utilized more often than New York's, Gardner said.
3. Where would those articles go?
The 150-member Assembly would debate any article of impeachment and then vote, with a simple majority needed for approval. The Associated Press counted 86 Assembly members -- well more than a majority -- who have said that they support instituting impeachment proceedings. At this point, under New York law, Cuomo would have to step aside as governor, at least temporarily. He would have 30 days to respond to the formal allegations before the Senate could start an impeachment trial.
4. Who would take over as governor in that case?
Cuomo's lieutenant governor since 2015, Kathy Hochul, would step in as acting governor. She would be the first female governor in New York history.
5. What happens in the Senate?
State history and the federal impeachment model suggest that the Senate would conduct a trial, with evidence presented and closing arguments from both sides, Gardner said. Joining members of the 63-seat Senate to serve as the court of impeachment would be the seven judges of New York's highest court, the Court of Appeals. But a trial is just one possible avenue. The senators and judges could choose an alternate route, such as coming up with a potential settlement short of removing Cuomo from office. New York's constitution "provides great leeway, great deference to the members of the Assembly and the people who constitute the court of impeachment," said Assembly Judiciary Committee Chairman Charles Lavine.
6. What would be needed to remove Cuomo from office?
A conviction would require approval by two-thirds of the senators and judges in attendance. They could also take the further step of disqualifying Cuomo from further public service.
7. What is Cuomo accused of doing?
A report released Aug. 3 by the New York attorney general corroborated 11 claims of sexual harassment by Cuomo. It said Cuomo engaged in "unwanted groping" and kissing of current and former state employees as well as women outside of state government, made inappropriate comments and oversaw a "toxic" workplace that amounted to "a hostile work environment." Cuomo continued to deny the allegations in a press conference and in a rebuttal report. "I never touched anyone inappropriately or made inappropriate sexual advances," he said. "That is just not who I am or who I have ever been."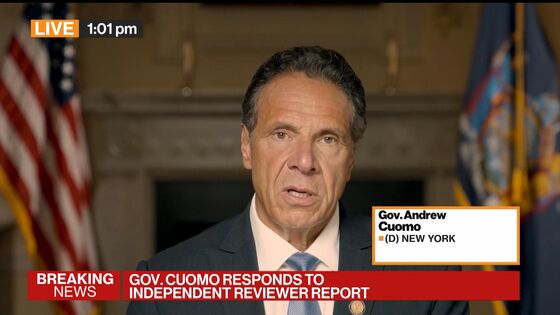 8. Why is this such a big deal?
Cuomo comes from a famous political family: His father, Mario, served three terms as New York governor from 1983 through 1994 and was often cited as a potential Democratic presidential candidate, though he never did choose to run. Andrew Cuomo has been a national political figure in his own right for almost 30 years, serving as secretary of housing and urban development under President Bill Clinton in the 1990s and as New York attorney general from 2007 until 2011, when he began the first of three terms as governor. He had started raising money ahead of a potential run for a fourth term in 2022. His detailed televised press conferences during the height of the coronavirus pandemic boosted his national profile, and he was mentioned at times as a possible Democratic presidential candidate in the future.
9. What else is being investigated?
James's office is looking into claims that Cuomo misused public resources to write a book on his leadership during the pandemic. He's expected to earn more than $5 million from that project. The Assembly Judiciary Committee hired the Davis Polk & Wardwell law firm to investigate, in addition to the sexual-harassment allegations, claims that Cuomo's administration covered up deaths in New York nursing homes from Covid-19, provided Cuomo relatives with virus testing before it was widely available, and mishandled construction of the Mario Cuomo Bridge across the Hudson River.