What It Would Mean for Big Pharma If Vaccine IP Rights Are Waived
(Bloomberg) -- With Covid-19 vaccination rollouts in low-income countries still lagging far behind those in rich ones, a group of nations continues to push its proposal at the World Trade Organization to lift intellectual property protections for makers of the vaccines. Supporters of the waiver say the spread of the latest coronavirus variant, omicron, brings greater urgency to the need to speed production of vaccines in the developing world. Vaccine makers and other critics of the waiver say it undermines the incentives that led to the rapid development of the vaccines and wouldn't have any practical effect.
In October 2020, India and South Africa introduced a proposal to temporarily waive enforcement of certain provisions of the WTO Agreement on Trade-Related Aspects of Intellectual Property Rights -- or TRIPS for short. The idea is to waive enforcement of intellectual property rules governing the production of diagnostics, therapeutics, vaccines, medical devices and personal protective equipment used to fight the Covid pandemic. Proponents of the waiver say it would provide legal certainty for governments, companies and individuals to produce life-saving pharmaceuticals in places that currently lack significant access to them.
2. What would lifting the protections mean for Covid vaccines?
In theory, governments and companies could begin manufacturing Covid vaccines without fear of political or economic retaliation. The proposal would provide an important signal that those who replicate the recipes, provide technical know-how or transfer trade secrets related to the manufacturing processes won't be subject to WTO-authorized sanctions.
3. Who opposes the waiver?
The European Union, the U.K. and Switzerland. They say the waiver would undermine investment and innovation in the pharmaceutical sector and could jeopardize existing partnerships between companies and governments. They argue that without the current intellectual property regime, pharmaceutical companies and scientists would have no incentive to explore the kind of experimental processes that rapidly produced safe and effective Covid vaccines. Drug companies say the waiver would have little practical effect in part because few countries have the trained personnel to produce Covid vaccines even if they had the formulas.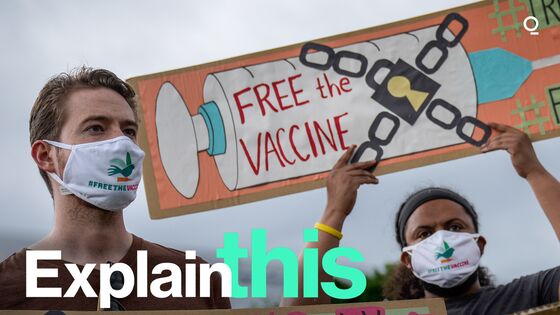 The group that submitted the proposal at the WTO is made up of 60, mostly lower-income countries. In May 2020, U.S. Trade Representative Katherine Tai tweeted that her government "believes strongly in intellectual property protections, but in service of ending this pandemic, supports the waiver of those protections for Covid-19 vaccines." While the U.S. says it is engaged in the debate, it has not endorsed any specific proposal nor introduced one of its own. Some commentators argue that U.S. support for a waiver is more about politics than expanding vaccine supply.
5. Is a compromise possible?
The EU offered a separate proposal to temporarily relax and clarify the WTO's existing flexibilities for intellectual property protections. The proposal aims to facilitate the use of compulsory licensing, which permits governments to use a patented invention or allow someone else to do so without the permission of the patent owner, as long as that owner is paid some form of compensation. The EU wants to clarify that the Covid pandemic is a public health emergency and that pharmaceuticals made under a compulsory license can be produced in one country and sold to another.
6. Are there downsides to using compulsory licenses?
Waiver proponents say the compulsory licensing process is complicated and overly burdensome for certain governments. Many are also wary of a backlash because the U.S. government has previously threatened to use trade sanctions or retaliate in response to the use of compulsory licenses for products made by American companies.
7. Are there other ways to expand the vaccine supply?
Vaccine makers say they are already working to expand manufacturing, both within their own facilities and through voluntary licensing of third parties in Africa. In addition, the WTO is engaged in a separate negotiation aimed at encouraging nations to reduce tariffs and cut red tape to ease the flow of Covid vaccines, medicines and related goods across borders.
8. How will the WTO decide on the waiver?
The WTO is a consensus-driven organization, so all 164 members must be in agreement for a TRIPS waiver to be implemented. Thus, any one nation can kill the proposal for any reason. Finding common ground on such a complex subject has been difficult, and negotiations haven't budged in months. Concerns over the omicron variant prompted the WTO to postpone a key meeting of trade ministers originally planned for early December, complicating efforts to produce a rapid and unified response to the pandemic. 
Related QuickTakes on vaccine inequality and the omicron variant.
A commentary in the journal BMJ Global Health making the case for overriding medical technology patents for pandemic recovery.
A WTO explainer on compulsory licensing.