Understanding the Unraveling of Tunisia's Revolution
(Bloomberg) -- Tunisia's democracy, born of the Arab Spring revolts, has endured as others in the region have faded. But it's now facing its biggest assault since the 2011 ouster of its longtime autocratic leader. In his boldest move against rival power bases since his 2019 election as an independent, President Kais Saied in July fired the country's technocratic prime minister and suspended parliament, where moderate Islamists of the Ennahda party hold the most seats. Critics of Saied fear he will return Tunisia to the days where authority was concentrated in the hands of the president. That could in turn damage hopes that a region known for autocracy might see a successful democratic transition. The power struggle in the North African nation, close to European shores, also could delay a new program with the International Monetary Fund thought to be key to jump-starting a reeling economy.
1. What's the context for the president's actions?
The coronavirus pandemic has had devastating effects both on Tunisia's tourism-dependent economy and on its people, causing some of the highest human losses on a per capita basis. Record numbers of coronavirus cases and deaths since June inflamed public anger at the government, already stoked by poor economic returns and a popular belief that the political changes over the past decade had served a nepotistic elite. In July, calls for nationwide protests emerged on social media. On July 25, groups of youths staged demonstrations, including in the capital Tunis and the coastal city of Sfax, and torched the offices of Ennahda in Siliana. Later that day, Saied made his move, after months of charging Prime Minister Hichem Mechichi's government with failing to address corruption and economic woes and accusing often unspecified foes of conspiracies to sow discord.
Saied cited Article 80 of the constitution, which allows the president to take exceptional measures "to ward off imminent danger threatening the nation's institutions, security or independence." Such measures require the president to consult the prime minister and parliamentary speaker. The speaker, Ennahda's leader Rachid Ghannouchi, denied having been consulted. In addition, Saied was required to notify the president of Tunisia's constitutional court, which is also the ultimate arbiter of whether the dissolution was legal. But the court exists only on paper -- parliament has been unable to agree on its four nominees to the 12-member institution since a new constitution was adopted in 2014. Saied, a former constitutional law professor, argues he was within his rights. The constitution allows the president to enforce emergency measures for only 30 days, but with the deadline imminent, Saied announced he was suspending parliament, as well as the immunity of lawmakers, indefinitely.
3. What are power brokers saying?
Ennahda and some other major parties have slammed the move as unconstitutional, with the Islamists calling it a coup before stating their readiness for dialog. Other political parties, as well as the powerful Tunisian General Labor Union, initially expressed tacit support for Saied in varying degrees. But the extension of the emergency measures rankled the union, which signaled it was losing patience with the president's failure to chart a plan to rally the battered economy.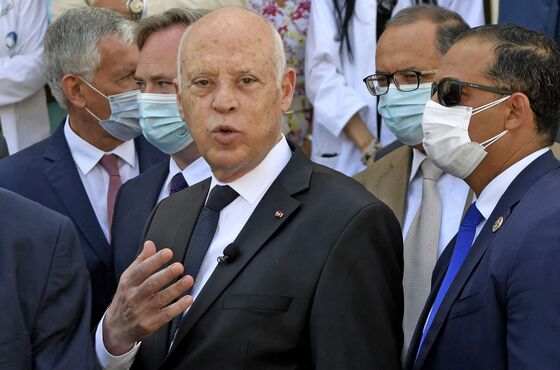 Saied, 63, emerged as the surprise winner after running as an independent candidate on an anti-party and anti-corruption agenda, vowing to fight poverty and trumpeting as his chief slogan "The People Want." His stern anti-establishment tone, delivered in classical Arabic, attracted young Tunisians keen to punish a political elite they perceived as opportunistic. Saied suggested eliminating the directly elected legislature in favor of elected local councils that would, in turn, select national leaders. He has been likened to former U.S. President Donald Trump in that, although he's in power, he behaves as if he's in the opposition, and he calls on his supporters to rally around him.
5. What happened during the revolution?
It was the first of the so-called Arab Spring revolts. Starting in late 2010, Tunisians engaged in four weeks of civil resistance and disobedience, resulting in the toppling of longtime autocrat Zine El Abidine Ben Ali. A staunch ally of the West with a government record of human rights abuses, he'd led one of the most vibrant economies in the region, albeit one with persistent structural inequalities. News of Ben Ali and his inner circle hurriedly leaving the country in 2011 galvanized many citizens in North Africa and the Middle East to set in motion a series of popular uprisings. None of the others produced lasting democratic changes.
6. What changed in Tunisia?
The so-called Jasmine Revolution so far has widened political participation to a variety of political currents, including the once-banned Ennahda Islamists and radical left-wing activists. Parliament has been granted a degree of oversight and an ability to hold the executive branch to account that's rare in the region. The judiciary's independence has been strengthened and civil society has been empowered to stand up to police brutality, which was previously prevalent.
7. What problems does the country still face?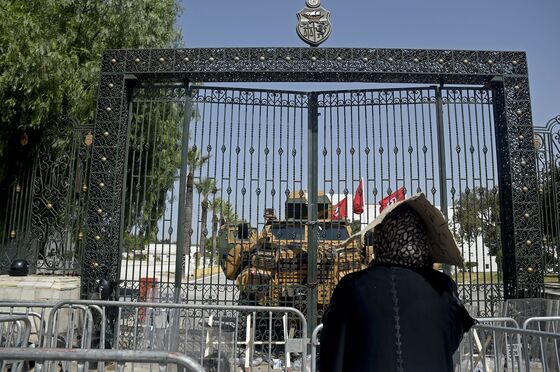 The pandemic and the weak economy stand out. The government has failed to effectively address economic inequality, a stubborn problem in the region that gives rise to frequent protests. Libya and Algeria, two of Tunisia's economic lifelines, have been facing hardships and instability of their own, resulting in a loss of income for tens of thousands of Tunisians, especially among those living in the poorer hinterlands bordering the two nations. Fitch Ratings says Saied's power play may further delay an agreement for a new IMF loan that would give the authorities financial breathing room to launch their recovery plan; Tunisia hopes to secure $4 billion over three years from the fund. Securing a deal most likely will require Tunisia to adopt austerity measures such as reducing spending on its massive public sector and cutting off all but the neediest households from subsidies for items likes flour, sugar and electricity. Saied may struggle to ensure such measures are accepted by the public.
A U.S. Congressional Research Service report on Tunisia.
A paper published by the European Council on Foreign Relations on how Tunisia could use the Covid crisis as an opportunity for reform.
An article in Mediterranean Quarterly examines the Jasmine Revolution and its causes.