How HNA Drama Turned Tragic as Buying Spree Went Sour
How HNA Drama Turned Tragic as Buying Spree Went Sour
(Bloomberg) -- China's HNA Group Co. shot to prominence by spending more than $40 billion on acquisitions across six continents from 2016. The once little-known airline operator became a major shareholder of Hilton Worldwide Holdings Inc. and Deutsche Bank AG as well as paying top dollar for high-end properties from Manhattan to Hong Kong. But the breathtaking buying spree prompted questions by regulators about its opaque ownership structure and the group's struggle to manage its spiraling debt. That prompted a reversal of course and an equally dramatic selling spree. Further questions about HNA's future arose following the sudden death of Wang Jian, its No. 2 executive.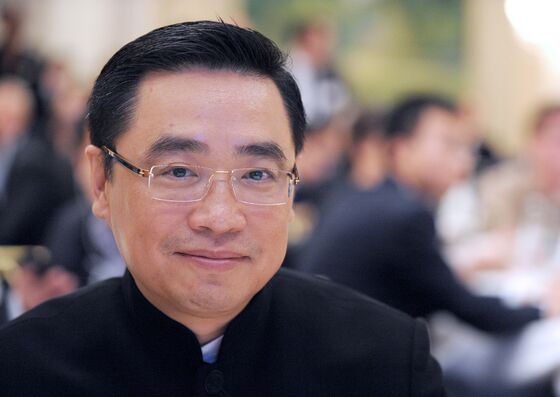 1. What happened to Wang?
Wang, who helped found the group more than two decades ago, died July 3 after falling from a height of about 15 meters (49 feet) while having his photograph taken in the French village of Bonnieux. HNA said its 57-year-old co-chairman had been in France on business. French police said he lost his balance as he attempted to climb onto a retaining wall next to a rock at the highest point in Bonnieux, a scenic village in the southeastern region of Provence. Wang was second only to Co-Chairman Chen Feng at HNA, and owned about 15 percent of the conglomerate. He was instrumental during HNA's era of empire-building and its subsequent dismantlement. According to Liu Feng, director of the Hainan Normal University Free Trade Port Research Center, there will be short-term shocks to HNA's business development, but the long-term impact of his passing will be limited.
2. How bad have HNA's finances gotten?
The company didn't generate enough profit to cover its interest payments and its short-term debt soared to more than 192.6 billion yuan ($29 billion) in 2017, exceeding its cash reserves. HNA also needed to pay record prices for debt and canceled bond and share sales. Then this year there were missed payments to banks and shares were suspended in multiple HNA units. Even the flagship airline reportedly faced losing a fuel supplier over unpaid bills. The Chinese conglomerate predicted in December it won't default in 2018 or beyond. In February, it said it was the victim of a conspiracy against the Chinese government and one of its most loyal companies. The flurry of asset sales has eased concerns in recent months.
It's cut its stake in Deutsche Bank and sold its shareholding in two Hilton spinoffs as well as its roughly $6 billion stake in Hilton. It's disposing of properties in London, Sydney, Hong Kong and the U.S. By Bloomberg's estimates, the company has sold more than $16 billion of buildings and shares.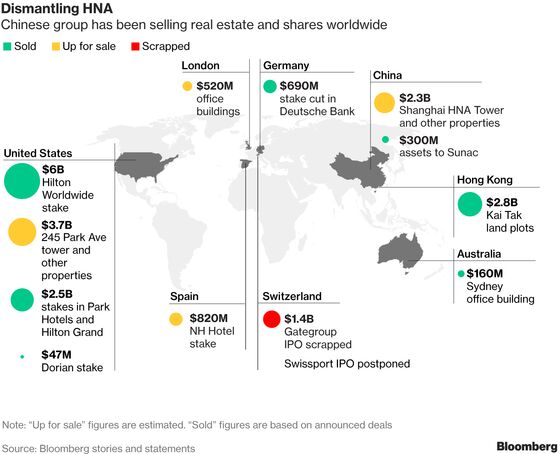 4. Is debt HNA's only challenge?
HNA is being sued as part of the U.S. bankruptcy of a travel company it invested in. And a U.S. technology firm is suing HNA for allegedly providing false and inconsistent information about its ownership that caused a takeover deal to collapse. HNA says the lawsuit is baseless. Regulators in Switzerland ruled HNA provided incorrect information about shareholdings and in New Zealand rejected an acquisition because of HNA's opaque ownership structure.
Perhaps. While China's regulators stepped up scrutiny of the country's most prolific dealmakers -- part of a government campaign to tackle financial risk and slow the pace of overseas takeovers -- there are signs of support for HNA. In June, China's top leaders agreed to help HNA raise funds, people familiar with the matter told Bloomberg. A senior official at the People's Bank of China even held a meeting that included regulators, the Hainan provincial government, HNA's Chen and the group's biggest creditor, to instruct attendees to support HNA's bond issues, according to the people. Soon after, HNA sold its first bond in China after a rare five-month drought, signaling a crucial source of funding for the conglomerate may be opening up.
6. What's known about HNA?
Founded in 1993 as a regional airline operator, with George Soros as an early investor, HNA says it's created 410,000 jobs worldwide and built up assets of about $180 billion. Guo Wengui, a wealthy Chinese businessman who now lives in exile, has alleged that HNA has secret financial ties to top Communist Party officials. HNA denied Guo's claims and sued him in New York for defamation.
HNA disclosed in 2017 that it's controlled by two company-connected charities named Cihang -- one based in New York, the other in China's resort island of Hainan -- that together own 52 percent, and that 12 company officials, including founders Chen Feng and the late Wang Jian, together held about 47.5 percent. The officials have pledged to give their shares to the charities upon death or retirement, according to HNA. Prior to that, a little-known investor named Guan Jun had been HNA's biggest shareholder, with a 29 percent stake, according to Chinese corporate filings in late 2016. When HNA reorganized in early 2017, Guan distributed most of his holdings to five individuals, who then donated the shares to HNA's Cihang foundation. Guan donated his remaining stake, about 4.4 percent, to the charity as well. As yet, there's been no explanation why HNA executives parked their shares with Guan in the first place. Eventually, HNA expects the foundations to own 100 percent of the group.
8. What's known about the U.S. charity?
Hainan Cihang Charity Foundation Inc., formed in New York in December 2016, holds 29.5 percent of HNA and its office is at 850 Third Avenue in Manhattan, a property HNA purchased in a 2016 joint venture, data from Real Capital Analytics show. In September, the nonprofit revealed the identity of its three directors, including Adam Tan, HNA Group's chief executive officer, and Chen Guoqing, the brother of co-founder Chen. Former German Vice Chancellor Philipp Roesler was appointed as its chief executive officer in December and pledged to give away as much as $200 million toward philanthropic causes.
9. What about the Chinese foundation?
Hainan Province Cihang Foundation, founded in October 2010, holds a 22.75 percent stake in HNA. The foundation's website says it's a nonprofit charity that "cultivates projects in various fields such as educational aids, supporting the poor and helping the underprivileged, fighting earthquake and relieving disaster, cultural promotion, medical rescue, green EP, and scientific innovation." In its latest annual report, the charity had 1.1 billion yuan of assets as of 2016, up from 890 million yuan the previous year.
--With assistance from Laurence Arnold.
To contact the reporter on this story: Prudence Ho in Hong Kong at pho83@bloomberg.net
To contact the editors responsible for this story: Young-Sam Cho at ycho2@bloomberg.net, Grant Clark
Get Your
Daily Newsletter
Get market moving news, top news & compelling perspectives
---