Q4 Results: Mindtree Offers Special Dividend Amid L&T's Takeover Bid
Mindtree announces special dividend of Rs 20 per share.
Mindtree Ltd. will pay a total dividend of Rs 27 per share even as the software services provider looks to fend off a hostile takeover by Larsen and Toubro Ltd.
The board approved an interim dividend of Rs 3 per share, according to its exchange filings. It also proposed a final dividend of Rs 4 and a special dividend of Rs 20 apiece, subject to shareholder approval.
The record date for the interim dividend is April 27, while the cut-off for shareholders to become eligible for the final and the special payouts is not known yet. The company didn't announce a date for the annual general meeting to seek shareholder approval for final and special payouts, but Rostow Ravanan, Mindtree's managing director and chief executive officer, said in a press conference that the AGM is usually held in July.
The company said the special dividend is to celebrate the twin achievements of exceeding $1 billion annual revenue milestone and its 20th anniversary. That, however, comes when L&T has mounted a three-step hostile bid to acquire the IT company—by buying 20.3 percent owned by VG Siddhartha's Coffee Day Group, acquiring 15 percent from the open market and launching an open offer for additional 31 percent at Rs 980 apiece. Shares of Mindtree closed at Rs 972.45 apiece on Tuesday—the market was closed on Wednesday.
The announcement of special dividend is not linked with L&T's takeover plans and is purely based on achieving new milestones, Mindtree's Chief Financial Officer Pradip Menon told BloombergQuint.
L&T - Mindtree Deal: No White Knight To The Rescue Of Mindtree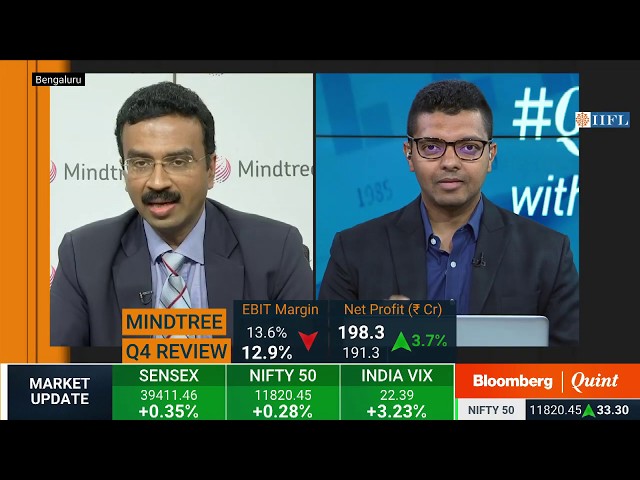 Mindtree had cash and cash equivalent of Rs 983 crore as of March. That will be depleted by more than 530 crore for rewarding the shareholders and paying the dividend distribution tax.
Shares of the IT company have been range-bound, rising 1 percent since L&T announced its takeover plan. The key questions are:
How will shareholders react to the dividend plan?
Will it prompt L&T to adjust its open offer price to either account for lower cash or counter the lure of a higher dividend?
As per takeover regulations, this dividend payment may allow L&T to consider a downward revision in offer price.
The regulations allow for the open offer price to be adjusted if the target company's dividend per share is more than 50 percent higher than the average of the dividend paid during the three financial years preceding the date of announcement.
"With Mindtree at around Rs 980 per share, the final and special dividend doesn't move the needle for investors," proxy advisory firm Institutional Investor Advisory Services India Ltd. said in a note. "As L&T will get to vote on the final and special dividend, they can decide whether they want the money as dividend or they want it to remain in the company. But all the shareholders will have a say on this."
Profit Meets Estimates, Margin Contracts
Mindtree's fourth-quarter profit rose marginally, meting analyst expectations.
The software services provider reported a net profit of Rs 198.3 crore during January-March period, an increase of 3.7 percent from the previous quarter, according to its exchange filing. The compared with Bloomberg consensus estimate of Rs 191.8 crore.
Revenue rose 2.9 percent sequentially to Rs 1,839.4 crore. The analysts tracked by Bloomberg had pegged the top line at Rs 1,820 crore. Revenue in dollar terms rose 4.2 percent from the last quarter to $262 million, while revenue in constant-currency terms rose 3.9 percent.
"Our ability to consistently grow significantly faster than the sector is a reflection of the investments we have made to align with technology trends disrupting our industry," Rostow Ravanan, Mindtree's managing director and chief executive officer, said in a statement. "We are well-poised to continue delivering industry leading returns for all our stakeholders, the best is yet to come."
The operating income or the earnings before interest and tax fell 2.1 percent quarter-on-quarter to Rs 237.4 crore—the consensus estimate was Rs 243 crore. The operating margin contracted to 12.9 percent during the period from 13.6 percent—analysts had forecast 13.4 percent.
Margin has been under pressure as the challenges of talent and contract costs remain higher for the quarter and the full year, Menon said, adding that the company expects an improvement of 100-120 basis points in operating margin for the current financial year. "While the challenges remain unchanged, we see opportunities to improve margins going forward like in the current year."
Menon said that the company anticipates a low-to-mid-teen numbers growth in topline during 2019-20.
"We expected the margins to drop because of the rupee appreciation and there was a higher subcontracting expense for this quarter," Madhu Babu, analyst at Centrum Broking, said. "The guidance was low-teen kind of growth so it indicates some deceleration in 2019-20," he told BloombergQuint.
Other Key Highlights (QoQ)
Revenue from retail, consumer packed goods and manufacturing segments rose 2.3 percent to 407.6 crore.
Revenue from banking and financial services rose 3.5 percent to Rs 401.5 crore.
Revenue from high technology and media increased 3.6 percent to Rs 729 crore.
Travel and hospitality revenue rose 1.2 percent to 301.3 crore.