How Good Is Château Lafite Rothschild's Chinese Wine, Long Dai?
(Bloomberg) -- What's the ultimate status wine in China? Famed Bordeaux first growth Château Lafite Rothschild. That's why the company's first wine made in China is such a big, big deal. 
The cabernet blend labeled Long Dai debuted at the company's winery in Qiu Shan Valley, in China's northeastern Shandong Peninsula, in September. It won't arrive in the U.S. until 2020, and only 100 cases will be imported. They'll be available at a few top shops and restaurants, but the majority of the 2,500-case inaugural release will be sold in China.  
So when Lafite Chief Executive Officer Jean-Guillaume Prats brought a sneak preview bottle to New York for me to try, my taste buds were primed.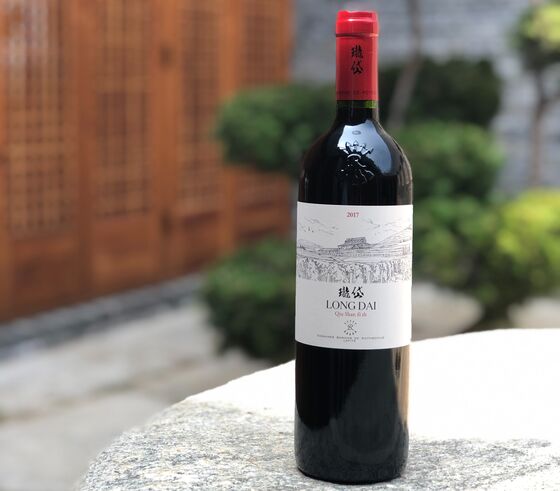 I won't keep you in suspense. The quality of this first vintage of Long Dai, 2017, is impressive. It doesn't taste like any other luxury Chinese red I've tried. Most of them have been big, plush, ripely fruity reds that seem almost sweet. Long Dai, by contrast, is very dry and subtle. It's refined and restrained, echoing the polished, elegant style of Lafite, though it's not at the level of a first growth. 
The mineral notes and freshness of this three-grape blend (cabernet sauvignon, cabernet franc, and marselan) reminded me of a bright, stylish cool-climate cabernet from somewhere like Australia's Margaret River, or maybe a delicious fourth or fifth growth Bordeaux. Marselan, in case you're wondering, is a French cross between cabernet sauvignon and grenache that's planted around the globe and highly popular in China. Lafite Chairman Saskia de Rothschild calls it "a grape that has an incredible capacity of adaptation to any terroir."
Aged in barrels made at Lafite's own cooperage in France, Long Dai has sophisticated, nuanced aromas and lightly spicy, savory fruit flavors that almost seem juicy. It perfectly balances fruit, acidity, tannin, and alcohol, and has a long, silky texture. The wine is surprisingly appealing even at this young age, though if you do, Prats advises putting it in a decanter for an hour before serving.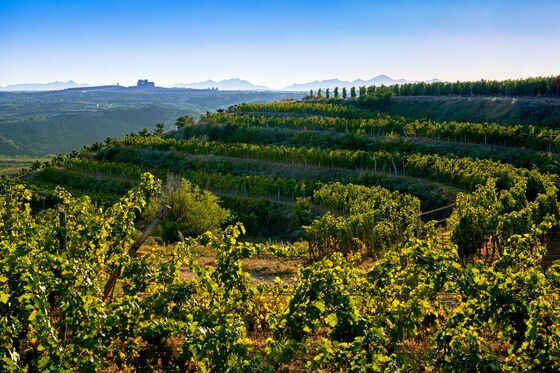 The name Long Dai, taken from the ancient Dai Temple at the foot of Mount Tai, a sacred nearby peak, was chosen in tribute to local history.
Inevitably the wine will be compared with the Chinese red LVMH launched several years ago, the rich, powerful, sumptuous Ao Yun (whose name means "flying above the clouds"). The two wines don't taste much alike, as you might expect, considering the wineries are more than 3,000 kilometers apart and the vineyards totally different in altitude and terroir. 
Both are among the very best Chinese wines I've tasted, though they're completely different in style. Ao Yun, a blend of mostly cabernet sauvignon with about 10 percent cabernet franc, is bolder, more dramatic and intense, with tons of tannin. It has more richness and impact—more like a Napa cabernet. Long Dai has more elegance, balance and subtlety, and a more quiet power. The marselan in the blend softens the tannins and adds a spicy note and aromas of violets. As the vines get older, there will be more complexity. 
I first heard rumors about Lafite's plan to make wine in China more than a decade ago. Over lunch recently at New York's Gabriel Kreuther, Prats filled in the timeline from idea in 2008 to the release of the first bottle this year. 
Lafite is no newcomer to making wine outside Bordeaux. Its parent company, Domaines de Barons de Rothschild (Lafite), has projects in France's Languedoc, Argentina, and Chile. So in some ways it was no surprise it would want to capitalize on the name in the fast-growing wine market of China, where the brand remains a shining star. In 2009, DBR started exploring a 400-hectare zone in the hilly land in Penglai, near the coast in Shandong province. At first the company partnered with CITIC, the Chinese government investment agency, but since 2016 it's been going it alone. (CITIC, Prats says, decided to concentrate on its solely owned core businesses and sold its 30 percent share to DBR, but its construction arm built the winery.)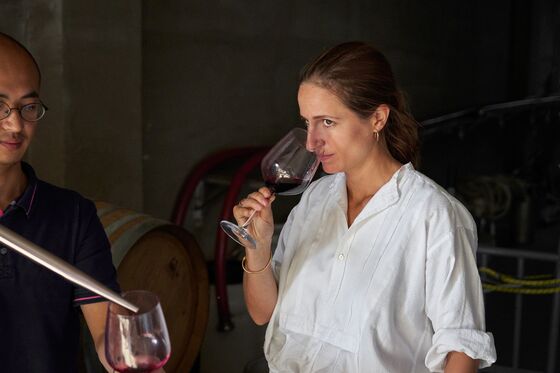 Prats already had plenty of experience making wine in China before joining DBR in 2018. As head of Estates and Wines for Moët Hennessy from 2013, he oversaw LVMH's Ao Yun project in Shangri-La, in the remote mountains close to Tibet, whose first vintage appeared in 2016. At the same time, he established Moët Hennessy's Domaine Chandon sparkling wine facility in Ningxia. 
Why Shandong for the Lafite experiment? "In every wine region there are challenges," Prats explains. "In Ningxia, the cold from the Gobi desert means you have to bury the vines in winter. In Shangri-La, it's logistics, getting skilled people and equipment to a remote mountain location. In maritime Shandong, summer rain and humidity are a problem, but it has a long tradition of viticulture." Luckily, global warming is making the region drier and warmer. 
The team dug nearly 500 soil pits to see which part of the property would be best for vines. They settled on 30 hectares with thin soil over granite bedrock in a spot where cool coastal breezes could modify that humidity. In 2011 they planted vines on 360 terraces. But it wasn't until the 2017 vintage that they were happy with the wine. The company expects to double its 2,500-case output in four or five years.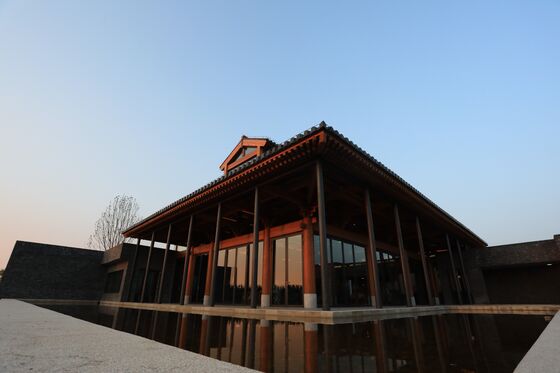 What also took time, Prats says, was obtaining "the right protections." That included registering the brand and working on ways to prevent counterfeits, a constant problem for Lafite in China. Several years ago, a senior Chinese government official estimated that half the Lafite in the country was fake, much of it blended and bottled on boats moored in international waters off the Chinese coast. 
That's why all the Long Dai wine from rejected early vintages was sent to be distilled into spirits, according to Prats. Tight secrecy surrounded the name and label, which looks similar in typeface and design to Château Lafite's. Even the staff at the winery didn't know the name until last July. The bottle carries several counterfeit protections, including NFC tracking built into the capsule, a label that can't be removed, and the DBR five-arrow motif embossed in the glass. 
De Rothschild and Prats clearly have serious ambitions for Long Dai, which already stands out as more interesting than the other reds in the Lafite portfolio made outside Bordeaux. Prats lays out Lafite's goal in China: to create a great estate whose wines will be an endorsement of the country's wine-producing potential. "That Lafite is there bestows a powerful imprimatur," he says. "We have the privilege to help educate and grow the Chinese market for domestic wines."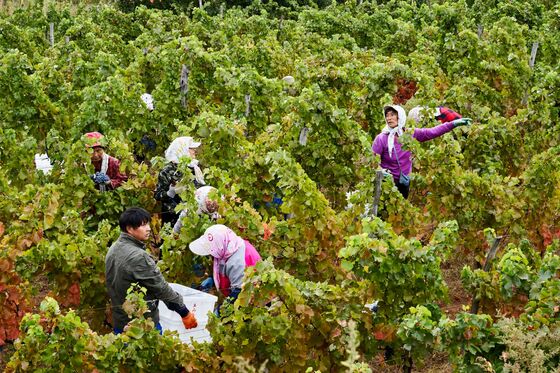 China has emerged as an up-and-coming wine giant in the past two decades, though consumers still regard the growing number of local wines as mediocre. But the domestic wine industry—and Lafite—want to get them excited about the country's wines. The potential is huge: According to IWSR data, China is the world's second-largest wine market by value and fifth-largest by volume.   
For now, the Lafite connection is key. Tailor-made for domestic tourism, Domaine de Long Dai incorporates a replica of Château Lafite's circular barrel cellar, though the pillars are painted bright red. Copies of family portraits hang in the great hall that will be used for entertaining. The winery will be open to visitors by appointment at the end of the year. 
"We always have Lafite at the back of our minds," says de Rothschild, who succeeded her father as Chairman of Domaines de Rothschild (Lafite) last year. "We were looking for a similar subtlety and complexity from the birth of Long Dai." But this, she adds, is just the beginning. As the bottle's back label says, "Welcome to Chapter One." 
To contact the editor responsible for this story: Chris Rovzar at crovzar@bloomberg.net