Virus Chaos Makes Beef a Luxury Consumers Are Willing to Forgo
That old adage is so far proving to be true as the global coronavirus outbreak dents demand.
(Bloomberg) -- In times of economic woe, one of the first luxuries to go is beef. That old adage is so far proving to be true as the global coronavirus outbreak dents demand.
A key U.S. government report Tuesday lowered forecasts for American exports of the meat amid weaker demand, while an industry group a day earlier said weakness in red meat shipments due to coronavirus could show up soon in trade data. Asian nations including China, South Korea and Japan, which are top importers of beef, have seen a slowdown in restaurant traffic. That's bad news for premium cuts of American steak.
As the virus continues its spread outside of Asia, fears are mounting of a global economic slowdown, even a recession in the U.S., which is more kryptonite for beef. Cattle futures in Chicago have tanked since the start of the year, as have shares for meatpackers including U.S. giant Tyson Foods Inc.
"Beef is considered the premium protein, and it's the highest-cost protein and most subject to economic ups and downs," said Rich Nelson, chief strategist at Allendale Inc.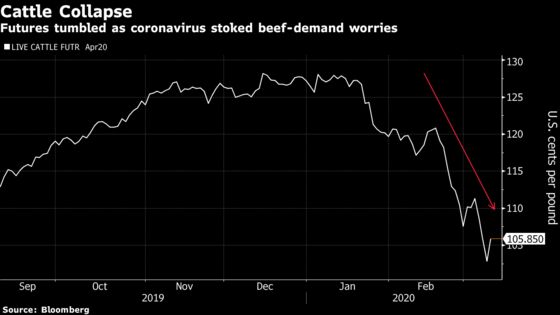 U.S. producers have been expanding red meat and poultry output for years in anticipation of record overseas demand for protein, especially from Asia. The expectations for shipments swelled further ever since African swine fever started killing off hundreds of million of hogs in the region. But trade wars and now the coronavirus crisis has delayed any benefits to American farmers, who instead are seeing a meat glut continue to pile up.
While pork and chicken prices have also been flailing, they're more recession-proof than beef. Chinese demand for pork may also recover-- the nation was importing record amounts before the virus hit -- and Mexico has also been buying. The U.S. Department of Agriculture raised its forecast for 2020 pork exports Tuesday in its monthly World Agricultural Supply and Demand Estimates report.
"Pork has always been considered a recession meat with demand holding up better in tough times because it is so cheap," David Kruse, president of CommStock Investments Inc., said in a report. "Price sensitive consumers will buy pork rather than beef."
To contact the reporters on this story: Lydia Mulvany in Chicago at lmulvany2@bloomberg.net;Michael Hirtzer in Chicago at mhirtzer@bloomberg.net
To contact the editors responsible for this story: James Attwood at jattwood3@bloomberg.net, Millie Munshi, Patrick McKiernan