The Renoir Landscape Was Ready for Auction. Then It Was Gone
Surveillance showed a few men going to the second floor of the Dorotheum gallery before pulling the painting from its frame. 
(Bloomberg) -- A man and two accomplices walked into a Vienna auction house on Monday and hijacked a Renoir landscape before splitting up and slipping from the building into the crowd, police said.
The French impressionist's coastal landscape "Golfe, Mer, Falaises Vertes"—estimated to be worth between 120,000 euros ($135,000) and 160,000 euros and pictured below after being shared on Twitter—had been on display ahead of an auction planned for Wednesday.
Surveillance video showed a group of three men who went to the second floor of the Dorotheum gallery before pulling the painting from its frame, police said in a statement. Local media had earlier reported a single thief. The "obviously professional" trio dispersed and left through different exits, with two of them carrying shopping bags, pictures from the cameras released by police show.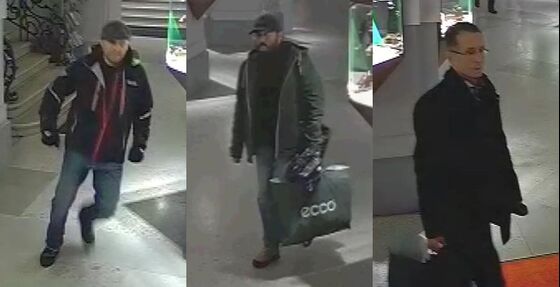 The Dorotheum confirmed the theft but didn't elaborate. The listing has been removed from the auction house's website, but a cached version is available. Austrian police are investigating.
This painting sold at Sotheby's in 1996 for $56,538, according to Artnet. The Art Loss Register has 393 stolen Renoirs and 30 more fakes, according to Chairman Julian Radcliffe.
Many of Renoir's small, stamped works were often cut from larger canvases of multiple oil studies left in the artist's estate, according to David Norman, a private art dealer in New York.
"It's terrible that it got stolen, but I don't think it will be noticed by the collecting community," Norman said.
Illicit artwork trade has become an increasingly lucrative business for organized crime gangs. The black market artwork is as profitable as selling drugs and weapons, according to Interpol, which has a database of stolen works that totaled more than 50,000 pieces at the start of March. The Paris-based organization's latest advertisement for missing art includes a landscape painting by Renoir peer Paul Signac and a statue by one of Sweden's most famous artists, Anders Zorn.
--With assistance from Chris Reiter, Benjamin Stupples and Katya Kazakina.
To contact the editor responsible for this story: Lisa Fleisher at lfleisher2@bloomberg.net, Timothy Coulter "Tim"