Superyachts Betray Where Billionaires Are Spending Christmas
(Bloomberg) -- It's the holiday season, time for Roman Abramovich and other billionaires to celebrate in the Caribbean aboard some of the world's largest yachts.
The Chelsea F.C. owner's Eclipse is currently in St. Maarten along with more than 50 other superyachts. The count off the idyllic island swelled to 52 vessels from 16 in November, leading all countries in month-over-month change, and placing it sixth on the yacht leaderboard. Antigua was seventh and St. Bart's tied Turkey for 10th place.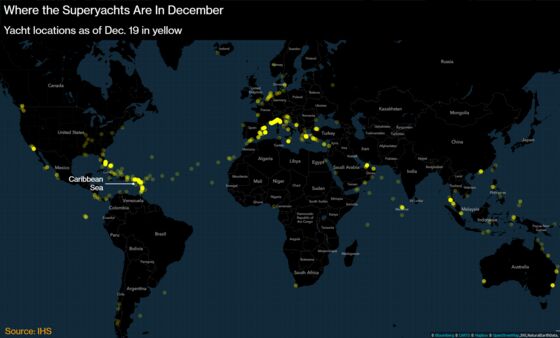 Abramovich's holiday sleigh may make Santa jealous.
Clocking in at 533 feet (162.5 meters), it's the third-largest in the world and the biggest currently in the Caribbean, according to IHS data. Fellow steel billionaire Victor Rashnikov's Ocean Victory is the second-largest at 459 feet, with David Geffen's Rising Sun third at 456 feet.
A yacht previously owned by Abramovich had a tougher time of it. The 282-foot Ecstasea, now owned by a Pakistani billionaire, crashed Sunday while docking at a marina on St. Maarten, demolishing an operator's booth.
With orders for yachts measuring more than 100 meters at a 10-year high, there's cause for celebration among shipbuilders, but that may belie a slightly worrisome trend for the industry.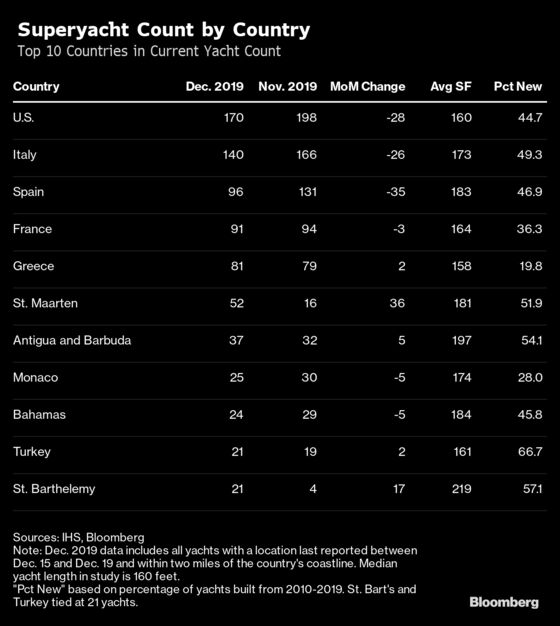 The global superyacht business "appears to be in a holding pattern, awaiting 2020 with a little anxiety," Boat International said in its 2020 Global Order Book. It cited a slight dip in overall luxury vessels ordered and the uncertainty surrounding major economies. That's also reflected in the decline in speculative production by shipyards, which dropped 8% year-over-year yet still accounts for about 43% of total orders.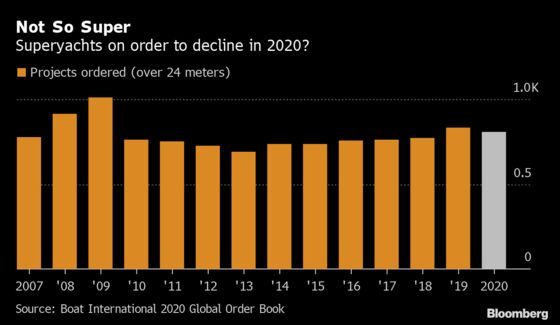 This may not matter to big-boat billionaires like Abramovich, who pays $65 million a year for yacht maintenance, according to the Market Herald magazine. But it may create a headache for potential owners in the 80- to 89-foot range, with projects on order dropping 15%.
To contact the reporter on this story: Kevin Varley in Washington at kvarley@bloomberg.net
To contact the editors responsible for this story: Pierre Paulden at ppaulden@bloomberg.net, Steven Crabill, Peter Eichenbaum