Golf-Course Developer Starts New California Airline at Age 97
Southern California Gets an Airline All Its Own
(Bloomberg) -- A startup airline founded by a 97-year-old golf course developer hopes to capitalize on the rapid growth between San Diego and Los Angeles. The question is: Will enough Southern California travelers find the carrier useful enough to skip the drive down to San Diego's big airport?
California Pacific Airlines takes flight Thursday from Carlsbad, in northern San Diego County, with flights to San Jose, California, and Reno, Nevada. It plans to expand into Las Vegas and Phoenix-Mesa, Arizona, later this month with its fleet of four, 50-seat Embraer SA E145 jets.
The carrier is a long-held dream of Ted Vallas, a serial entrepreneur from the area who made his fortune in a motley career spanning golf course and resort projects around the world, running a regional airline and working on aircraft cabin interiors.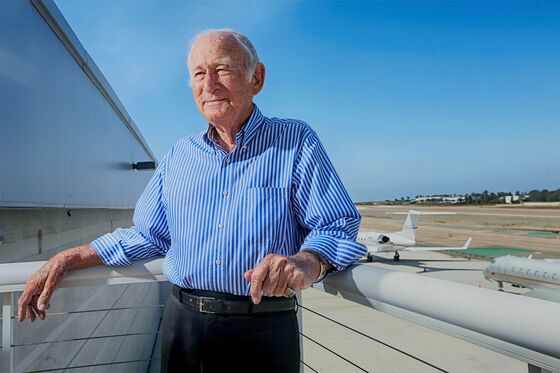 The airline aims to draw travelers from northern San Diego County who seek more convenient flights out of a smaller airport that has no other commercial service, said Ryan DiVita, the carrier's director of sales and marketing. California Pacific will focus on business travelers who commute weekly for their work, as well as those heading to Las Vegas and Reno for leisure activities.
"The goal is to go into what we view is an underserved market," DiVita said. "We feel that the amount of ridership possibility in the northern San Diego area warrants its own service."
Carlsbad had commercial service in the 1990s from American, United and America West airlines. San Francisco is the top destination from San Diego International (about 35 miles south of the Carlsbad airfield), where Southwest Airlines Co. is the top carrier, with 39 percent market share.
California Pacific has a rocky history. Numerous efforts have failed to launch in recent years amid disputes with San Diego County and federal regulators. Its current fleet and operating certificate were acquired in May, when the company purchased Aerodynamics Inc. That company, based in suburban Atlanta, operates federally subsidized Essential Air Service routes from Denver to Pierre and Watertown, South Dakota—a financial backstop that could help support California Pacific in the short run.
"It's a smart idea to try to build air service out of Carlsbad, because there's been growth north of the city center," said Henry Harteveldt, a travel industry analyst with Atmosphere Research Group. But, he added, "they don't have an easy road ahead of them."
Many people who travel frequently for work are deeply tied to a particular airline, due to company travel policies and a strong affinity for frequent flier programs, Harteveldt said. "The business traveler has to be wooed away from incumbent providers," he said. And while Southwest won't be flying its Boeing 737s into Carlsbad, it can certainly make life difficult for the newbie with fare cuts, additional service and other enticements aimed at travelers in San Diego and Orange County to the north.
California Pacific, which has 89 employees, will also consider service to Oakland, Sacramento, California, and Los Cabos, Mexico, DiVita said, depending on how the initial flights perform. For an additional sweetener, the airline will offer travelers two checked bags without a fee, matching Southwest, the largest carrier in California by traffic. One-way introductory fares range from $99-$149.
"We are cautiously optimistic," DiVita said. "Obviously, we are not naïve—you can't be. But I will say that I think we have partnered with airports that are willing to help and invest in us and make it work as best as possible."
In a sign of how tough the airline business can be, California Pacific canceled its first flights Thursday morning to and from San Jose, citing a mechanical problem.
To contact the editor responsible for this story: David Rovella at drovella@bloomberg.net