Hima Das's Journey from Assam's Rice Fields to Asian Games Silver
Hima Das's talent and hard work brought her success at every level.
Assamese sprint sensation Hima Das has burst into the spotlight after winning India's first-ever track medal at an international event. The 18-year-old made history by finishing on top of the podium in the 400m event at the IAAF U-20 World Championships, with a time of 51.46 seconds.
Hailing from Dhing in Nagaon district, Hima knew very little about athletics as recently as 24 months ago. Her sport of choice was football, and she played for a few local clubs in her youth.
From humble beginnings at her father's rice fields, all the way to the sprint tracks of Tampere in Finland, and then the podium of the 2018 Asian Games, Hima's story is a remarkable one, and befitting her moniker, 'The Dhing Express'.
While Hima is making headlines with her accomplishment in the 400 metre event, it wasn't even among her first two preferences among track events just five months back.
From her first event, an inter-district meet in Assam in 2016, to March 2018, she ran only the shorter distances of 100 and 200 metres. At the Assam State Championships in 2016, her first competitive race on record, Hima bagged silver in the 100 metres event. She only grew from strength to strength after her state championship performance.
In February 2017, the young athlete competed in the school nationals and was successful in the 100 and 200 metre events, winning medals in both.
With A Little Help from Her Coaches
Hima Das is the daughter of Ronjit Das and Jomali, the youngest of six children. Her father is a rice farmer, and her fledging athletics career was hampered by her financial constraints. But Nipon Das, a coach associated with the Directorate of Sports and Youth Welfare, spotted her talent and took her under his wing in 2017.
He asked her to shift to Guwahati, 140 kilometres away from Dhing, her village. Although her parents resisted the move, Nipon was unrelenting in getting the then 17-year-old to better coaching facilities at the Sarusajai Sports Complex, and arranged for Hima to live in rented accommodation there.
Nipon Das and state coach Nabajit Malakar even took out loans to send Hima to the 2017 World Youth Championships in Nairobi, Kenya, where she competed in the 200 metre sprint and finished fifth.
This international performance brought her to the attention of Athletics Federation of India (AFI) coach Galena Bukharina, herself a former sprinter and current coach of the women's 400m team.
Hima's development continued at a rapid pace. Although her sprint career itself was only a little over an year old, she competed for the first time in a 400m event at the Patiala Federation Cup in March 2018, the Indian trials for the Gold Coast Commonwealth Games.
The qualifying mark for the Gold Coast Games was 52 seconds. Although she couldn't reach that mark in the heats, Hima's growth and natural talent was on full display as she recorded a 51.97-second run to book her place at the 2018 Commonwealth Games in Australia.
From there on, it was full speed ahead. At Gold Coast, Hima kept improving her timing in each of her heats and went on to book a spot in the final where she eventually finished sixth with a time of 51.32 seconds.
Progression of Personal Bests
In her four months of running the 400 metres competitively, Hima's results have improved tremendously to reach the level of some of the best in Asia. From her first competitive sprint in March, she has bettered her personal best by more than 2 seconds – and is moving closer to the Asian record of 49.55 seconds, held by Salwan Eid Naser.
53.21 seconds at Patiala Federation Cup: In her very first race on 5 March, Hima had a solid time, and won her heat to progress to the finals.
51.97 seconds at Patiala Federation Cup Finals: Her first sub-52 time, this performance secured her a berth in the Commonwealth Games 2018, by surpassing the qualification mark set by the AFI.
51.53 seconds at Gold Coast Commonwealth Games 2018: After making it to the semis with a 52.11, she improved again in only a month to chop off 0.44 seconds from her personal best.
51.32 seconds at Gold Coast CWG 2018 Finals: The very next day, Hima came back to put her hat in the ring with the Commonwealth's best. The time she secured on 11 April was good enough for 6th in the competition.
51.13 seconds at Inter-State Championships, Guwahati: Das finished with her current personal best of 51.13 seconds, just 0.08 seconds off Manjeet Kaur's national record to win the event.
51.00 seconds at 2018 Asian Games heats: In her first big outing for India after winning the U-20 World Championship gold, Das clocked 51.00s to break the 14-year-old national record set by Manjit Kaur (51.05) in Chennai in 2004.
50.79 seconds at 2018 Asian Games final: Hima shattered the 400m national record for a second time in two days to win the silver in Indonesia. Her first medal for India at an interdisciplinary event.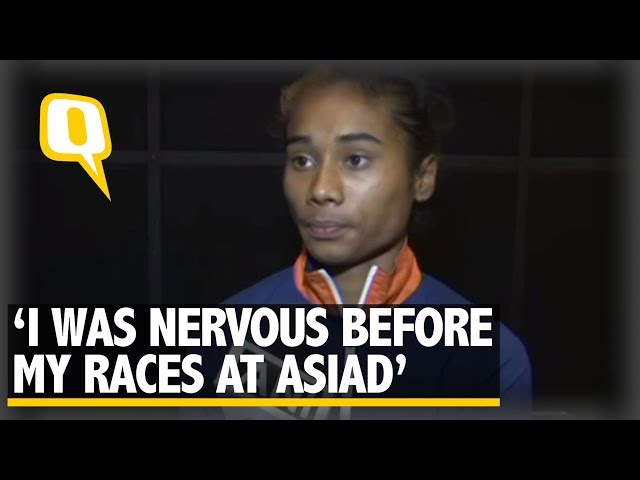 Dhing Express Races to Double Silver at Asiad
From the IAAF Championship in Finland to the Asian Games in Indonesia. Focus was on the young Assamese as she stepped out for her 400m qualifying event in Jakarta.
Hima won Heat 2 to qualify for the 400m final. In the process she created a new national record as she timed 51.00s, breaking a 14-year-old record set by Manjit Kaur (51.05s) in Chennai in 2004.
In the final Hima faced tough competition from Nigeria's Salwa Eid Naser, the 2017 World Championship silver medalist and winner of four legs of Diamond League Series this year.
She gave it her best, broke the national record once again and won the silver with a time of 50.59 s. This was India's first women's 400m medal at the Asian Games since Manjeet Kaur's silver at the 2006 Doha edition.
The other Indian in the final, Nirmala Sheoran finished fourth in 52.96.
Hima Das with her silver medal for the women's 400m at the 18th Asian Games in Jakarta on Sunday, 26 August 2018.
The Dhing Express wasn't done yet as far as the Asiad was concerned. A day after her maiden silver at the Asian Games, Hima again bagged a silver medal in the mixed 4x400 relay.
Hima, who was part of the mixed relay team, comprising Muhammed Anas, Poovamma Raju and Arokia Rajiv, clocked 3 minute and 15.71 seconds to settle for silver, while the Bahrain team recorded a timing of 3:11.89 minutes to take home the gold.
On the same day, Hima also qualified for the women's 200m semi-finals, her third event of the Asiad, as the fastest loser after she clocked 23.47 to finish fourth in Heat 2.
But as luck would have it, Hima couldn't qualify for the finals to make it a hat-trick of silver. In the second semi-final that witnessed two false starts, teenager Hima got a red card and was forced to leave her blocks as she was disqualified.
But the 18-year-old sprinting sensation would certainly not mind the minor hiccup in Jakarta and would instead celebrate her Asiad debut, while setting her sight on more medals in future.