World's Best Restaurants Release At-Home Meal Kits
Eleven Madison Park Joins Alinea, Atelier Crenn With gourmet meal kits that are here to stay. 
(Bloomberg) -- Early on in the pandemic, Eleven Madison Park chef-owner Daniel Humm rejected the idea of takeout. But now he's changed his tune with a $275 chicken dinner customers cook themselves at home. 
The EMP dinner kits can be picked up starting on Oct. 22 at locations around the tri-state area, including Greenwich, Conn., and East Hampton, N.Y. They feed two to four people and feature a chicken with brioche, black truffle and foie gras stuffing, plus roasting tips for the bird. (One of them is to liberally coat it with butter and chill before roasting.) Alongside are a cheesy potato gratin and baked squash with seaweed to heat up, and an apple tart or similar dessert. As a throwback to the three-Michelin-star experience, there's also a jar of EMP's signature granola, the perennial parting gift for diners in the restaurant, considered one of the world's best. 
Every take out order will provide 10 meals to people in need through Rethink, a hunger fighting nonprofit championed by Humm.
The intention is to offer the kits until the restaurant reopens, but Humm and his team are also planning to offer special holiday meal kits for Thanksgiving and Christmas.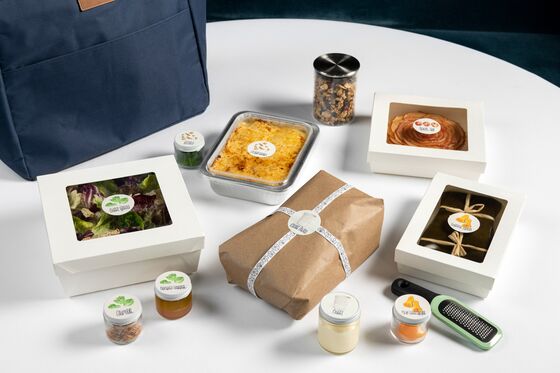 EMP's fancy chicken is the latest in a series of high-end meal kits that have proliferated across the country and around the world as a result of the coronavirus.
This summer, Carbone offered $500 takeout boxes delivered to the Hamptons, with dishes designed to be cooked and finished at home, like spicy vodka rigatoni pasta and Mario's meatballs—and a minimum order of $2,000. Still on offer is the $800 Temaki bento box from Masa in New York, that includes the signature Osetra caviar-topped toro; hand rolls are DIY.
In San Francisco, Dominique Crenn of Atelier Crenn provides the Crenn Kit Luxe, a changing offering which might include dishes like caviar and koji rice tart, brioche, tomato and melon salad, cocktails, and dessert, along with video preparation tips from her team ($155 per person). Another notable Bay Area chef, Michael Tusk, has to-go pasta kits from his restaurant Cotogna for cooking multiple meals at home, including tagliatelle with summer squash and their blossoms and spaghetti alla carbonara ($155 for four).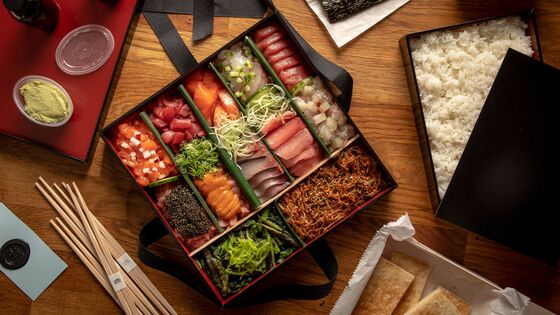 "Restaurants are getting creative beyond their walls. Meal kits are an important bridge to the post Covid industry," says Nick Kokonas, founder of Tock Inc., the reservation system that books many of the higher-end to-go kits. He adds: "And they are likely to stick around forever."
Kokonas is also co-owner of Michelin three-star Alinea in Chicago. And like EMP plans to do, the restaurant is already offering Thanksgiving packages that include free-range turkey with infused cooking butter, sage stuffing, and green bean casserole for $325 to $895.
"We've already sold  $250,000 of Alinea Thanksgiving," says Kokonas. "We're capping it at 2,000 turkeys. It will be the equivalent of 10,000 covers."