Djokovic's Australia Fate Hangs in Balance as Decision Looms
Novak Djokovic's shot at a record 21st Grand Slam victory rests on the shoulders of one Australian minister.
(Bloomberg) -- Novak Djokovic's shot at a record 21st Grand Slam victory rests on the shoulders of one Australian minister.
Immigration chief Alex Hawke is still weighing whether he'll exercise special personal powers that allow him to cancel Djokovic's visa and spoil his hopes of winning the Australian Open this month. The world men's tennis no. 1 has been in training since his release from detention on Monday after a court thwarted the government's efforts to deport him on vaccination grounds. 
"Mr Djokovic's lawyers have recently provided lengthy further submissions and supporting documentation said to be relevant to the possible cancellation of Mr Djokovic's visa," a spokesperson for Hawke said Wednesday. "Naturally, this will affect the timeframe for a decision." 
Djokovic took time out from practising in Melbourne on Wednesday to address allegations in recent press reports that he called "misinformation," including that his travel declaration form incorrectly stated he hadn't visited any other countries in the two weeks prior to his arrival in Australia. 
The travel form "was submitted by my support team on my behalf -- as I told immigration officials on my arrival," Djokovic said in a statement posted on Instagram, adding that he'd provided further information to the Australian government on the matter. "My agent sincerely apologises for the administrative mistake in ticking the incorrect box."
While Djokovic's lawyers earlier said he tested positive for Covid on Dec. 16., the star was also pictured publicly with other people in the following days. The player on Wednesday said he didn't know he was positive until after the events, and then only attended a Dec. 18 newspaper interview out of obligation to the journalist. Djokovic said he wore a mask while not being photographed and remained socially distanced.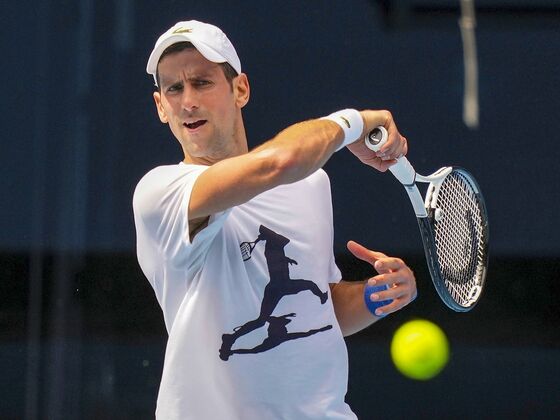 Judge Anthony Kelly quashed the cancellation of Djokovic's visa in a court hearing on Monday, saying the unvaccinated player wasn't given enough time to fully respond to officials who denied him entry to Australia. He warned that any attempt by minister Hawke to use his personal cancellation powers could mean that Djokovic wouldn't be able to return to Australia for three years.
Federal officials were also looking into the player's travel form discrepancy, The Age reported on Tuesday. While the Australian Border Force told Bloomberg News it doesn't comment on operational matters, its emailed response came with a terse warning: 
"Providing false or misleading information or documentation to the Commonwealth can lead to visa cancellation and/or attract penalties, including under criminal law," an ABF spokesperson said on Wednesday.
Australian Prime Minister Scott Morrison even discussed the matter with Serbian leader Ana Brnabic earlier on Tuesday, according to an emailed statement from his office. The call was "constructive" and he insisted that Australia's travel rules weren't discriminatory but were designed to protect the country during the pandemic.
While Victoria state granted Djokovic a medical exemption before he boarded a plane, federal officials overturned his visa on arrival amid a national uproar that a wealthy sports star was receiving special treatment. More than 90% of Australian adults are fully vaccinated and the country has endured some of the world's toughest restrictions during the pandemic. 
Australians who haven't had at least two doses of vaccine are restricted from entering most indoor venues in Victoria as the state, home to Melbourne, sees to curb the spread of the omicron variant and ease pressure on hospitals. The country reported more than 100,000 new Covid-19 cases for the first time in a single day on Saturday.
Djokovic arrived in Australia last Wednesday night local time and was questioned at Melbourne Airport for hours before Border Force officials decided to cancel his visa. The player's confusion and frustration during the interviews was apparent in a transcript released shortly after Monday's court decision.
"I really am a little bit surprised that I am in this situation because how am I supposed to even come to Australia if I didn't have these documents that are official documents?" Djokovic said, according to the transcript.
Djokovic has previously won the Australian Open nine times. The tournament will start on Jan. 17.