This May Be the World's Best Potato
Farmer's daughter Clare Smyth parlayed the humble spud into a signature dish that puts her among the world's top chefs.
(Bloomberg) -- Clare Smyth is one of the world's leading chefs. So what is the centerpiece of the menu at her two-Michelin-starred restaurant?
The Charlotte spud is slow-cooked in a marinade of butter and seaweed, then allowed to marinate for another 24 hours before being topped with smoked trout and herring roe from Scotland and served with beurre blanc. It comes with miniature salt-and-vinegar crisps that cut through the richness of the butter and provide crunch for texture.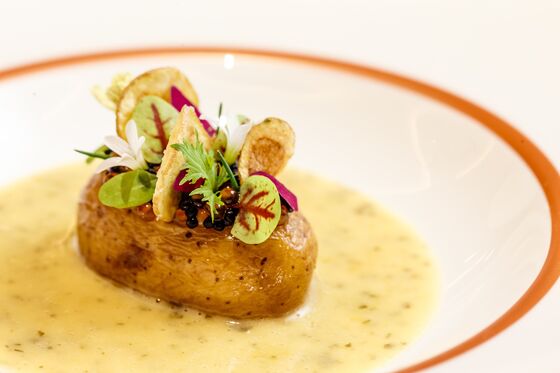 This signature dish at Core by Clare Smyth in London is both a homage to her childhood in Northern Ireland and a bold statement of her desire to combine sophisticated cooking with a simplicity of style.
Other chefs are taking notice.
"Clare does incredibly clever things with simple ingredients," says Brett Graham, who holds two Michelin stars at the nearby Ledbury, in Notting Hill. "It takes a chef with real skill to turn something as simple as a potato into something absolutely delicious. Clare has been cooking at the top level for many years. It is great to see her taking center stage with her own restaurant and getting the recognition she deserves."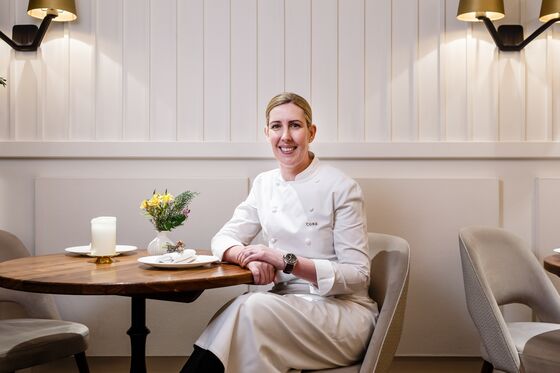 Smyth was raised on a farm on the north coast of Northern Ireland. It's only 500 miles from London but a different world from the glamour of her restaurant, where the classic tasting menu costs £115 ($150) and the wine pairing another £105. 
"I grew up eating potatoes every single day with every meal, being Irish," she says of her childhood in Bushmills, County Antrim. "So later, when we were in kitchens making pomme puree or whatever, I would eat a single boiled potato with salt and pepper on it before every service. It was my head chef, Jonny (Bone) who said, 'Do you realize? We've got to do a potato dish.' So we started to develop it."
Seaweed was also common in the kitchen of her childhood, and the family land near the water infused their produce with a taste of the ocean.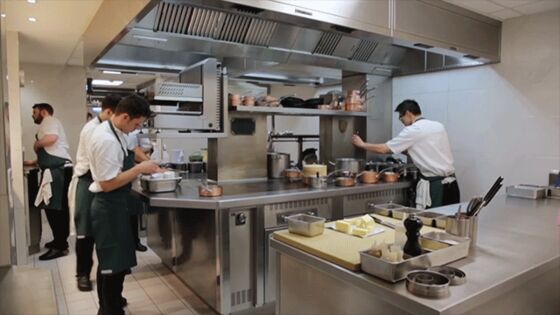 "We chose to use the herring and trout roes rather than caviar because, again, it is staying away from luxury ingredients. But they are delicious and they have a pop that really works for the texture of the potato. So it is kind of quite classic in a way, but it's satisfying, homely. It's who I am. It is simple."
Smyth's has been an exceptional career.   She's worked under Alain Ducasse at the three-Michelin-star Louis XV in Monaco and was the guardian of Gordon Ramsay's three stars for almost a decade, the first woman ever to hold three stars in the U.K. She became Ramsay's head chef in one of London's toughest kitchens at the age of 28 and he named her chef-patron of Restaurant Gordon Ramsay in 2012.
Speculation is rife throughout the industry that her third star is a matter of time, maybe even this year.
"Clare is brilliant," says Sat Bains, who holds two Michelin stars at his eponymous restaurant in Nottingham. "She is one of the best chefs in the world. It won't be long before she's back where she was at (Gordon Ramsay) Royal Hospital Road in terms of accolade—Becoming a world-class restaurant with three  Michelin stars, without a doubt. That's her default setting." (Bains has a much-admired potato dish on his own menu.)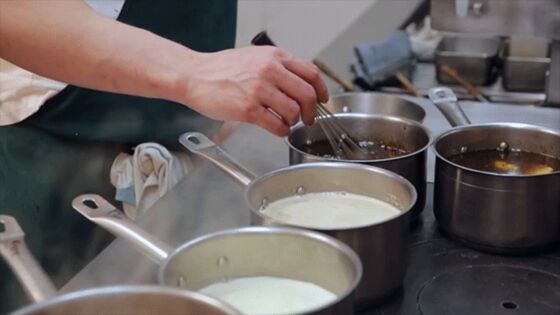 The refinement of her food is based on a few, simple British ingredients, with snacks such as jellied eel, toasted seaweed and malt vinegar; and a main of braised lamb with carrot and sheep's milk yogurt. Core scored a straight 10 out of 10 for her cooking in the Good Food Guide, becoming only the fifth London restaurant ever to do so. (The others were Chez Nico, La Tante Claire, Marco Pierre White and Restaurant Gordon Ramsay.)
Smyth even catered the Royal Wedding between Prince Harry and Meghan Markle last year. Smyth is extremely discreet and won't be drawn on that at all. She won't even say what she cooked, beyond smiling at reports that posh hamburgers were served: "Looking at what I cook, I don't think most people would think that I would be doing hamburgers."
She certainly wasn't born to royalty. As a teenager, she worked part time in a local restaurant and discovered a love of food that led her to leave home at the age of 16 and travel to England to follow her passion. (She doesn't even mention that she has been photographed with Meghan Markle since the wedding.)
"I was very headstrong, naïve probably as a kid: Just blinkers on, really wanted to be a chef," she says, dropping the occasional pronoun in her clipped tone. "Had read lots and lots of books and had some friends that lived here so I came over on holiday and looked at some colleges and stuff whilst I was here and then got myself an apprenticeship, just started straight away. I couldn't wait."
She got an apprenticeship, went to work in at Grayshott Hall in the Surrey countryside and by the age of 17 had moved to London to work under chef Simon Hopkinson at one of the city's leading restaurants, Bibendum.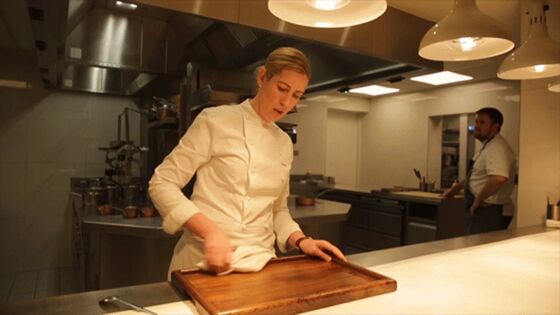 Ramsay reckoned she wouldn't be tough enough to last a week when she then joined Restaurant Gordon Ramsay in 2002. She worked her way up to senior sous chef before going overseas in 2005 to gain experience and to work with Ducasse.
"The truth is most people didn't last a week and particularly females, you know, and it was just the way it was," she says of Ramsay. "It was tough. It was really, really tough. But that's what I wanted," she says. "Everyone wanted to work there in those days.  So you had to be good enough to be in that kitchen or you were gone."
Smyth returned to Ramsay in 2007 and he supported her when she left again in 2016 to open Core. Of all the awards she has received, the World's Best Female Chef was the most controversial. Many questioned whether there should be a separate category for women in cooking. Even Smyth herself, in a speech receiving the accolade, said a chef's job is gender-neutral. So why accept?
"It was a positive thing," she says. "And I thought, Well, if I want to be a role model or if I can help inspire other people, then that is a great thing.
"In Britain, we've got a long way to go for sure. It is changing. About 10 years ago, I would have been the only woman in the kitchen at the top end. Now, we probably have a balance of about a third, so it is moving the right way."
The interview over, she gets down to preparing her signature dish. It may be the most talked-about fine-dining potato dish after the late Joel Robuchon's puree de pomme, or the perfect mashed potato. Smyth says she had not anticipated its success.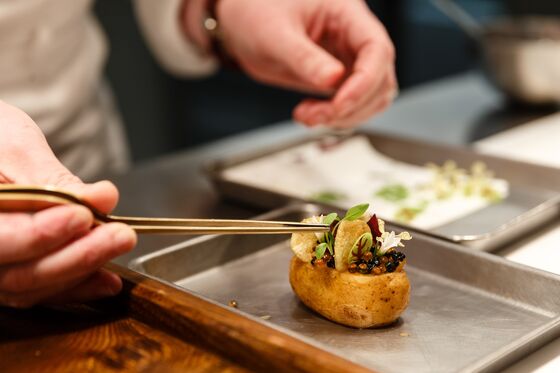 "I must hear it 20 times a service," she says. "People can sometimes be scared of fine dining and it can be intimidating. But when you put a dish like that down, it fills people with confidence to enjoy and eat it."
And what does her mentor Alain Ducasse think of Core?
"I went and I could see she was very well trained," he says, and laughs. "She trained with us. And now she is our competitor."
--With assistance from Abigail Morgan.
To contact the editor responsible for this story: Timothy Coulter "Tim" at tcoulter@bloomberg.net