A Pop-Up by Alain Ducasse and Albert Adrià Portends the Future of Fine Dining
(Bloomberg) -- The chopped sea cucumber and miniature chickpeas were hiding under a generous layer of Chinese caviar.
The dish, served midway through the €380 ($430), 15-course dinner at ADMO, felt like a throwback to less harrowing times, when gastro-tourists and star-chef groupies still traveled freely across borders merely to eat.
ADMO is a 100-day collaboration between Frenchman Alain Ducasse and Spaniard Albert Adrià—two of the world's most celebrated chefs—and represents what is currently Europe's most ambitious and luxurious pop-up. It will close on March 3.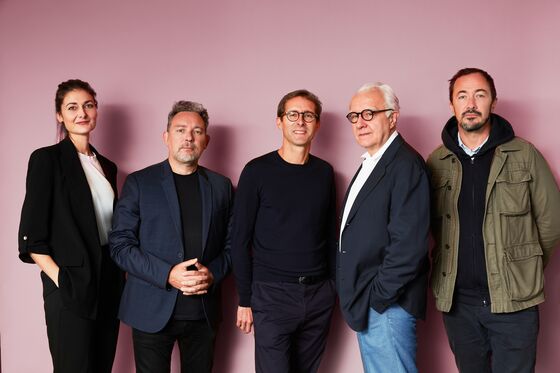 The joint venture is a takeover of Ducasse's restaurant, Les Ombres, atop the Jean Nouvel-designed Quai Branly Museum on the Left Bank of the Seine. The tasting menu features multiple haute cuisine hallmarks—caviar, lobster, sea urchin, white truffles—infused with globetrotting flavors from Mexico, Italy, and Japan. Every table in the glass-enclosed atrium dining room has a magnificent view of the Eiffel Tower. Optional wine pairings, starting at €120, include Dom Perignon's new 2008 vintage rosé. (The Champagne maker is a sponsor of the pop up.) "We wanted to co-create an experience," says Ducasse, "a different meal—a provocative meal—in France, after the pandemic." The menu, which will evolve during the pop-up's run, careens across borders. An oyster amuse arrives with a kick of wakame (kelp). Cauliflower is cloaked in an intense mole sauce and paired with monkfish liver. Razor clams arrive two ways: in a warm algae broth and with a cold citrus foam. "We want to diversify our vision of gastronomy," says Adrià.
This spectacle is a rarity of fine dining in Europe at the moment, whose posh food palaces have been hammered by the pandemic. Adrià shut down all six of his Barcelona restaurants last spring, including his wildly popular modern tapas spot Tickets, with no immediate plans to reopen any of them; debts were reported to top €8 million. A slew of top restaurants have shut down permanently across the continent in the past two years, from the Ledbury in London to Chambre Separée, Belgian Kobe Desramault's jewel box in Ghent.
In June, Ducasse lost his opulent flagship in Paris's Hôtel Plaza Athenée after 21 years when his contract was canceled , marking the end of an era for grand hotel dining. He's been replaced by a Top Chef France winner, Jean Imbert, best known for comfort food riffs on his grandmother's cooking.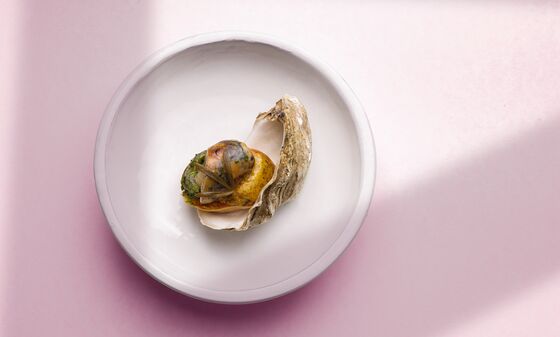 Shortly after the closing, Ducasse approached Adrià with a business proposal. "I said: 'Albert, you must come to Paris,'" he recalls. "You closed your restaurants; I closed mine. We're going to do something together."
The ephemeral project is a chance to reset. "I've come to realize that the life I was living was toxic," says Adrià. "I'd been neglecting my family. My mentality has changed. I'm taking it day by day, moving ahead calmly." After ADMO wraps up early next year, Adrià, who was pastry chef at the groundbreaking El Bulli restaurant, plans to open a small shop in Barcelona devoted to Basque-style cheesecake. "We're going to compete with the Cheesecake Factory," he jokes.
He intends someday to start his restaurant comeback with a reboot of Enigma, his most ambitious project, offering a long tasting menu in the same spirit as ADMO's. He'll do it, he says, only when he can afford to staff up fully after the demand for fine dining has returned. "At Enigma we had 40 people working," he says. "During the pandemic we closed three times and had no tourists. We'd have had to raise our prices dramatically to keep going."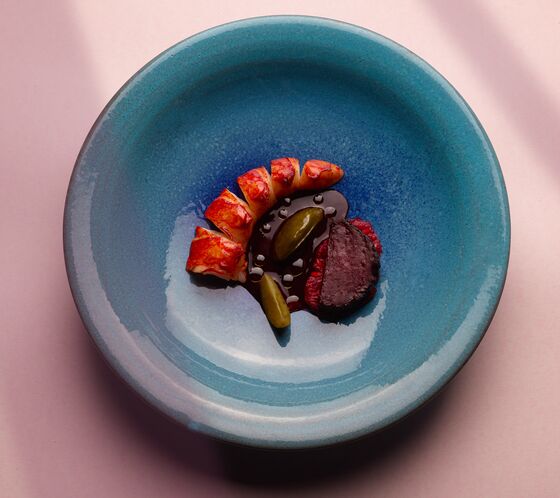 Ducasse, best known for his palatial hotel restaurants, shifted his focus during the pandemic to more widely accessible ventures. After launching Ducasse at Home, a takeout business, during the first Paris lockdown, he opened an ice cream shop, La Glace Alain Ducasse, in the 11th arrondissement. He debuted new retail coffee and cookie lines, and, last September, a healthy fast-casual concept, Sapid, with a mostly plant-based menu. A vegan burger shop is also in the works for Paris in spring 2022. "We're going to feed you in the street for under €10," he says.
ADMO was conceived as a creative outlet not just for Adria and Ducasse but also their newly underemployed lieutenants. Romain Meder, former head chef at the Plaza Athenée, and Jessica Prealpato, Ducasse's pastry chef there, have been working closely with Adrià's skeleton crew; he's down to seven employees from a pre-pandemic high of 900.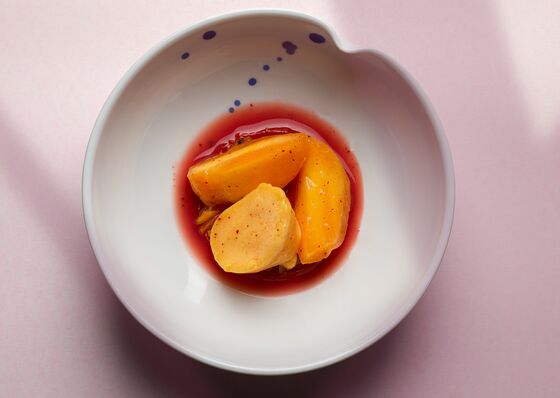 The model of a temporary big-ticket culinary experience is one that René Redzepi helped make famous with residencies of his restaurant Noma in such destinations as Tokyo in 2015 and Tulum, Mexico, in 2017. As diners have grown bored with the conventional trappings of fine dining, the collaboration between two heavyweight chefs acts as a refresh, according to Bruno Verjus, chef-owner of the Michelin starred restaurant Table, which he created with a former food writer.
"It's collaboration time for the big fish in the food world," he says. Verjus sees it as an echo of pandemic alliances like Gucci and Balenciaga, which are proliferating.  "Just like what has been happening in fashion, it will be happening more and more in the food world," he says.