Nike Falls as Critics Fume on Social Media Over Kaepernick Deal
Colin Kaepernick, a quarterback who kneeled during the national anthem, tweeted that he's in Nike's "Just Do It" ad campaign.
(Bloomberg) -- The backlash started just hours after Colin Kaepernick, the former San Francisco 49ers quarterback who sparked controversy for kneeling during the national anthem, tweeted that he's starring in Nike Inc.'s iconic "Just Do It" ad campaign.
Following the announcement, the hashtags #BoycottNike and #JustBurnIt started trending on Twitter and shares started falling. Some angry consumers even posted photos and videos of themselves burning their Nike shoes and other gear to protest the company using the divisive figure in its 30th anniversary ad campaign.
Nike shares slipped as much as 3.9 percent to $79 as of 9:31 a.m. Tuesday in New York -- the biggest intraday slide in five months. They had climbed 31 percent this year through Friday's close.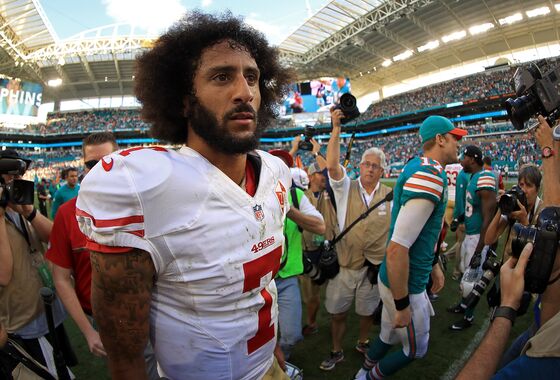 The fallout was no surprise but Nike may be betting that the upside of a Kaepernick endorsement is worth angering conservative Americans and supporters of President Donald Trump. Kaepernick -- who sparked a movement among professional athletes when he began taking a knee in 2016 during the anthem to protest police brutality against African Americans -- is embroiled in a lawsuit against the National Football League and accuses it of blacklisting him.
Still, with the former 49er one of the most popular football players in the U.S. the shoe giant is likely counting on passions to cool.
"The long-term relationship and a contract that benefits both parties over the next 10 years will likely outweigh any current controversy," said Bloomberg Intelligence analyst Chen Grazutis.
Kaepernick tweeted an image from the campaign with the caption, "Believe in something. Even if it means sacrificing everything."
Nike is in a fierce battle with rival Adidas AG to sign star athletes. The combined marketing spending of the two companies may reach as much as $10 billion by fiscal 2020.
Nike has also shown its willingness to wade into America's culture wars. Just a few weeks after Trump's inauguration last year, the company launched a high-profile "Equality" campaign featuring LeBron James and Serena Williams. The campaign's ambassadors included Ibtihaj Muhammad, a Muslim American fencer who wears a hijab when competing, and transgender triathlete Chris Mosier.
Despite criticism from Trump and calls by both conservatives and liberals to boycott the league, the NFL is still pulling in billions of dollars. The world's richest sports league, the NFL distributed a record $8.1 billion to its teams last season and posted an estimated overall revenue of $14 billion.
There is a risk of Nike upsetting its relationship with the NFL, which last week lost an attempt to dismiss Kaepernick's lawsuit alleging collusion by the league to prevent him from signing with a team.
Still, the league approved a new 10-year agreement in May that will make Nike and Fanatics Inc. the primary suppliers of apparel to teams and fans. As of 2020, Nike will continue to make all on-field NFL apparel, while all adult fan gear will have the Nike logo, but be made and distributed by Fanatics. Until this deal, Nike had been making everything.
--With assistance from Kristine Servando.
To contact the reporter on this story: Bruce Einhorn in Hong Kong at beinhorn1@bloomberg.net
To contact the editors responsible for this story: K. Oanh Ha at oha3@bloomberg.net, Lisa Wolfson