Americans Are Grilling More Steaks for Labor Day With the Economy Humming 
When Americans feel like they've got more money, they like to treat themselves.
(Bloomberg) -- When Americans feel like they've got more money, they like to treat themselves. That means there could be plenty of steaks on the grill this year for Labor Day.
A buzzing economy and low U.S. unemployment is a boon for beef, typically considered a premium meat. Gains for the cattle herd means retail prices have fallen. Combine that with grocer discounts for the holiday, and steaks and burgers could be the cheapest they've been in years, attracting demand.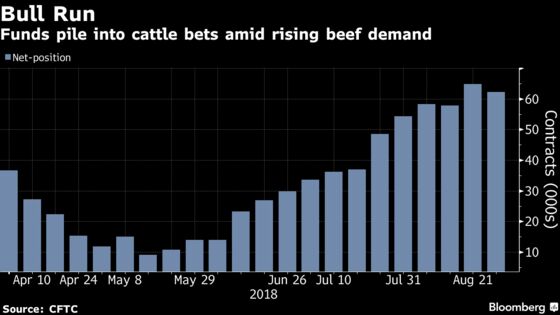 Meanwhile, other meats are in the doldrums. There are record supplies of chicken and pork in the U.S., and even with prices at multiyear lows, it's more than most people care to eat. Companies including Tyson Foods Inc. and Sanderson Farms Inc. have recently said that bargains on beef were hurting poultry.
"Margins for retailers are great, and consumers are back into beef now that prices are better," said Will Sawyer, an economist at Greenwood Village, Colorado-based CoBank. "Chicken, which had been the recession special for so long, is having to take a back seat to the more pricey protein."
Americans are hungry for burgers and steaks partly because they've been deprived. A drought caused ranchers to reduce herds to a six-decade low in 2014, and beef prices shot up to an all-time high. The meat was so expensive it forced consumers to cut back, with consumption declining to the lowest since the 1970s. Now, even with cheaper prices and bigger supplies, demand still hasn't bounced back to where it was before the recession, Sawyer said. That means there's still plenty of room for increased buying.
Beef consumption will rise 1.4 percent this year to 57.7 pounds on a per-capita basis, the U.S. Department of Agriculture said this month. Demand will grow to 58.7 pounds next year, the agency estimates.
Hedge funds are taking note. As of Aug. 28, investors had a cattle net-long position of 62,165 futures and options, according to U.S. Commodity Futures Trading Commission data published Friday. While that's down slightly from a week earlier, the holding -- which measures the difference between bets on a price increase and wagers on a decline -- has more than doubled since the end of June.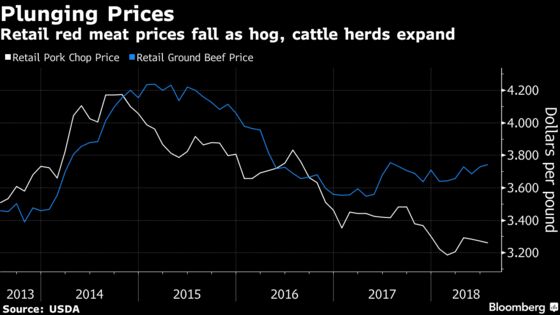 The gains for demand mean retailers are making good margins, and that's allowing them to slash prices for fancier cuts of meat, according to Gary Morrison, who tracks the market for commodity researcher Urner Barry.
In more good news for Labor Day grillers, ample supplies of chicken and pork means those prices are also falling. The U.S. holiday will be celebrated Monday.
One thing carnivores should watch out for: There could be increased volatility ahead for the hog market.
As the U.S. gets on better trade terms with Mexico -- the biggest buyer of American pork -- exports could pick up. At the same time, a killer pig virus is threatening China's pork production. The Asian country confirmed a fifth outbreak of African swine fever on Aug. 30, indicating further spread of the disease that threatens to disrupt the world's largest hog industry.
"In the short term, we're struggling with more pork in domestic channels, but demand from export markets could change very rapidly if Nafta is resolved and African swine fever takes a toll and cuts back production," said Altin Kalo, an analyst at Steiner Consulting. That would "lift the pork market globally."
To contact the reporter on this story: Lydia Mulvany in Chicago at lmulvany2@bloomberg.net
To contact the editors responsible for this story: Simon Casey at scasey4@bloomberg.net, Millie Munshi, Patrick McKiernan