It's Not Your Imagination, Airline Restrooms Are Getting Smaller
If the restroom on your next flight seems a bit snug, don't assume you've picked up a few pounds.
(Bloomberg) -- If the restroom on your next flight seems a bit snug, don't assume you've picked up a few pounds. U.S. airlines increasingly are putting smaller lavatories on their planes -- and the economics of the decision means they're probably here to stay.
As labor costs rise and fuel prices surge, airlines are taking advantage of robust travel demand to squeeze as many passengers as possible into planes. Knee-bashing reductions to legroom and elbow-crunching cuts to seat size are well-known tactics. The latest method is to retrofit old aircraft and order new ones with svelte lavatories that allow for an extra row of seats.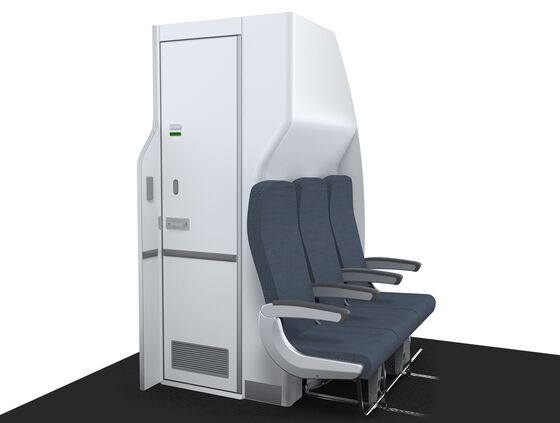 Airlines say the new restrooms are just a few inches smaller than what passengers are used to. But it's not like the bathrooms were that big to begin with, and the tighter fit is sparking complaints from pilots, concerns from flight attendants and griping from travelers. Consultant Samuel Engel said taking his 4-year-old son to the restroom during a recent four-hour flight was like a yoga exercise.
"We're both compact people, but I still had to basically straddle him to be able to fit in the lav together," said Engel, who leads the aviation group at consulting firm ICF. "The sink is so tiny that we did a sort of four-handed ballet to wash each of our hands in turn, splashing water all over in the process."
The experience could be duplicated on just about any U.S. carrier.
American Airlines Group Inc. is using a smaller lavatory supplied by Airbus SE on new A321neos and remodeled older A321s to squeeze in more seats. The airline also is putting in diminutive restrooms made by Rockwell Collins Inc. on more than 300 Boeing Co. 737 aircraft.
United Continental Holdings Inc. has the Rockwell lavatories on about 10 percent of its 737 fleet -- almost 35 planes-- and will use them on at least 155 more 737 Max jets, Boeing's upgraded model of the single-aisle workhorse. Delta Air Lines Inc. has used the washrooms since 2014. JetBlue Airways Corp., meanwhile, is outfitting some of its fleet with a small lavatory made by Safran SA's Zodiac Aerospace.
Gary Weissel, managing director of Tronos Aviation Consulting Inc., estimated that American could generate about $400,000 a year for each seat it adds to a plane, based on average fares and typical aircraft usage.
The airline told investors last fall that adding seats to its Boeing 737-800 and Airbus A321 jets would bring in $500 million a year. JetBlue has estimated that boosting capacity on its A320s by 12 seats to 162 will increase annual revenue by about $100 million.
"Even with passenger complaints on these lavs, I don't see airlines pulling them out," Weissel said. "The revenue generated from being able to get an additional row of seats in there is too great."
At shoulder height, the width of Rockwell's Advanced Spacewall restroom -- made by the company's B/E Aerospace unit -- is about the same as older economy-class restrooms. The space savings comes around sink level, as the wall curves in to allow a row of three seats to be tucked under the bend. The lavatory, which is just one available option, provides seven inches more of cabin space, according to a Rockwell spokeswoman. The company and several airlines declined to provide full dimensions.
The smaller restrooms going on American's 100 new 737 Max aircraft have prompted employees to dub it the Mini. Almost 230 older 737-800s also will be retrofitted with the petite washroom.
The economy cabin on American's Max 8 is "the most miserable experience in the world," Jimmy Walton, a captain for the airline, told company President Robert Isom during an employee meeting. "You've added 12 more seats, no more lavatories and you've shrunk that lavatory to 75 percent of what it was before," Walton said. "I can't turn around in it."
Flight attendants, who are on the front lines for traveler dissatisfaction, also criticize the smaller restrooms.
"We believe these lavatories contribute greatly to the general decline of the in-flight experience and have the potential to lead to increased incidents of air rage," said Shane Staples, a spokesman for the Association of Professional Flight Attendants at American.
The lavatories are about 22.4 inches across at a passenger's chest level when seated, American said. That's 3.1 inches narrower than the previous models.
"You're talking inches. We're not talking feet," said David Seymour, American's senior vice president of integrated operations. "I don't know how big of a population falls into 'I can't move around in it.'"
To passengers already losing space bit by bit, however, trimming a few more inches can be a big deal.
Airlines "have decided the lavatory doesn't matter that much" as they try to squeeze in more seats, said Jami Counter, vice president of flights at the TripAdvisor and SeatGuru.com air-travel sites. "I think they might have gone a bit too far. They're taking it off of what already was a very skinny configuration."
United Airlines' first Boeing 737 Max 9 flights on June 7 spurred complaints on Twitter about the small restroom. Zach Honig, an editor-at-large for The Points Guy, a travel-tips site, tweeted that the economy class bathrooms on the plane "are shockingly bad" and "especially narrow."
The airline's 737s offer two or three different-size lavatories, including one in the premium cabin, said United spokeswoman Maddie King. The washroom at the front of the plane often is larger -- but typically isn't available to economy passengers.
JetBlue's planes have at least one full-size lavatory at the front that can be used by any passenger, said spokesman Doug McGraw. "The aircraft has a finite amount of space," he said. "It's not without challenges, but customer feedback on all the upgrades we are making to our interiors has been very good."
Rockwell said that as trends in travel and fares change, it offers various restrooms to help carriers adapt. "These range from large lavatories to space-saving lavatories, which allow airlines to optimize the cabin," said spokeswoman Pam Tvrdy-Cleary. Zodiac, which makes the JetBlue restroom, didn't respond to requests for comment.
Boeing offers lavatories with added interior space as well as ones that allow carriers to increase room in the cabin. "Our goal is to provide the most flexibility to our airline customers to meet their individual business needs," spokesman Doug Alder said by email.
Carriers may be forced to give at some point, said Engel, the ICF consultant.
"A few videos of people changing diapers in the aisle or a larger American stuck in the lav," he said, ultimately may generate pressure for a new generation of lavatories "with less of the squeeze."
To contact the reporter on this story: Mary Schlangenstein in Dallas at maryc.s@bloomberg.net
To contact the editors responsible for this story: Brendan Case at bcase4@bloomberg.net, Tony Robinson
Get Your
Daily Newsletter
Get market moving news, top news & compelling perspectives
---