Disney's 'Star Wars' Headaches Include Outcry From Its Own Fans
Once again, Walt Disney Co. is at odds with "Star Wars" fans.
25 Jun 2018, 10:50 PM IST
(Bloomberg) -- Once again, Walt Disney Co. is at odds with "Star Wars" fans.
After a poor performance by "Solo: A Star Wars Story" -- a movie poised to become the first money-losing film in the series -- Disney faces criticism over how it's managing one of Hollywood's most lucrative franchises. The company is dealing with reports that its next stand-alone "Star Wars" movie may be delayed and an effort by one faction of fans to remake "The Last Jedi," which came out in December.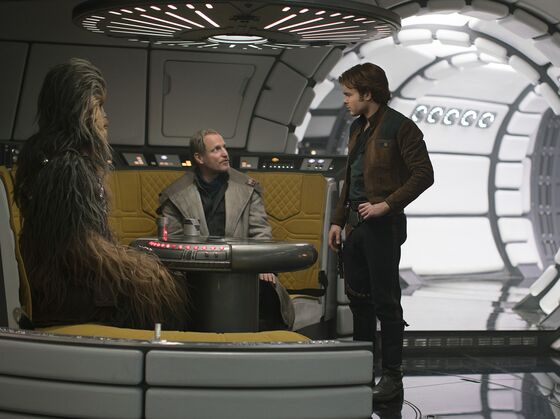 For Disney, outcry from the series' fervent fan base is nothing new. But the company was less vulnerable to attacks when it had an impeccable track record. After a weak showing by "Solo" and disappointing sales of "Star Wars" toys last holiday season, there's more evidence than ever that people are growing weary of the franchise. The growth of social media also has made it easier for fans to complain.
"In the grand scheme of things, every 'Star Wars' movie has been divisive on some level because of how passionate the fan base is," said Shawn Robbins, chief analyst at research firm Box Office Pro. "It's just more apparent now with social media bringing those voices to the forefront."
"Star Wars" studio Lucasfilm Ltd., which Disney acquired for $4 billion in 2012, has had a series of production hiccups that have burst into the public realm. Since 2014 -- when Chief Executive Officer Bob Iger laid out plans for three episodes and "at least three" spinoff movies -- films have needed reshoots, rewrites or changes in director.
With "Solo," Disney shifted course in the middle of production and brought in Ron Howard as a replacement director -- potentially its costliest move yet. And the gambit didn't pay off at the box office. The studio ultimately may have to write off $50 million on the movie, according to B. Riley FBR Inc. analyst Barton Crockett.
That outcome was followed by a report on the movie website Collider that the next spinoff movie is now on hold. But a person familiar with Disney's plans said it's not accurate to say the spinoffs have been tabled. There are still multiple films in development, said the person, who asked not to be identified because the deliberations are private.
Disney, based in Burbank, California, said it doesn't comment on "Star Wars" rumors.
Broadly, Disney has mapped out a strategy for the next decade that includes the acquisition of rival 20th Century Fox studio and building its own streaming service to match Netflix Inc. Earlier this year, Disney gave "The Last Jedi" director Rian Johnson the task of developing the next trilogy. It also has commissioned "Game of Thrones" creators David Benioff and D.B. Weiss with creating a separate series of "Star Wars" films.
According to Collider, Disney is backing away from the spinoff movies to focus on production of "Star Wars: Episode IX," a J.J. Abrams-directed installment that's set for release in December 2019.
Disney hadn't announced its plans for a third stand-alone film, but Hollywood trade publications have reported that upcoming movies may focus on Jedi mentor Obi-Wan Kenobi and bounty hunter Boba Fett. Before a film is slated for release, a studio can spend years developing projects and change plans without commitment -- often without many people knowing.
Wall Street analysts such as Cowen & Co.'s Doug Creutz have been warning for years that expensive sci-fi and superhero franchises could become increasingly risky. When films cost $300 million or $400 million to produce and release, a cool response from audiences can bring huge losses.
Then there's the question of what fans actually want. The latest controversy facing Disney is a social-media campaign to remake "The Last Jedi." The effort is unlikely to succeed -- either in raising enough money or securing Disney's cooperation -- but it has highlighted the disquiet among some of the fan base.
With such costly projects, having a core group of acolytes -- the kind of people who see a movie several times in the theaters -- is crucial. Warner Bros.' DC Comics film franchise, for instance, has struggled to build momentum. Poor reviews and controversial story lines for characters like Superman have hindered the movies.
Until "Solo," the "Star Wars" series was a reliable performer. "The Last Jedi" was critically acclaimed and raised $1.33 billion globally, including $620 million from the domestic market alone. Even as some fans objected to its story lines, plot holes and more comedic approach to the Jedi lore, the previous three "Star Wars" films generated an average net profit of $871 million, according to estimates by Wade Holden, analyst at S&P Global Market Intelligence. Holden's projections take into account all revenue sources for a movie, including merchandise.
But toys and other merchandise is one area where "Star Wars" has been losing steam. Karina Masolova, executive editor of the Licensing Letter, predicted that Marvel products would top "Star Wars" this year in that category.
The franchise also hasn't proven it can connect with Chinese audiences, a key market for the film industry. Moviegoers in that country don't have the same nostalgia for "Star Wars" and prefer to see Marvel films.
The release schedule may be another contributor to "Star Wars" fatigue. "Solo" came out less than six months after "The Last Jedi." Prior to Disney taking over the franchise, fans waited as long as 16 years between movies.
There's always a risk that entertainment properties reach a saturation point, said Jim Silver, a toy industry analyst and founder of review site TTPM.com. He points to "Who Wants to Be a Millionaire" and the NFL as examples of franchises that went too far.
In those cases, "it became too much of a good thing," Silver said.
Even if some social-media campaigns are hard to substantiate (the campaign to remake "The Last Jedi" claims to have raised tens of millions of dollars in pledges), Robbins doesn't think Disney should take them lightly. But it now has a 1 1/2-year break until the next installment, giving it plenty of time to rebuild excitement, he said.
"All it really takes is one great movie to change the narrative again," he said.
To contact the reporters on this story: Anousha Sakoui in Los Angeles at asakoui@bloomberg.net;Caleb Mutua in New York at dmutua@bloomberg.net;Matt Townsend in New York at mtownsend9@bloomberg.net
To contact the editors responsible for this story: Nick Turner at nturner7@bloomberg.net, Jeffrey Taylor
Get Your
Daily Newsletter
Get market moving news, top news & compelling perspectives
---