Got $200,000 to Spare? Porsche Has the Perfect Summer Car for You
(Bloomberg) -- It can be difficult to wade through the myriad iterations of the modern Porsche 911.
Only the most passionate enthusiasts can endure the various Carreras, "S's," "RS's," GT2s, GT3s, and Turbos—and the insider nomenclature involving lots of 9s. That's not even including such historic, and current non-911 Porsche sports car models as the 914, 718, 928, and 944.
Here, though, is one model you need to know in time for summer weather and the inevitable lust it stirs for the open road: the 911 Turbo S Cabriolet. (Cabriolet is car-talk for convertible.)
If you want a seat at any car-talk table, you must be able to reference the 911 Turbo, the most powerful (save for the 911 GT2 RS) strain of cars in the 991 line, which is the internal designation for the seventh-generation Porsche 911 sports car. The turbos are the granddaddies of the Porsche 911 family, madly desired since their introduction in 1974. They came close on the heels of BMW's 2002 Turbo, which was the first street-legal sports car with then-newfangled turbocharging technology. The 911 Turbos have been setting the pace ever since.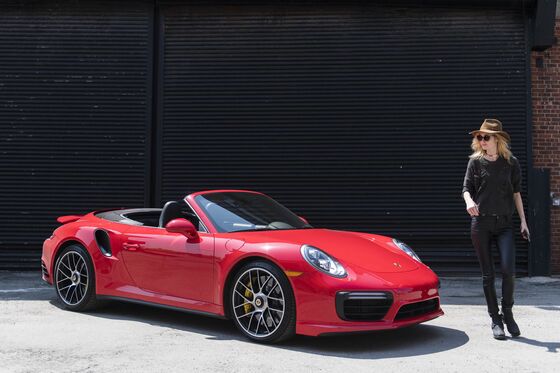 Today, the 911 Turbos are faster than the standard-issue Carreras and more elegant and polished than the track-oriented GT3s. (Those are nigh impossible to get your hands on, anyway.)
Last week in New York, I tested the Cabriolet version of the 911 Turbo S and found myself looking for more excuses to hop into it than I do my favorite pair of jeans. With its open top, it's more inviting than the coupe version—and happier, too. Aren't convertibles always happier cars? You are more present when you drive, veritably attacked by fresh air and sunshine.
You'll certainly have to pay for such a prize: These bliss machines start at $203,000. The one I drove topped out at more than $205,000, which included some seasonally appropriate cooling ventilation in the seats (sweat proofing, basically) and a lane-change-assist system that honestly, I could have done without.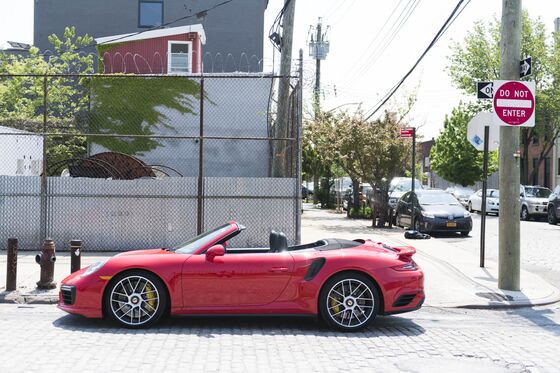 That price tag approaches items from McLaren, even Ferrari and Lamborghini. Then again, with a zero-60mph time of 2.9 seconds and a 205mph top speed, so do the specs. Is the 911 Turbo S Cabriolet the center of the Venn diagram among comfort/performance/cabriolet, converging in one expensive vehicle? Very possibly. For anyone considering an accessible 911 that will genuinely push the boundaries of your driving capabilities, it's worth a hard look. And no, you won't find "turbo delay" here.
The 911 T S Cabriolet is noticeably more comfortable to drive on a daily basis under disparate conditions than many of its high-priced competitors. That's not solely thanks to its four drive modes or the optional lift package that allows for an additional 1.5 inches of clearance, although these do much to smooth what might otherwise be anxious nerves at driving such a high-performing car on a daily basis.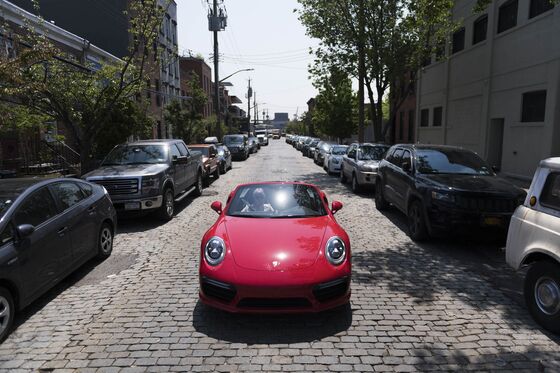 The comfort also reflects the tight yet supple modern handling and all-wheel drive, which has been standard for the 911 Turbos since the 993 generation 911 Turbo in 1995. Also thank the now-famous boxer-6 engine—with 580 horsepower and 553 pound-feet of torque, the most powerful convertible in Porsche's lineup—commanded by Porsche's seven-speed PDK dual-clutch transmission and formidable ceramic composite brakes.  
A real test: I drove this puppy through pouring rain, in low-visibility conditions, across semi-flooded country roads. Porsche's sublime torque vectoring, dynamic chassis control, rear-axle steering, and stability management systems that adapt as the car accelerates were more than enough to tackle everything. They conspire to enhance the car's already neutral handling and low center of gravity even more. Over the past few years, I don't think I've had a car more perfectly aligned and true to the steering input as this one.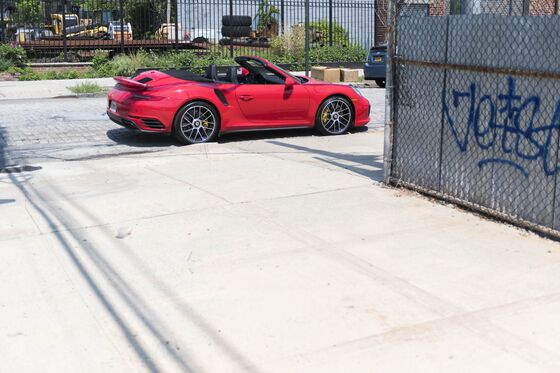 Fittingly, the car has the exterior presence to match its ability to cover serious ground, despite the fact that it has a rag top, which disrupts the perfect roofline of so many great convertibles. (That top opens and closes in 13 seconds at speeds of up to 31mph, which is incredibly useful and thankfully quick, as I found during an afternoon of spring rains in the city. Its composition and seal make the 911 Turbo S among the quieter of the high-powered open-top sports cars on the road today.)
The car's rear is its most distinctive attribute—where your neighbors and other curious onlookers will know it's something special. The back lid grille with vertical slats, three-dimensional tail lights, reflector units integrated into the air outlets, and gaping twin tailpipes state quite clearly that this car will take no prisoners out on the road.
Wind-wise, it's still enough inside the 911 Turbo S to wear any variety of hat while you drive: An electrically powered deflector that shields the wind extends and retracts behind your head. It takes just two seconds at the press of a button and is integrated behind the back seat, so it requires no additional space inside the already minimal luggage compartment. Thanks for that, too.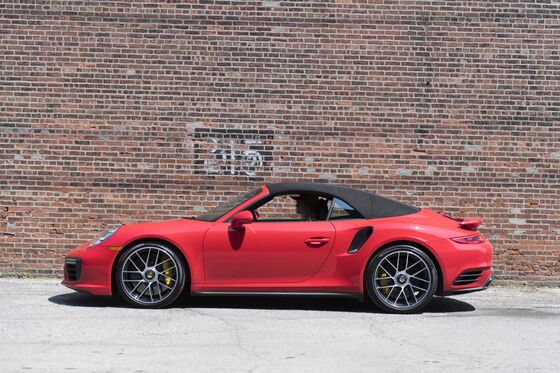 Other interior flourishes will be familiar to any Porschephile. The new infotainment system and seven-inch touchscreen are as Germanically straightforward as ever; Apple car play and Wi-Fi are standard. The Bose surround sound with 12 speakers and 555-watt output (standard on all 911 Turbo models) will fill the car with a rich buffer of music sure to be envied by passersby.
While driving the car, I amended my musical selections so as not to embarrass myself when others could hear as I drove past. (Goodbye, '90s-era Mariah Carey.) I recommend you do the same; you wouldn't want to let that classy interior sound cheesy. 
There's so much to like about the 911 Turbo S Cabriolet, I'm sure you'll discover more for yourself when you get one.
If only Porsche would produce it in a manual version. For a car with a price tag surpassing $200,000, it really should. Now, that would blow the lid off this cabriolet.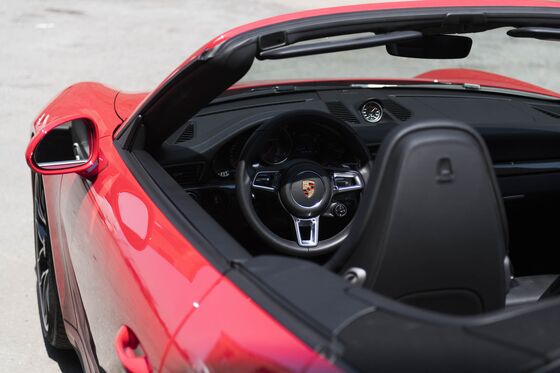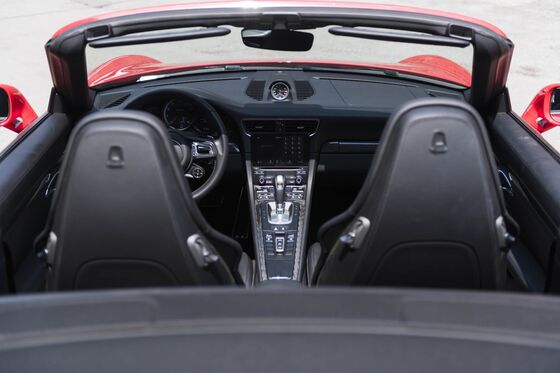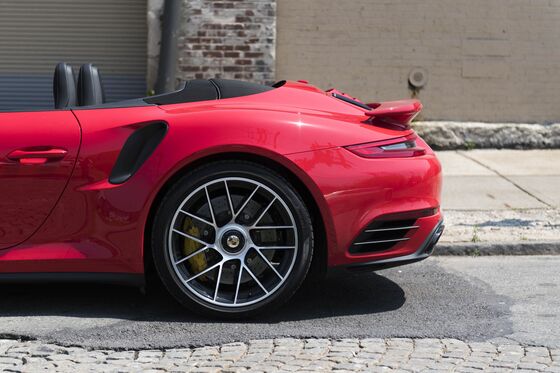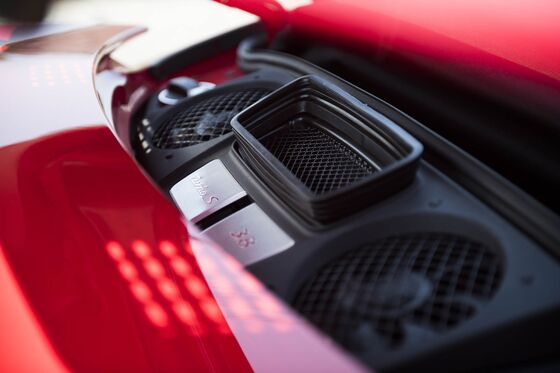 To contact the editor responsible for this story: Chris Rovzar at crovzar@bloomberg.net