Facebook Blocked in Zambia as Voters Flood Election Centers
(Bloomberg) -- Zambia restricted access to Facebook, WhatsApp and other social media platforms, while voters waited for as long as 10 hours to cast ballots in a tense presidential race.
Queues in parts of the capital, Lusaka, extended for hundreds of meters. That could suggest the turnout in Thursday's general election may be the highest since the 1991 ballot that marked the return to multiparty democracy in Africa's second-biggest copper producer, according to University of Zambia History Professor Bizeck Phiri.
"The numbers are very overwhelming," he said by phone. "It's unprecedented in the history of voting in Zambia."
The high turnout of largely younger voters may not be good news for President Edgar Lungu's hopes for a third consecutive victory, according to Phiri, particularly as the moribund economy with surging inflation and youth unemployment have become central to the election.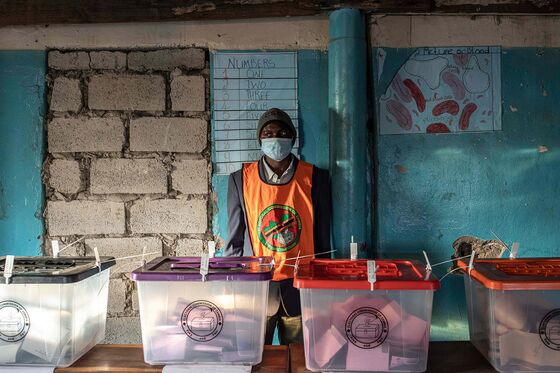 Zambia's $1 billion of Eurobonds due in 2024 fell 0.1% to 67 cents on the dollar by 10:24 a.m. in London on Friday, the fifth straight day of declines. The country has defaulted on coupon payments pending discussions on an International Monetary Fund loan and a reorganization of its debt.
Early results are expected later on Friday, along with indications of official turnout numbers, and a final outcome is expected within three days. Dozens of police and some soldiers guarded the entrance to the election results center, which is surrounded by razor-wire fencing. An armored vehicle blocked the street outside.
Social-media platforms and messaging apps were restricted on multiple internet providers, according to NetBlocks, a London-based monitoring agency.
Facebook confirmed that it had been affected and said it was in touch with the relevant Zambian authorities. "We know that temporary disruptions of internet services have tremendous, negative human rights, economic and social consequences, and continue to strongly oppose these," it said in an emailed response to questions.
Information Permanent Secretary Amos Malupenga didn't answer four calls to his mobile phone seeking comment.
"Social media might spark a lot of violence," police spokeswoman Esther Katongo said on state television, without mentioning the suspension. "If social media is not responsibly used then it can cause a lot of harm to our country especially at this time when results will be announced."
Advocacy groups questioned the fairness of campaigns in the run-up to the vote. U.K. High Commissioner Nicholas Wooley expressed concern about the restrictions on social media.
While main opposition leader Hakainde Hichilema's movements were curbed, 64-year-old Lungu dominated state media coverage and his party stands accused of using coronavirus restrictions to its advantage.
"The playing field certainly hasn't been level," said Linda Kasonde, executive director of the Chapter One Foundation, a local civil rights organization. "Opposition leaders have been attacked by ruling party cadres and prevented from appearing on private and community radio stations."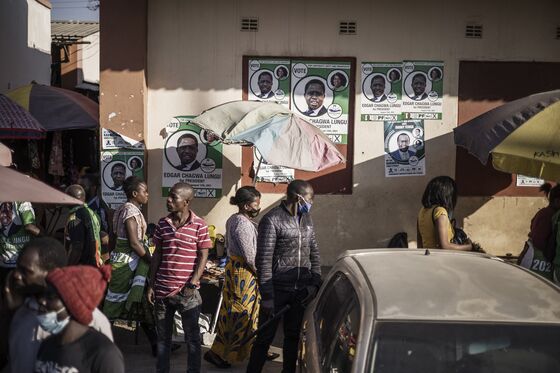 Investors are keenly awaiting the outcome of the ballot. Whoever wins will need to revive an economy in default on its Eurobonds and secure a long sought-after bailout deal with the International Monetary Fund.
With the economy the biggest issue in the election, it provides United Party for National Development leader Hichilema -- a 59-year-old businessman who's unsuccessfully run for president five times -- his best chance of victory.
The ruling party denied electoral-campaign rules had been unfair.
Restrictions on movement to help contain the spread of Covid-19 were applied equally to all parties, Amos Chanda, a ruling Patriotic Front spokesman, said by phone on Wednesday. The public broadcaster is mandated to cover Lungu's announcements as president, he said.
The police blamed Hichilema's party for the death last month of two Patriotic Front supporters in Kanyama, west of Lusaka. The incident prompted Lungu to deploy the army to patrol parts of the country to prevent further violence.
The ruling party's leader in North-Western Province was killed on Thursday. Lungu expressed shock at that incident, and ordered the reinforcement of troops there and in the Western and Southern Provinces to counter what he described as "mayhem". Hichilema won most of his votes in those provinces in 2016.