Workers' Party Campaign in Brazil Needs a Miracle to Win
Workers' Party Campaign in Brazil Needs a Miracle to Win
15 Oct 2018, 12:57 PM IST
(Bloomberg) -- Way behind in the opinion polls and struggling to shore up second-round support from other political parties, Fernando Haddad's presidential campaign has reached crunch point.
His Workers' Party, or PT, had hoped that support for the candidate would start flooding in shortly after the results came out Sunday night. But their expectation of a broad "democratic front" has not materialized. The backing has arrived in dribs and drabs, with the majority of parties opting to stay neutral. In practice, this allows their members to vote for Bolsonaro or cast a blank ballot.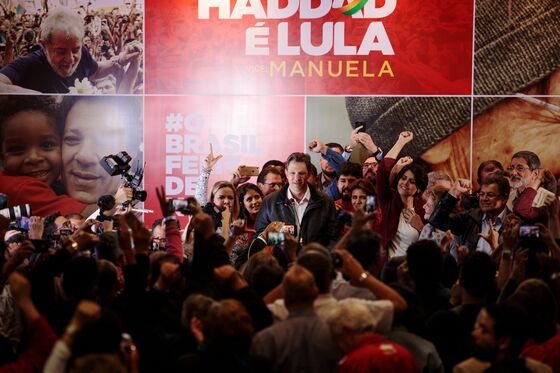 Even the Democratic Labor Party, or PDT, of third-placed leftist candidate Ciro Gomes, offered only partial support for Haddad. Gomes himself, who made it clear Sunday that he would not back front-runner Jair Bolsonaro, has disappointed the PT by going on holiday to Europe in the middle of the second-round campaign. Meanwhile, Gomes's vice presidential candidate, Katia Abreu, announced that she would annul her vote and even suggested that Haddad should quit the race in favor of Gomes, who polls show would stand a better chance against the ex-paratrooper.
In Brasilia on Wednesday and Thursday, Haddad holed up in his hotel room recording videos and holding internal party meetings with a small circle of staff and engaging in none of the raucous rallies that characterized previous PT elections campaigns.
Following the publication of the latest Datafolha poll, which showed Haddad at 42 percent of vote intentions, versus 58 percent for Bolsonaro, the PT candidate gave a very brief interview to journalists. He minimized the importance of the poll, insisting that he remained optimistic.
"Just 8 percentage points needed to reach 50 percent," he said. "For someone who has risen from 4 percent to 42 percent, there's a good chance of reaching 50 percent." Haddad started the election campaign mired in single-digit popularity, but that was when jailed former President Luiz Inacio Lula da Silva was still the PT's preferred candidate.
During his visit to Brasilia, he met with the leadership of the Brazilian Bishops' National Confederation, accompanied by just two senior party members and no party activists. At one point, a small group of noisy Bolsonaro supporters even chased their group, forcing them to change their itinerary.
Observing the aftermath of Sunday's vote, one former minister and senior member of the party speaking to Bloomberg on the condition of anonymity, said the PT will need a miracle to win this election.
To contact the reporters on this story: Simone Iglesias in Brasília at spiglesias@bloomberg.net;Mario Sergio Lima in Brasilia Newsroom at mlima11@bloomberg.net
To contact the editors responsible for this story: Vivianne Rodrigues at vrodrigues3@bloomberg.net, Bruce Douglas, Robert Jameson
Get Your
Daily Newsletter
Get market moving news, top news & compelling perspectives
---