Warren Uses Dodd-Frank Anniversary to Signal Crackdown on Banks
Warren Uses Dodd-Frank Anniversary to Signal Crackdown on Banks
(Bloomberg) -- Wall Street critic Elizabeth Warren and other Democrats signaled Tuesday that if they regain power, the lax oversight the financial industry has enjoyed during the Trump administration is coming to an end.
Senator Warren, a Massachusetts Democrat, was among current and former politicians who participated in a virtual conference to mark the 10th anniversary of the Dodd-Frank Act. She said President Donald Trump and Republican lawmakers have failed in their attempts to gut the law, and now Democrats are well positioned to keep defending its key planks, including the creation of the Consumer Financial Protection Bureau.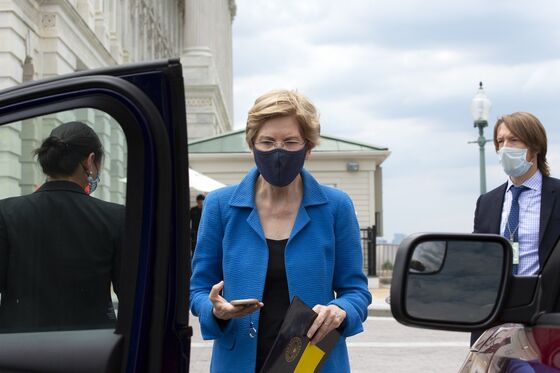 "We bent the levers of power in Washington to benefit working families over the wealthy and well connected," she said. "Donald Trump and the Republicans really can't stand Dodd-Frank and the CFPB because it shows that government can be a powerful force for good."
The conference, held by anti-Wall Street advocacy group Better Markets and the George Washington University Law School, served as a rallying cry for the law, which has been whittled down but far from eviscerated by Trump-appointed regulators. The event served as a reminder that big banks will again be under the political microscope if Democrats retake the White House in November.
Former President Barack Obama said the coronavirus crisis has demonstrated the necessity of Dodd-Frank. He argued that the damage the pandemic has inflicted on the U.S. economy would be far worse without the law's safeguards, which include much higher capital requirements for banks and demands that lenders stockpile liquid assets.
"Our reforms are still promoting financial stability," he said, speaking at the same event as Warren. "So far, these reforms have helped prevent the crisis from spiraling into a financial crisis."