Impatience Swells as Venezuelans Protest Maduro in Caracas Again
Venezuelans Protest Maduro in Caracas Amid New Power Blackout
(Bloomberg) -- The fight for the future of Venezuela re-opened Saturday on the streets of its capital, with electricity flickering in-and-out around the country for most of the last three days.
Juan Guaido, the challenger to President Nicolas Maduro, brought thousands of supporters to the streets of Caracas, though fewer showed up than in late January after the National Assembly he heads proclaimed him interim president.
More than 50 nations, including the U.S., support Guaido as president and want Maduro, the autocratic heir to Chavismo, gone.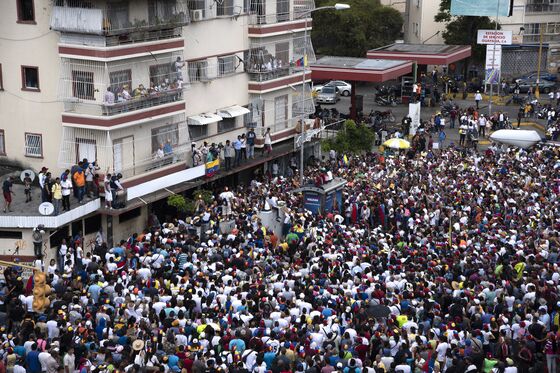 And yet even among the determined crowds who ignored the lack of public transportation and scuffled with police, there seemed to be an air of impatience throughout the country, some of it with Guaido, who appears to have lost momentum in a struggle that may not be short.
"We have supported Guaido going to every march, but we need more than that," said Andrea Perdomo, a 52-year-old housewife. "We need more pressure," she added. "We do not have time, we are suffering."
Some supporters openly demanded outside intervention.
"This government is annihilating us and Guaido doesn't dare to ask for military intervention," said Jorge Uzcategui, a 34-year-old engineer. "There is no other way out, the armed forces support Maduro, they don't care about the people suffering."
Guaido responded by asking for calm.
"This tragedy has a name: Nicolas Maduro, and our responsibility is to move forward to get Venezuela out of this tragedy," Guaido said, referring to the lack of electricity, which went out in almost all the country on Thursday.
Some power was restored on Friday night, only to go out again on Saturday morning. Food started to rot in a country that is starving.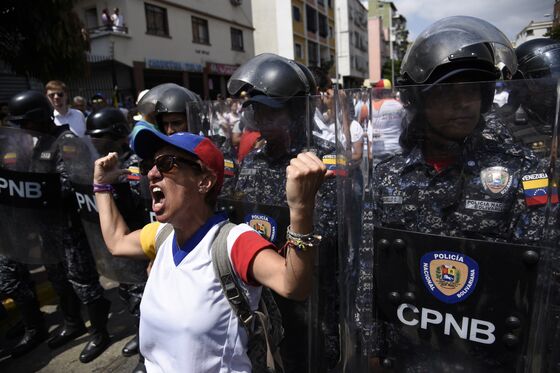 Meantime, Maduro emerged from two days out of public view. He initially blamed sabotage, likely American, for knocking out the electricity. But there wasn't even fuel for generators, and the president drew a small crowd.
"Here I am before you," the 56-year-old leader, who has been in power for six years, told perhaps a few hundred supporters, many of them red-clad militia members. "In the good times and in the bad. Love and resistance, defeating the meddling."
The protests Saturday re-ignited the street politics that had consumed Venezuela almost every weekend for the past few months. Those stopped two weeks ago, when the military, backed by Maduro-supported paramilitaries, prevented shipments of aid from crossing the borders of Colombia and Brazil -- a blow to Guaido's credibility.
Guaido then began a tour of other South American countries, which seemed to slow his momentum at home.
He also hasn't had success in prying Maduro from his greatest asset: the military. Only several hundred soldiers and officers have deserted, and they didn't success in an effort to to get the aid into the country two weeks ago.
As supporters gathered to see Mr. Guaido, tempers were clearly wearing. Police in riot gear scuffled and fired tear gas at protesters.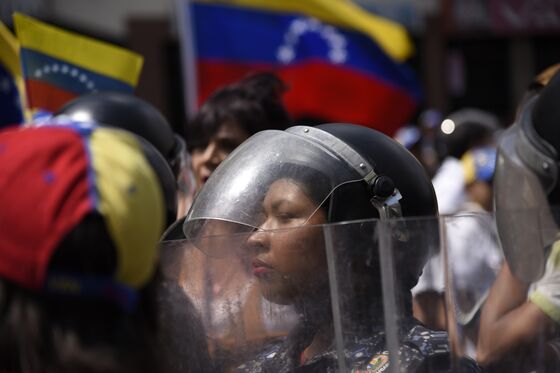 --With assistance from Patricia Laya.
To contact the reporters on this story: Alex Vasquez in Caracas Office at avasquez45@bloomberg.net;Andrew Rosati in Caracas at arosati3@bloomberg.net
To contact the editors responsible for this story: Daniel Cancel at dcancel@bloomberg.net, Matthew G. Miller, Tony Czuczka
Get Your
Daily Newsletter
Get market moving news, top news & compelling perspectives
---