U.S. and Russia Trade Warnings of Risk in Ukraine Confrontation
(Bloomberg) -- U.S. Secretary of State Antony Blinken warned his Russian counterpart of "serious consequences" if Moscow makes a military move on Ukraine, even as the Kremlin said it sees a rising risk of attack by its neighbor on Russia-backed separatists there.
Calling it a "critical moment," Blinken said Thursday that the U.S. has "deep concerns about Russia's plan for renewed aggression against Ukraine." Sitting next to him before their talks, Foreign Minister Sergei Lavrov said any further expansion by the U.S. and its North Atlantic Treaty Organization allies in the east would constitute a threat to Russia.
The two diplomats' 30-minute meeting in Stockholm appeared to pave the way for a conversation between Presidents Joe Biden and Vladimir Putin.  "It's likely the presidents will speak directly in the near future," Blinken told reporters after his meeting with Lavrov, and Russian Deputy Foreign Minister Sergei Ryabkov said Moscow hopes the long-sought call will take place in the next few days. Biden said last week that he expected to speak to the Russian leader on the Ukraine crisis soon. 
Thursday's session with the top diplomats was the first face-to-face talks between their countries in weeks as tensions surge over what the U.S. says is a major buildup of Russian forces on the border with Ukraine. 
Lavrov told reporters that Russia is setting out its terms to resolve those tensions. "I think everyone heard President Putin, realized our proposals are serious and now we are putting them on paper," he told a news conference in Stockholm. "Let's see what the reaction will be," he said, adding that Russia is ready to do what it has to in order to ensure its security if the West refuses to consider its approach.
So far, the Kremlin has shown little sign it's been deterred by rising demands from Western capitals to pull back its troops. Instead, it accused Kyiv of planning to attack the separatists that Russia supports in Ukraine's eastern Donbas region. 
"The risk of military action in Ukraine is still high," Kremlin spokesman Dmitry Peskov told reporters Thursday. "We see an increasing intensity of provocative actions on the line of contact" between Ukrainian forces and the separatists, he said.
Earlier Thursday, Ukrainian Foreign Minister Dmytro Kuleba pledged restraint, saying his country has "no intentions to provoke them or to hold any military operations in Donbas." Still, speaking after a meeting with Blinken, he said Kyiv is seeking a "deterrence package" that would make "President Putin think twice before resorting to military force."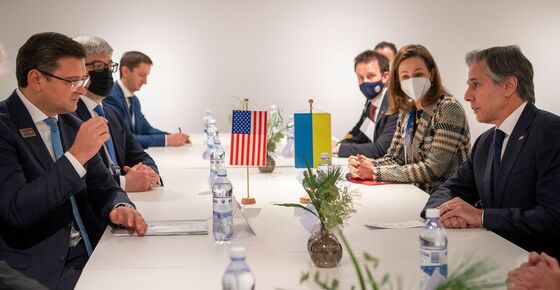 Lavrov warned in a speech Thursday to a summit of the Organization for Security and Cooperation in Europe that NATO expansion toward Russia raises the "nightmare scenario of military confrontation." He said Moscow will soon propose a plan for security guarantees it wants from the West that would block further spread of the alliance and its weapons, a plan that's likely to find little support with the U.S. and its allies.
A senior State Department official, speaking to reporters on condition of anonymity, described the Blinken-Lavrov meeting as businesslike and free of theatrics. While the U.S. wants to avoid conflict, there were no breakthroughs, he said. The two also talked about the tit-for-tat expulsions that have reduced staffing at their nations' embassies but also didn't come to any agreement, according to the official.
On Wednesday, Blinken said at a NATO conference in Latvia that the U.S. would impose "high-impact economic measures that we've refrained from using in the past" if Russia invaded its neighbor. At the same time, he sought to offer Russia a diplomatic off-ramp, saying the sides should recommit to the 2015 Minsk truce accords that offered a framework for resolving the eastern Ukraine conflict. Moscow says it's abiding by the deal and accuses Kyiv of seeking to sabotage those, a charge Ukraine rejects. 
Officials haven't detailed what a deterrence package for Ukraine might look like, though the U.S. provides tens of millions of dollars in security assistance every year. In March, the U.S. announced a $125 million defense package for Ukraine. In Washington last month, Kuleba said Ukraine is looking for help bolstering defense, "be it intelligence sharing or air defense systems or anything else."
Separately, Ukraine said Wednesday it's seeking long-term financial aid from the European Union.