Uganda Pop-Star Bobi Wine Says Opposition Seeks Single Candidate
(Bloomberg) -- Robert Kyagulanyi, the Ugandan pop star turned politician who goes by the stage name Bobi Wine, said he is in advanced talks with opposition parties to field a single presidential candidate in 2021 elections against Yoweri Museveni, who has ruled the east African country since 1986.

Wine, the 37-year-old reggae singer who says at least 157 of his concerts have been canceled by the government, said he hopes to be the candidate as Uganda has a young population. He is in talks with Kizza Besigye, Museveni's one-time physician who has run for president unsuccessfully four times.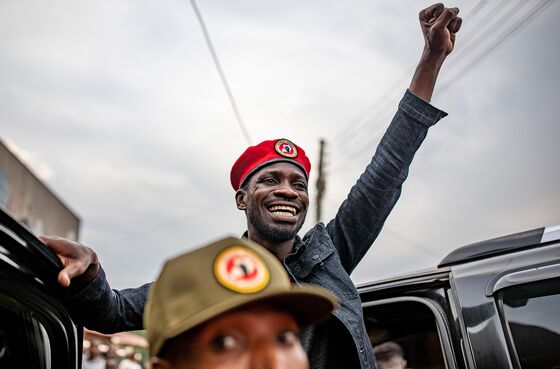 "If we as opposition come together it will be more or less game over" for Museveni, Wine said on the sidelines of a press conference in Johannesburg where he was receiving an award from Germany's Friedrich Naumann Foundation. "We hope to agree on a single candidate," he said, adding that young Ugandans are urging him to run.
Kyagulanyi has garnered significant support among Uganda's urban youth and, like Besigye, has been arrested repeatedly. Through his politics and music he's been critical of the lack of political freedom under Museveni and has called for a generational change in leadership.

Wine said he expects Museveni, 75, to use the military and bribery to win, citing the findings by observers and the supreme court in previous elections. Wine has been a lawmaker since 2017.

"We believe he is going to make every effort to rig the election, but we, like never before, have massively sensitized our people," he said. "We are going to have a record number of voters and we believe we are going to win massively."

If that doesn't happen, there could be instability, Wine said. "My own prediction is if President Museveni rigs the election right now the people of Uganda will rise up against him."
To contact the reporters on this story: Pauline Bax in Johannesburg at pbax@bloomberg.net;Antony Sguazzin in Johannesburg at asguazzin@bloomberg.net
To contact the editors responsible for this story: John McCorry at jmccorry@bloomberg.net, Hilton Shone, Antony Sguazzin