Harris Urges More China Pressure in Meeting With Vietnam Leader
U.S. Said to Offer Vietnam More Vaccine Help as Harris Visits
(Bloomberg) -- Vice President Kamala Harris urged countries in the region to apply more pressure on China in a meeting with Vietnam's president, stepping up her criticism of Beijing on a visit to Asia.
"We need to find ways to pressure and raise the pressure, frankly, on Beijing to abide by the United Nations Convention on the Law of the Sea, and to challenge its bullying and excessive maritime claims," Harris said at the start of a meeting in Hanoi with Vietnamese President Nguyen Xuan Phuc.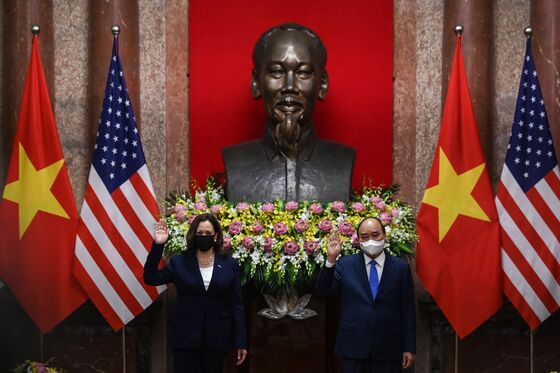 Harris said the U.S. wants to upgrade its relationship with Vietnam to a strategic partnership, and said the Biden administration strongly supports the former U.S. adversary's request for a third former U.S. Coast Guard cutter. Harris also said the U.S. would donate an additional 1 million Pfizer vaccines to Vietnam, which would start arriving within the next 24 hours, bringing the total to 6 million so far.
Vaccines have been at the forefront of an American diplomatic offensive in Southeast Asia, with the region accounting for about a fifth of all doses the U.S. has given globally. The Biden administration is aiming to bolster ties with countries in China's backyard, with Defense Secretary Lloyd Austin and now Harris visiting the region over the past few weeks. 
Phuc, who spoke before Harris, said U.S. assistance on vaccinations "is truly valuable and meaningful to Vietnam at a time when we are faced with ample difficulties posed by the COVID 19 pandemic." Press were escorted out of their meeting room before any Vietnamese officials commented on her suggested diplomatic upgrades. Phuc didn't mention China in his remarks.
While Vietnam has become increasingly worried about China's assertiveness over disputed territory, it has avoided overtly siding against Beijing along with other Southeast Asian nations keen to balance ties between the world's biggest economies. Vietnam announced Tuesday that China would give it another 2 million vaccine doses, with Prime Minister Pham Minh Chinh telling Beijing's envoy that his country maintains an independent foreign policy and wouldn't join an alliance against another country. 
Vaccine diplomacy is also a critical part of China's political calculus. President Xi Jinping earlier this month announced plans to expand vaccine exports to two billion doses this year, matching commitments by Group of Seven nations. Just 1.9% of Vietnam's population has been fully vaccinated, according to data compiled by Bloomberg, among the lowest vaccination rates anywhere in Asia. 
Harris later on Wednesday will hold a discussion with Southeast Asian officials on health security, before launching the Southeast Asia regional office for the Centers for Disease Control and Prevention. U.S. agencies including the CDC committed another $23 million to Vietnam's pandemic response, bringing the total to about $44 million so far, according to the White House. 
The Department of Defense has also committed to provide 77 ultra-low temperature vaccine freezers to assist vaccination distribution efforts in all 63 provinces. These freezers are specially designed to accommodate the most extreme vaccine storage requirements, significantly enhancing Vietnam's national vaccine distribution network.
In Vietnam, Harris stopped at a memorial for John McCain, the late U.S. senator whose plane was shot down over Hanoi during the Vietnam War. 
Harris's trip to Singapore and Vietnam has been overshadowed by Afghanistan, where a rapid collapse of the U.S.-backed government has left the Biden administration rushing to evacuate Americans and those who assisted their 20-year war effort against the Taliban, which now controls almost all of the country. Photographs of helicopters over Kabul evoked images of air rescues from Saigon -- now known as Ho Chi Minh City -- more than 45 years ago, lending Harris's previously scheduled visit to Vietnam an unplanned historical echo. 
"U.S. businesses and other businesses from the other parts of the world see huge opportunities for growth," Ted Osius, president and CEO of the U.S.-Asean Business Council, said in an interview with Bloomberg Television. "Security is really about more than ships and planes, it's also about ties between nations, and what I think the vice president is doing is cementing those ties in multiple areas on the two stops of her trip."
Harris's departure from Singapore on Tuesday was delayed for more than three hours because of concerns about "an anomalous health incident" in Hanoi, the State Department said. The phrase "anomalous health incidents" describes so-called Havana Syndrome, which has afflicted dozens of U.S. diplomats and intelligence officials who describe feeling ill and other unusual physical sensations after hearing strange sounds. The U.S. has not determined a cause for the affliction.