U.S. Estimates 1,500 Citizens in Afghanistan Ahead of Deadline
U.S. Estimates 1,500 Americans May Remain in Afghanistan
(Bloomberg) -- The U.S. knows of about 1,500 Americans who are still in Afghanistan but doesn't believe all of them are seeking to leave the country, Secretary of State Antony Blinken said Wednesday. 
U.S. diplomats have spoken to about 500 of those people and are "aggressively" trying to reach the others, Blinken said at the State Department on Wednesday. "We continue to be relentless in our outreach," he said.
With the U.S. poised to withdraw all forces from Afghanistan next week following two decades of war, Blinken said officials have been hamstrung because not all Americans who traveled to Afghanistan over that time registered with the embassy in Kabul. Others never removed their names from the embassy registry and the State Department must determine how many are actually American citizens, he said.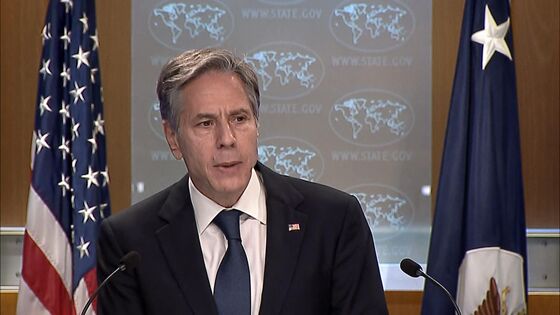 Facing criticism that the Biden administration is abandoning Americans to an uncertain fate under Taliban rule, Blinken said a majority of the Americans believed to still be in Afghanistan may not be trying to leave. He cited as an example people who hold dual nationality. He vowed that the U.S. would continue to help Americans in Afghanistan after the withdrawal. 
"They will not be forgotten," Blinken said. "We will use every diplomatic, economic, assistance tool at our disposal working hand-in-hand with the international community first and foremost to ensure that those who want to leave Afghanistan after the 31st are able to do so."
Pressed on whether the Taliban have too much sway over U.S. decision-making, Blinken said the militant group, "whether we like it or not, is in control of the country, largely in control of the country." 
It's not clear how effectively the U.S. will be able to help Americans who want to leave Afghanistan after Aug. 31 without a residual force or even a functioning embassy in the country. But Blinken suggested the U.S. still has some leverage over the Taliban as the group manages the transition from guerrilla warfare to governing power. 
Blinken didn't spell out what that leverage is, but the U.S. recently froze more than $9 billion in assets that the ousted Afghan government had access to, including central bank reserves. And the World Bank and other international organizations have paused disbursements to Afghanistan amid the chaos of recent weeks.  
The top U.S. diplomat's remarks came after Biden administration officials resisted calls for days to disclose how many U.S. citizens remained in Afghanistan with President Joe Biden's Aug. 31 withdrawal deadline rapidly approaching. In recent days, officials from both the State Department and the Pentagon would  say only that "several thousand" remained. 
Blinken said about 4,500 Americans have been evacuated from Afghanistan since Aug. 14, part of a group of 88,000 people flown out of the country in that time. It includes former translators and interpreters for the U.S. and NATO missions, women's rights activists, journalists and others from at-risk groups. 
About 45% of evacuees have been women, he said. That's been a key question for human rights activists given the Taliban's disregard for the rights of women and girls, particularly during their rule in the late 1990s. 
Biden has resisted calls from members of Congress and U.S. allies to extend the end-of-August deadline, but he said Tuesday that he ordered his national security team to come up with contingency plans if more time is needed. He said the risks to American troops is growing the longer they stay in the country and expressed confidence that the U.S. could complete it's mission by the end of the month.
Fears for people whose past ties to the U.S. and other Western powers leave them vulnerable are growing after more reports of reprisals and a threat by the Taliban to stop Afghans from traveling to the airport.
The Pentagon said Wednesday that U.S. military aircraft evacuated 11,200 people from Afghanistan in the previous 24 hours. An additional 7,800 people departed on allied aircraft, Army Major General William Taylor told reporters. Since evacuations began, about 88,000 people have been brought out of Afghanistan by the U.S. and allies, Taylor said.
Pentagon Spokesman John Kirby signaled limits to how much help the U.S. could provide Americans who are stuck in Afghanistan but far from Kabul. The military isn't in position to fly all over the country picking people up, he said Wednesday, partly because its main mission is to protect the airport in Kabul.
"There's a limit to the capability we have here," he said.
Members of Congress from both parties renewed their concerns about Biden's withdrawal deadline and the prospect that interpreters and others who worked with the American military will be left behind.
"Will partners in the future be able to trust the United States of America?" Representative Michael McCaul, the top Republican on the House Foreign Affairs Committee, said at a news conference on Wednesday.
Joining him, Democratic Representative Andy Kim of New Jersey, said, "What this comes down to is what is the value of the American handshake."
Blinken said the administration was fully aware of how much is at stake as America's presence in the country winds down. 
"We know that lives and futures, starting with our fellow citizens, including the lives of children, hang in the balance during these critical days and that's why everyone on our team is putting everything they have into this effort," he said.